October 10th, 2011 / 12:48 pm
Events
A D Jameson
A Night With Steve Katz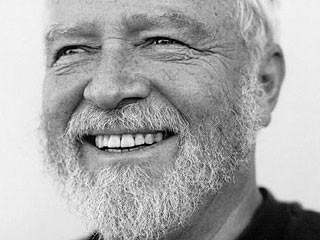 This Wednesday, October 12, 7–9pm, at the KGB Bar, NYC. Hosted by Louffa Press in celebration of Steve's new fiction broadside:
The native New Yorker has threatened to bless us with his world of experimental fiction, flying all the way from Denver to woo his audience with tales of personal mishaps with traditional jazz legend Louis Armstrong, plants that grow human body-parts, cautionary tales of the electric fence, the unswerving wisdom of Italian prostitutes and old school New York City.

The broadside (Slave Husbandry) is a limited numbered edition of 50, handprinted on swarthy yet sophisticated recycled artisan paper, inked and pressed on the Vandercook Universal One letterpress. The large format broadsides (19″x12″) will be available at the event for your enjoyment and (italics) for your pleasure.
Also reading will be David Moscovich, Eileen Myles, Ted Pelton, and Mike Topp. It's free and I wish I could be there. More info about Steve and the other readers after the jump…
Steve Katz started the trouble with The Exagggerations of Peter Prince in 1968, won the America Award in Fiction for Swanny's Ways in 1991. Many books of fiction & poetry came between. Screenplays. Small films. Recently he published Antonello's Lion, a novel. Last fall he published Kissssss: A Miscellany, a book of short works. This fall, Time's Wallet, volume one of his memoirrhoids is published by Counterpath Press. [I recently published some excerpts from the forthcoming second and third volumes in Requited. —Adam]
Ted Pelton is the author of four books, including the novel Malcolm & Jack (and Other American Criminals) and the novella Bartleby, the Sportscaster. He is the recipient of NEA and Isherwood Foundation fellowships. He also founded and directs Starcherone Books, a small press publisher of innovative fiction. He lives in Buffalo and is the Chair of Humanities at Medaille College of Buffalo.
Eileen Myles was born in Boston and moved to New York in 1974. Her Inferno (a poet's novel) is just out from OR books. For her collection of essays, The Importance of Being Iceland, she received a Warhol/Creative Capital grant. Sorry Tree is her most recent book of poems. In 2010 the Poetry Society of America awarded Eileen the Shelley Prize. She is a Prof. Emeritus of Writing at UC San Diego. She lives in New York.
Mike Topp was born in Washington, DC. He is currently living in New York City unless he has died or moved. His recent books include Fugitive Pope from Louffa Press and Sasquatch Stories from Publishing Genius.
David Moscovich founded Louffa Press to promote new, innovative microfictions in limited run, handmade editions. His stories and interviews have appeared in Word Riot, Rain Taxi, Dark Sky, The Rumpus, Fringe, others. He performs both live and on the radio using a cut-up approach, fragmenting, ricocheting and refurnishing language until it meets its own devolution. He lives in New York City.
Tags: David Moscovich, Eileen Myles, kgb bar, Louffa Press, mike topp, readings, Steve Katz, Ted Pelton