July 5th, 2011 / 2:57 pm
Events
Reynard Seifert
Ofelia Hunt reading from Today & Tomorrow with Ben Mirov in SF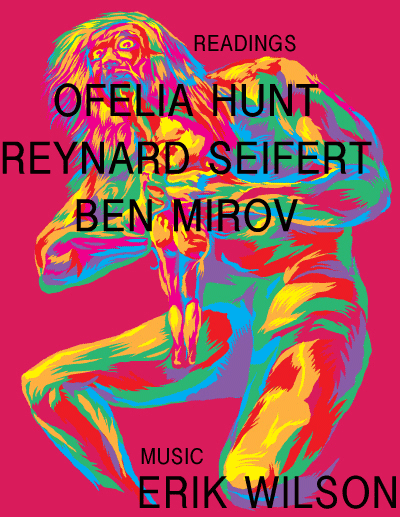 Hey what's up so I'm reading with some epic people in San Francisco in two days. There's a facebook page, which means we'll be serving free beer and wine until it runs out and then we'll rob an AM/PM if we can find one although we may have to go to Oakland for that. Alternatively, you can BYOB&W. There will be some music by Erik Wilson of Great Willow, and I might just play bass with my drum machine for a bit, if so I'll have an assortment of noisemakers on hand for those who'd like to join in. It's going to be a very whatever kind of night, and hopefully very very. Adobe is my favorite bookshop in this city, which puts it high in the running for my favorite anything anywhere. They only sell used books and they are not very organized; in fact, they pride themselves on this. Once upon a time, NPR reported on their turning the store into a rainbow. Maybe I will have someone film parts of it on VHS for those of you watching on TV at home. If you don't know yet, Ofelia Hunt wrote this rad-ass novel called Today & Tomorrow, which is equal parts beautiful and hilarious, and among the best inner-thought, dialogue-fatty, slipstreamy though realistic, I'm-gonna-punch-you-in-the-teeth-and-feed-them-to-you-as-human-corn-nuts kind of books I've ever encountered; but you don't have to take my word for it, because real critics are literally raving about it, with glow-sticks. Also, Ben Mirov is obviously fantastic. And I will read a selection of retweets from one of my twitter accounts. I think the theme of the night will be identity, but you will have to come to find out what that means. For further proof of how great a bookshop Adobe is, peep their yelp reviews.
Original Goya gif by Stephanie Davidson
2 Comments
July 5th, 2011 / 9:26 pm M. Kitchell—

WHY CAN'T THIS BE HAPPENING LIKE 3 WEEKS FROM NOW

July 6th, 2011 / 7:24 am deadgod—

It's rare that Goya is manipulated so as to connote jackhammer knob-polishing.