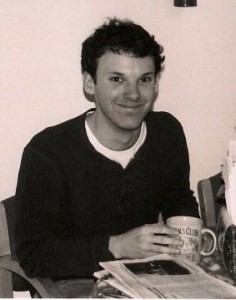 Ryan Call: Tell me a little bit about yourself. I've seen your name and writing around online, and I know you live in Plymouth, MA, but other than that, I don't know much about you.
David Cotrone: No worries; there's still a lot I don't know about me, too. But here's what I do know: I'm currently a student at a school in Massachusetts. I'm afraid of driving a car.
RC: Wait, why are you afraid of driving a car?
DC: I don't know, really. Maybe it's because I have visions of losing control of the wheel, or of another driver taking me out. Or maybe I'm afraid to move in vehicle that's not my own body because my body's exactly what I'm not yet comfortable with–rather, the thing that controls my body. So I speak to this thing at night. Converse. Get to know it. Make peace. Repeat.
RC: At night is when I'm most terrified, feel most out of control, though I am physically still. Afternoons, however, I find a local peace, that gentle conversation with my brain, in the enclosure of my backyard, raking leaves, carefully mowing grass. Death seems far away then.
DC: I'm really drawn to that phrase, "local peace." But it's terrifying, too, when even that goes missing. Where there was once a tree in my neighbor's backyard there's now a swimming pool. I have a twin brother named Michael and we both have brown hair and brown eyes, though different tastes in music. I'm colorblind but didn't know until I was told.
RC: And your writing?
DC: I'm currently working on a large piece of fiction about a bunch of people who fall apart and come back together and a large piece of nonfiction about the same thing.
RC: Why the same thing?
DC: When I'm writing, I think I'm most interested in pain, confusion and loss, lineage and reckoning, what makes us feel split into pieces, what makes us feel empty and what makes us feel whole again. I started the two projects at different times, the fiction before the nonfiction, but those variations on the theme just happened; it was natural. If my disposition changes before I finish either one then I'm sure my writing will reflect that change.
RC: To what do you aspire?
DC: Like most people reading this, I have dreams of my work being printed and bound, of being a part of this supportive and awesome community, of living with and within this thing called writing.
RC: How did you discover 'this supportive and awesome community'? I'm always curious to hear how people find their way, how they perceive 'the community.'
DC: I looked.
RC: What caused you to look? I guess I'm asking if you recall any one thing that sort of sent you looking, or if it was an organic process. In my case, I went looking because I wanted to see more than what I'd been reading in my graduate program. A friend sent me to Tao Lin's blog, and my confusion led me on from there.
DC: I love that. I remember stumbling across PANK a couple years ago and thinking it was the best thing that had ever happened to me. Here was this place filled with experiment and risk and stuff you would never find in a bookstore. It was liberating to at once feel so stifled by what it would mean to become a successful writer and to see a space where people are working toward that success. There's a sort of refreshing honesty and bareness that's all over these online venues. Don't get me wrong, I think big-time authors such as Luis Alberto Urrea, Rick Moody and Tom Perrotta are part of this community, too. They were so willing to run interviews with us that it took me off guard. I don't think they talked to us out of pity or sympathy or anything like that. They were happy to spend time with like-minded people, to make something as lonely as writing an experience of companionship and contact.
RC: So, what is 'the community,' exactly, and how does someone join it? It's one thing to find these lit blogs and online stories/poems, but another to actively participate, right?
DC: But so I think this community is so vast that it's hard to enter into it, it's hard to stick, to make a mark. It's also easy to miss. You have to be willing to look further than bestseller lists. I could be talking to someone about the weirdness of Amelia Gray or the dexterity of Matt Bell and that person would have no idea who or what I was talking about. You have to spend time with the community for it to become one.
RC: This is interesting to me, actually, because you mention that the community is vast, and yet I often hear elsewhere that it is a relatively small one, is even insular to some. Do you disagree, then? How is it hard to enter, then? To make a mark? Is this to the community's detriment? Could you talk more about that entrance, especially in relation to the smallness/vastness of the scene?
DC: You know, I think you're right, that it can seem small. I think there are names you see a lot. Certain people rise to the top. I'm sure that sort of pyramid could turn some people off. But for now, at least, it should probably be that way. I think it's great that people who get to the top in this community deserve it; they always seem to be generous and their writing is outstanding. There's a move toward sincerity and candor here. If your writing deserves to get noticed it eventually will. But there's a lot to look at, a lot to take in. I think by vast I really mean that making your mark takes commitment. I mean, most things that require commitment are vast: education, writing a book, Russian literature, love. So to be a part of this you need to do things like read Stephen Elliott's Daily Rumpus emails, appreciate the blessed anonymity of the editors over at > kill author, support ventures like Dzanc Books–or at least have a certain awareness. It takes time to sort through everything, to stay up to date, but there's room for everyone who has something to say. For me, that's what makes it all worth it.
And if we wanted to talk about publishing, we would have to talk about money, I think. Small presses don't run on nothing–they need to sell their product to stay in business. They really have to choose wisely: a stellar writer and someone with some sort of platform. Now, with buzzwords like "product" and "platform" it might seem like I'm veering away from the things I love about this place ("sincerity" and "candor"), but I'm not. I think this scene is still intact. There's no sense of corruption or foul play. I'm positive I could read ten books put out by small presses or ten articles or stories run by indie lit mags and I'd love them all, at least appreciate them. I wouldn't be able to say the same if I went to the bestsellers table in Barnes & Noble. There would be something I'd like, sure, but not everything. In fact, here are two titles off the store's current Top 10 Bestsellers list: Crazy Sexy Diet and Strengths Finder 2.0: Discover Your Strengths. This community seems to say no thanks to that stuff, know what I mean? The literary (and even the fiction) sections are getting smaller, but there's a need for content. So where does it all go? Well, look no further.

RC: So you've really anticipated my next question here, but I'll ask it anyway: why did you start an online literary magazine like Used Furniture Review?
DC: There are so many places to find great writing and and thinking, especially now. There are venues like PANK and New York Tyrant and The Collagist and really so many more that it's hard to name them all. Then there's The Rumpus, The Millions and even this site–same quality of writing but a different focus and means of production. Where the former group publishes work as a whole (a magazine or issue made up of a smattering of contributors), the latter goes at it guerrilla-style: the sites are updated continuously. There's a sense of urgency. There's a tone of necessity. You get hit with the punch as its thrown. At UFR, we're trying to let these two approaches meet.
RC: Why do you wish to combine these two approaches? How have you done this?
DC: Aesthetically, we're like a newsreel, a magazine updated in real-time. But when it comes to content, we have a columnist who talks about working in bookstores, another who "makes an annotated mix tape of his life in stories and cover songs." We have interviews with authors both decorated and emerging. We have fiction and nonfiction. We have poetry. We have photography. We have more. We're still growing. We're trying to figure out how to reach people. We want people to feel reached.
RC: Can you tell me a little bit about your readership? Since your launch, how many visitors have you received?
DC: Sure. We launched in November 2010 and have been growing ever since then. Some days we have over 1,000 visitors, other days we have around 500, and sometimes we have less than that. Those numbers are probably relative. Depending on who's reading this, they could be interpreted as indicators of success or insufficiency. I think they're all right considering we're still pretty new, but of course I would love to see more 1,500+ days.
Ultimately, we want to be a place where people can come and find something they like. We want our inbox to be overflowing with submissions. There are so many voices out there. There's no reason why something like this can't work.
RC: So, what happens until then? How, for example, did you get your current batch of contributors? How do you choose a columnist?
DC: We started out by asking people we admire to contribute, people like Roxane Gay, Mike Young, Brian Oliu, Cristin O'Keefe Aptowicz, etc. Then we worked on spreading the word through a grassroots approach. We asked our contributors, interviewees, friends–anyone we came into contact with–to let people know we were looking for submissions and content. Since then, we've been able to build a platform, and we've accepted work on a rolling basis. That way, we always have something new to offer, and a queue to draw from. I mean, yeah, we did the standard things, like setting up an account with Duotrope. But that hasn't done much for us, I don't think. It's kind of a stale way of interacting.
As for our columnists, we were–and still are–looking for distinction. It's true that not everyone is going to like every column, but I think most of our writers have such unmistakable voices: beguiling and sad and funny and utterly serious.
RC: Why the name? Why Used Furniture Review?
DC: Good question. The name comes from a story I started to write but then abandoned. I wrote something like, "He felt like used furniture." The metaphor seemed a little forced at the time but I still liked the idea of it, so in thinking of a name for our review, it was there to use. There's also a certain air that goes with it, I hope, that evokes eclecticism. And a sort of wonder, too. This idea that writing is an investigation of where a certain antique came from, what it witnessed, how it outlived its owner. But so that last bit is dealing more with hindsight than anything else. When Susannah (our managing and copy editor) and I decided on UFR, it was as simple as we liked the way it sounded.
I think there's something to be said for the way something sounds. Someone once told me there are two ways of looking at writing. You can be obsessed with a word's meaning, the philosophy behind things, or you can walk around singing and scatting and reciting lines and lyrics, all the while falling in love with the musicality of language. If that's true then I like to think our name has both.
Tags: david cotrone, used furniture revew