Ryan Call
I Like Gogol A Lot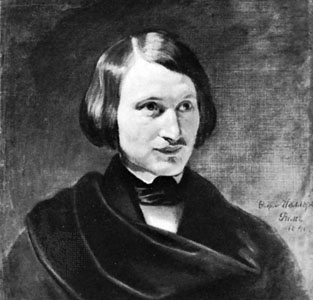 Here are some thoughts I typed out about Gogol and did not edit or revise.
Before I get into the stories, I have to admit that I haven't read Dead Souls. I like to write short stories, so it goes that I also like to read short stories. This doesn't mean that I don't read novels, honest (Beckett's Molloy, Malone Dies, and The Unnamable are novels I often pick up to read random passages whenever I have a brain problem); instead, I mean that I'm constantly attracted to short stories, collections, and complete works over novels because it's just what I've done so far. I could write more on this, I guess, but that's not what this post is about.
Gogol's collected tales, published as a Vintage Classic and translated by Richard Pevear and Larissa Volokhonsky, is a wonderful book. I've been reading it slowly, very slowly, over one year. I just finished it this past month. Well, I can't really explain why it took me so long to read. I could try, I guess, and say that one story of his was enough for several months. I could also say that I am lazy, and that life happened, and that other things happened. Whatever. It is a book I wish that I had read all at once, but also I have enjoyed suddenly remembering it and putting off everything else to pick it up again. Does this make sense? I don't know.
I usually have trouble talking about the language and sentences in translated works. I don't know translation well enough to understand what goes on between the original and translated version to critique it, nor is my Russian up to quality (read: no Russian whatsoever). So, I'll move away from that and leave it to the experts, as much as I would like to focus on his sentences.
So, what do I like a lot about Gogol? What is the point of this post? I like that he can make me feel terror. Put aside his great sense of humor, his imaginative ways, his self-aware narrative style, and let us focus on his ability to terrify me. I have talked with several people about this already, but I'd like to share it here. In what little contemporary fiction I've read, I struggle to think of work that really terrified me, that made me get up from my chair and turn on the lights late at night all throughout the apartment, that made me feel frightened, not in a realistic way, but in a supernatural way. Does this make sense? I think that some of Evenson's work does it and I think that "The Pederson Kid" by William Gass did it. Blake Butler's Scorch Atlas did it.
Of course, I haven't read that much, so comment if you've read something new that terrifies you.
Anyhow, I'd like to highlight one story and mention briefly another from the collected tales that really scared me: "The Portrait" and "Viy." These don't seem to be often anthologized, so they might be good to talk about here. If you haven't read them, I strongly suggest you do. Then, let me know if you felt the same way I did. Maybe I'm just a lame, weak-kneed sort of guy. In that case, you may punch me in the face at AWP. Really, though, there's something Gogol does with these two stories that freak me out.
"The Portrait" is about a young painter, Chartkov, who lacks the money he needs to pay rent, much less buy art supplies and such. He stumbles across a portrait in a catch-all shop, probably the kind you might see down on Montrose here in Houston, one that claims to sell antiques. The portrait was of
an old man with a face the color of bronze, gaunt, high-cheekboned; the features seemed to have been caught at a moment of convulsive movement and bespoke an un-northern force. Fiery noon was stamped on them. He was draped in a loose Asiatic costume. Damaged and dusty though the portrait was, when he managed to clean the dust off the face, he could see the marks of a lofty artist's work. The portrait, it seemed, was unfinished; but the force of the brush was striking. Most extraordinary of all were the eyes: in them the artist seemed to have employed all the force of his brush and all his painstaking effort. They simply stared, stared even out of the portrait itself, as if destroying its harmony by their strange aliveness. When he brought the portrait to the door, the eyes stared still more strongly. They produced almost the same impression among the people. A woman who stopped behind him exclaimed, "It's staring, it's staring!" and backed away. He felt some unpleasant feeling, unaccountable to himself, and put the portrait down.
Here Gogol basically sets up the story, creates the possibility of the supernatural through his description of the portrait. It's all in those eyes. I think it's a wonderful description.
Short story shorter: Chartkov buys the portrait with his last twenty kopecks and takes it home, realizing how dumb a purchase it was. He leans it up against the wall in his shitty little flat and after a confrontation with his landlord, tries to fall asleep. The next bit of text is where I began to feel terrified, for Gogol establishes the young artist's fear and then takes the story into an odd dream within a dream sort of sequence. The scene is dizzying, and reminds me of the few times I've awoken from a frightening dream still a bit queazy from its effect on me.
He went up to the portrait again, so as to study those wondrous eyes, and noticed with horror that they were indeed staring at him. This was no longer a copy from nature, this was that strange aliveness that would radiate from the face of a dead man rising from the grave. Either it was the light of the moon bringing delirious reveries with it and clothing everything in other images, opposite to positive daylight, or there was some other cause, only suddenly, for some reason, he felt to be alone in the room. He quietly withdrew from the portrait, turned away and tried not to look at it, and yet his eyes, of themselves, involuntarily cast sidelong glances at it. Finally he even became frightened of walking about the room; it seemed to him that some other would immediately start walking behind him, and he kept timorously looking back.
I love this sequence (and it goes on for a few more pages) because of how Gogol dramatizes in Chartkov that feeling I often have when I am alone and begin to freak myself out, begin to imagine horrible things, let my brain get away from me. Chartkov's pacing around his room, his mental back and forth, his eventually covering up the portrait with his sheet are all things I still do to ward off weird things: I'll turn on all the lights when I'm alone, I'll close the bathroom doors so I cannot see mirrors and the images they reflect, I'll play music loudly, I'll curl up in a little ball in bed. I know what I do is silly, right? But I can't stop myself. I have no self control. It is terror, and there is something so fascinating and beautiful about it, at least to me.
"Viy" is quite different. It is a fable about a philosopher and a witch, and their battles in a church. I've already written too much in this post, so I'm not going to say much other than "Viy" is probably my favorite Gogol story; just rereading passages of it now gives me the creeps.
Here's a brief catch on it: it ends up that the main character in the story must read prayers over a dead girl, who is really a witch, for three nights straight in order to save her soul or something. He is locked in the church, just him at the lectern and the dead girl/witch in the open coffin before him that first night. For several paragraphs the philosopher worries that she'll get out of the coffin and then chides himself for thinking such ridiculous thoughts. He begins to read, but occasionaly looks at the coffin to assure himself that all is well, that she hasn't actually come alive to torment him.
Then Gogol writes this:
But the coffin did not stir. If only there was a sound, some living being, even the chirp of a cricket in the corner! There was just the slight sizzle of some remote candle and the faint spatter of wax on the floor.

"Well, what if she gets up?"

She raised her head…
In those last two lines, Gogol freaks me out every time.
Read the rest of the story to see what happens to the philosopher through that night and the remaining two.
Tags: Gogol, I am weak, terror
48 Comments