Roxane Gay
I Like Lawrence Schimel A Lot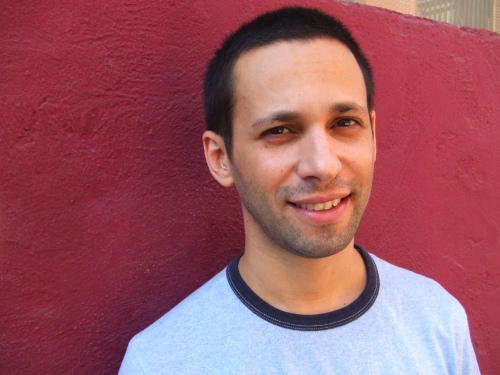 Lawrence Schimel is a prolific writer, editor and publisher living in Madrid, Spain. From erotica to ghostwritten biographies to children's books, there's seemingly nothing he cannot write. As publisher of A Midsummer Night's Press, he is responsible for three imprints and he's also a friend, like for real. We talk about his press, his writing and his life as an ex-pat writer. Won't you listen in?
How did A Midsummer Night's Press come about? Why that name?
When I was an undergraduate at Yale, there was a Vandercook letterpress in the basement of my dorm. I had already begun publishing in anthologies and journals, and I decided to publish a series of limited edition hand printed broadsides. I contacted some writers I already knew or had worked with (Jane Yolen, Nancy Willard, etc.) and asked them for poems, printing runs of 126 copies, 100 numbered which were available for sale and 26 lettered copies which were shared between the author and the press.
When I graduated, the press went on hiatus until 2007 when I started publishing commercially-printed, perfect-bound books.
As for the press' name, I began writing and publishing science fiction when I was a teenager (Marion Zimmer Bradley bought a story for one of her anthologies when I was still in high school), and since I was known by the nickname "Puck" in SF fandom it just seemed logical to name my press after the same Shakespearean play.
What kind of writing are you looking for?
Although I myself have published in many genres and media, including kidzbooks, comics, personal essays, and fiction, A Midsummer Night's Press is devoted only to poetry.
Even with a relative few titles to your Press's credit thus far, you have one of the most diverse catalogs I've ever seen. Was that intentional? Do you only publish queer writers?
At present, we have three imprints, although the light verse one, Funny Bones, which debuted with Charles Ardai's The Good-Neighbor Policy: A Double-Cross in Double Dactyls, is the one we're least able to promote effectively, alas. So primarily the focus is on the other two, only one of which, Body Languages, focuses on work by queer writers (and specifically about queer sexuality). The other imprint, Fabula Rasa, which includes Fortune's Lover: A Book of Tarot Poems by Rachel Pollack or my own Fairy Tales for Writers, is devoted to works inspired by mythology and fairy tales.
How do you negotiate the logistical constraints of running a press between Madrid and New York?
The biggest difficulty in any press is distribution. A Midsummer Night's Press is distributed to the trade by SPD. And my father and sister help out in terms of shipping individual orders via our website.
Since we are a totally non-corporate structure, I generally time new releases to coincide with my personal obligations in the US (generally for conferences like BEA or AWP or other speaking engagements) so I can handle the bulk of the publicity mailing myself, although my family once again pitches in to send out review copies for me at later moments. (I still send out review copies even of our first titles, in 2007, when there is interest from reviewers.)
Why are you in Madrid? What is your experience with being a writer in Spain?
I have been in Madrid for over 11 years now. It was originally a quality of life decision: I needed to get out of the stress of NY and being a third generation New Yorker, there are few places that feel like a real city to me. Madrid feels like a human scale version of NY: enough culture, cuisine, shopping, etc. but with buildings that are only a few stories tall so you're not always in the shadow of a skyscraper, the urban landscape is broken up with plazas and parks, there's the siesta, it's much less anonymous and cold. When I first moved here, the dollar was strong against the peseta, so I was able to live well on what little I earned as a writer.
There was also a big difference in how being a writer is treated in the US and in Spain/Europe. My first short story collection, THE DRAG QUEEN OF ELFLAND, was published in Spain in 1998 as MI NOVIO ES UN DUENDE (My Boyfriend is a Fairy), and the small Spanish publisher who brought it out had made up posters for the book and sent me on tour (this was before I had moved here). I had published 27 books back in the US, but this was the first time a publisher had ever paid to tour me. And moreover, Laertes, my Spanish publisher had author loyalty, so they wound up publishing my second and third story collections, which were originally written in English but published in Spanish translation years before their eventual English-language publications.
Back in the US I was best-known as an anthologist more than as an author, but in Spain I was/am considered first and foremost an author. I now write in both Spanish and English; my first collection of poetry in Spanish, DESAYUNO EN LA CAMA (Breakfast in Bed) was published in 2008, and I've published over thirty children's books in Spanish, as well as a graphic novel.
I enjoy a curious position in Spain, being both a foreigner and a local; the glamour of being from NYC but able to speak Spanish well enough to talk about my work on TV, radio, and print…
My life here also affords me the luxury of time to read, something that I wasn't able to enjoy as much in New York where the general rule is that time is money and if you're not earning money you're wasting time (aside from the sheer cost of life in NYC, which means one spends a large portion of one's time earning money just to be there).
In addition to editing and publishing A Midsummer Night's Press, you're also a very prolific writer across genres–erotica, poetry, science fiction and fantasy, children's books. Is there anything you can't write?
In actuality, it's as if I have a handful of parallel writing careers, with very little crossover between them (aside from me, of course). I also published a cookbook, many years ago, as an AIDS benefit. And I once wrote 15 astrology books for a packager. I was commissioned to write a short biography of the tennis players Venus and Serena Williams, which many people refuse to believe is part of my bibliography; I got a handful of emails asking if I knew that there was a sportswriter with my same byline. Or people would say to me, "I didn't know they [the Williams sisters] were lesbians," assuming that that could have been the only reason why I would have written about them. No matter what else I write, I am primarily known as a "gay writer," which is not an identity I deny in any way, although I am also a "Jewish writer" and an "expat writer" and a writer who writes in a language other than his mother tongue, and a long list of etceteras.
I don't write film scripts or theater, and they're not forms I feel drawn to, although I would be happy to give them a try if opportunity arose. (I would certainly jump at the opportunity to write the libretto for an opera or the lyrics for a musical.)
How did you get into writing children's books? What are some of your favorite titles?
There was some crossover between writing fantasy and science fiction for adults and starting to write poetry and stories for kids, in thematic anthologies or in magazines like CRICKET. But I didn't start publishing books for children until I was living in Spain and began writing in Spanish.
Before leaving New York, I worked at children's bookstore Books of Wonder for a few years. For me, it was great to recommend a book to a young reader and have them come back and ask for something else like it.
Some favorites (a mere scratch-the-surface list):
There is a book published by Pequeño Editor in Argentina called UN LIBRO EN TAMAÑO REAL (A Book in Actual Size) that is fantastic. It is a marvel of photography and book engineering (with all sorts of fold out pages and such) which shows, for example, how many cotton buds (photographed at their actual size) are needed to make a sweater.
Picture Books: Peggy Rathman's GOODNIGHT GORILLA. Marjorie Pricemann's HOW TO MAKE AN APPLE PIE AND SEE THE WORLD. Shaun Tan's THE LOST THING.
Picture book illustrators: Trina Schartt Hyman. Charles Mikolaycak. Leo and Diane Dillon.
Poetry: Nancy Willard. Jane Yolen. David McCord. Sonya Sones. Hope Anita Smith. Lee Bennett Hopkins.
Middle-grade: Bruce Coville's Magic Shop books. Paula Danziger.
YA: Megan Whalen Turner. Diana Wynne Jones. Ellen Wittlinger. Francesca Lia Block. Gregory Maguire.
You are one of the biggest book collectors I know. What inspires your bibliophilia? How many books do you own?
I am not so much a collector as an acquirer. I am a voracious reader, first and foremost (I read on average 120-140 novels a year), and while I love having all the books I have, and sometimes merely possessing some of them gives me great pleasure, I am not a collector in the sense of seeking out certain editions or authors or etc. For me, a lot of it is about the serendipity of finding things I want to read, or might want to read (or might want to give to other people). Part of the joy of the book is the association of where I bought it, and I have friends who are boggled that I can still remember quite often where I found certain titles (or how little I paid for them). But then, I have never ordered a book off Amazon or any other booksearch, so it's part of the thrill of the hunt. Especially considering I live in a country where my access to English-language material is limited, the titles I do find here are much more memorable, and the time I am in an English-speaking country, I go on a wee binge, stocking up.
I have no idea how many books I own, since I am not a collector in that sense. Non-readers often ask, in surprise, on entering my apartment, if I have read all those books, but for me that is exactly the purpose of them: I have a wealth of not-yet-read material to choose from, so that there is always something to match my mood: sometimes I want a dark but inexorable whodunnit so I'll turn to Ruth Rendell (having already exhausted so man other mystery authors), but sometimes I need the delightful banter of Jennifer Crusie or the madcap zaniness of Janet Evanovich or Carl Hiaasen; whether I want a literary novel (Paul Russell, May Sarton, etc.) or an epic space opera (Karen Traviss most recently), this way I always have something at hand.
Your three imprints cover such a unique range of subjects. How did that come about?
My own reading (and writing) interests are quite varied, so it seemed natural to me that this be reflected in what I was publishing.
The two imprints Fabula Rasa (myth and fairy tale) and Body Language (LGBT) are the ones which I am best able to promote, both because there is an established network of readerships and specialty bookstores and conventions which are very open to and supportive of independent publishing and because their focuses overlap with many of the events/conventions I am invited to as an author.
While my own light verse has been published in venues ranging from The Wall Street Journal and the Saturday Evening Post to anthologies like the Random House Treasury of Light Verse or Chicken Soup for the Horse-Lover's Soul 2, there isn't an organized community of light verse afficionados, which has made promoting those titles more difficult. So I devote the press' resources (and my own time and effort) to the other imprints.
What kind of editorial relationship do you foster with Midsummer Night Press authors?
Well, we support our authors, not just the books we publish by them. When possible, at conventions like AWP, I've brought backlist titles from other publishers by our authors.
Many of our first titles arose from projects from writers with whom I already had a personal relationship.
Of our first seven titles, five are first collections, a fact of which I am quite proud.
Our two most recent titles, MUTE by Raymond Luczak and HANDMADE LOVE by Julie R. Enszer, are both from authors who I worked with on the BEST GAY POETRY/BEST LESBIAN POETRY series (which is unfortunately on hiatus indefinitely, due to ongoing problems with the press that asked to copublish the series with us) and then asked to see manuscripts.
What's next for the press?
Next up is a book from Francesca Lia Block in the Fabula Rasa imprint.
I am also contemplating a possible anthology project or two, in our regular trimsize, which is the best way for new writers to start to work with us.
As someone who writes in two languages, and also as someone I know is familiar with translating, do you feel, where literature is concerned, that translation is possible?
This is a somewhat loaded question, especially to pose to someone who makes his living as a translator! Obviously, it is possible, at its most basic level. Underlying the question is the implication that it is impossible to fully convey the richness of a text from one language to another, which is a related but different issue. There are, of course, many different kinds of texts, which each have their own difficulties or peculiarities at the moment of translation between languages or cultures.
Audience is crucially important even within a single language, and it is possible to move between cultures or subcultures within one's own language. An example I often use is that there are four possible audiences for which I can write gay science fiction:
1) I can write for a science fiction audience, for whom I would explain the gay references
2) I can write for a gay audience, for whom I would explain the sci-fi references
3) I can write for an audience of gay sci-fi fans, and explain nothing
4) I can write for a lay audience and explain everything.
Does it frustrate you to be known primarily as a "gay writer" when your identity is so much more complex than that? As writers who are considered Other in some way, is it inevitable that our identities will always be reduced to one primary characteristic?
I think I am least bothered by my identity being reduced to my sexuality than I might be for other identities in that it is an identity that I actively chose, as an adult, different than other inherent identities that are accidents of my birth, such as being an American or Jewish. But these reductions almost always reveal the limitations of the person doing the reduction more than limit me and my sense of self in any way.
It is also curious how sometimes these identities have opposing repercussions in different cultures. In the US, the fact that I write both gay erotica and also children's books is something scandalous. In Europe, and especially in Spain, where writing children's books is not considered something serious, the fact that I write for adults, even if it is gay erotica, gives me legitimacy at the moment of writing kidzbooks: since the erotic titles are for adults, they are considered "real" books. Of course, in Europe the general populace is able to distinguish between my interests, as a gay adult, which may be reflected in my writing for adult audiences, and the fact that I was a child and can write from and for the child I was.
Sexuality is the hot button issue, especially in the US.
It's not like anyone ever complains about my vampire books and the fact that I am not, in fact, a vampire…
What are some great things to do in Madrid?
Madrid offers a great quality of life, which is not necessarily so much about things to do or see, as the overall experience of living here. My life in Madrid, for instance, offers me the luxury of time to read, something which is personally very important and which was hard to make time for in my native New York.
So a lot of the best things in Madrid are food, atmosphere (sitting at an outdoor café with friends, debating about books or boys or whatever), etc. It is a very human scale city, both the size of the buildings (you're not forever in the shadow of a skyscraper like in NY) and the treatment of the people, even those you've never met, but as a major European capital it still offers a lot of culture, shopping, cuisine, etc.
What do you love most about your writing? What do you love most about your editing?
The editing is easier: I love working with an author to shape a text or a book, and for that repoire to really work. It's been great sometimes, as an anthologist, to send a draft of a story back to an author, pushing them to strive more or take things to another level, and for the rewrite to come back and be spot on: it's a magical process, and really makes you feel part of the creation.
In terms of my own writing, I think I love most the having written, not in and of itself (although I am, of course, proud of all my little bookses) but more the moment when something I've written is published and reaches a reader, and there's a connection of a sort there. What seems to provoke this kind of reaction the most is my adult poetry collection in Spanish DESAYUNO EN LA CAMA (Breakfast in Bed). Although kids are, in general, a much more appreciative audience if you don't write down to them and respect their intelligence, curiosity, and .joie de vivre  It is great to have parents complain to me that their kids want to read books of mine again and again!
Tags: Lawrence Schimel, Madrid, Midsummer NIght's Press
19 Comments