Blake Butler
I like Rick Moody a lot, wanna fight?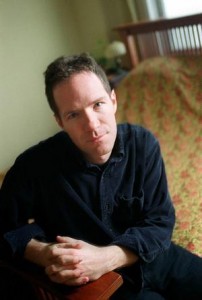 Rick Moody, along with David Foster Wallace, was one of the big reasons I started writing fiction. The first book of his that I read was 'Purple America.' The opening pages of 'Purple America' are a man describing his mother's failing body and the methods he employs to care for it in mostly one long run on sentence, post-Ginsberg 'Kaddish' style, and it is among the most beautiful openings of a book I can remember. This is an excerpt of the sentence:
"whosoever slips his mother's panties up her legs and checks the dainty hairless passage into her vulva one more time, because he can't resist the opportunity here for knowledge, whosoever gags briefly at his own forwardness, whosoever straps his mother's bra onto her, though the value of a bra for her is negligible, whosoever slips a housedress over her head, getting first one arm and then the other tangled in the neck hole,"
etc etc. I realize more and more looking back how much I learned from Moody's poetic listmaking devices and explorative thinking set in prose in the same way that I learned from DFW, but differently. Moody is a different beast, more florid in a certain way and more in a poetic mode, but the way he constructs these monsters of increasing awareness and tenor, I don't know, they definitely have been important to me.
I don't know either how Ricky Moody's name ended up a shit-talk target in certain arenas and mouths. Maybe his winning a lot of money when he had already had a few successful books. Writers are jealous creatures. But Moody is anything but a sellout. I haven't read Garden State or The Ice Storm, his earlier, more traditional books. Each of his books, beginning for me with 'Purple America,' and there forward, has leaned ever harder and further into a kind of demonstration of his mastery of wide vision and big sentences (the introduction to 'The Diviners' for instance: jesus). His books are the kind that can knock you on your ass line by line but also at the end when you are like 'How the fuck did he create this.' I say he deserves every cent and every ounce of the reputation he has earned. He is a true badass of words.
Rick Moody also has that rare ability that happens to me sometimes where it feels like the writer is talking to you straight on, as if he wrote the book for you alone. It's weird when that happens, like you are taking a bath with a book or something. I still don't know how he does that. He seems more aware of concept and ideas and how to lay them out in massive ambitious sentences that most anyone else I can think of.
I also really like his 'The Black Veil,' which loosely is a memoir, though more so an exploration of an idea: he finds out he is blood related to Nathaniel Hawthorne, and goes on this insane quest to discover more, eventually tying Hawthorne's story where the character wears a black veil, which Moody replicates in real life. Though the book isn't really about questing or such (there are some great scene though of him interacting with people wearing the veil): it is more an explosion of language and ideas, one that I almost can't quite replicate summarily.
I would go so far as to say Rick Moody is underrated. Most people who would naysay him probably haven't read anything he's written, except maybe the Ice Storm, which is like sort of like shitting on David Lynch for Dune. That he has been able to bring such conceputal and language-based literature to such a wide group of people is a wonderful thing.
I challenge some people who haven't tried Moody to look at 'Purple America' or 'The Black Veil,' particularly if you are a fan of Stephen Dixon or DFW or even Robert Coover or Jose Saramago. He is the real deal.
Tags: purple america, rick moody
51 Comments