Mike Young
"3490 people bought something besides the bestseller" — Talking with Pete Mulvihill of Green Apple Books
May 3rd is California Bookstore Day, and some bookstores in California have giant worms for mascots. Growing up, that's where I tried to buy as many of those "code-your-own-adventure" QBASIC books (what were those called?) as possible. Years later, home for Christmas, I bought a first edition copy of Gordon Lish's Mourners at the Door and tried to convince the bookstore owner to care. "Oh yeah, Lish," he said. Being as this was California, it wasn't inconceivable to take an "oh yeah" a certain way, so I asked him: "Did you know him?" And he said "Not if I could help it" and walked away.
Other bookstores have coffeeshops above them or below them. Some bookstores are in old firehouses. (Even if they're not really bookstores). Occasionally, an architectural firm will have an empty storefront, and they will let you put a bookstore in there. Some bookstores are famous, and you have to be quiet going up the stairs to the good room because movie people are asking Lawrence Ferlinghetti about gold-plated avocados. If you're a new bookstore, it might be beautiful to sell only poetry and run the store with your spouse and your baby. If you're an old bookstore, Adam Robinson will probably ask you some questions about the kids painting outside. When you're a mighty bookstore with your own highway attraction sign, you might put another bookstore inside yourself, like Grey Matter Books did with Troubador. Sometimes you will eat a lot of cheese in a bookstore and buy the books that Peter Gizzi tells you to buy, as I have done in Amherst Books. Other times you will be stranded waiting for a ride in some commuter town in New Jersey, so you will spend all your time at a bookstore until it closes, and the owner will get on his motorcycle and kick you out but give you a free Javier Marias novel because he feels bad for you.
Remember when it wasn't stressful to be in a bookstore? And you weren't guiltily squaring your desire for the world's eyes on your own goo with the sheer magnitude of book stuff that already exists? And it just seemed where-am-I-going-to-get-enough-hours-and-light amazing that all these books—in their bound and sentenced way—felt like talking? When I think about California Bookstore Day, I think about giant worms, and I think about that feeling.
One bookstore instrumental in starting and sustaining bookstore culture in all of Sweet Cali is Green Apple Books in San Francisco. If you live in the Bay Area, or you've made stopovers on a regular basis, you probably know Green Apple. They're down there in the Richmond district, their store is huge and full of good surprises—used books, new books, LPs—and they've got that sweet green guy out front. Publishers Weekly recently agreed with the book-buying elbow patches in San Francisco and smartly awarded Green Apple Bookstore of the Year.
Green Apple was started in 1967 by a former United Airlines radio technician named Richard Savoy, but now it's owned by two Kevins—Hunsanger and Ryan—and a Pete: Mulvihill. They are the big dream scheme cookers behind California Bookstore Day, which they want to push to national prominence on par with Record Store Day. They're active in a ton of San Francisco area stuff—check this lovely listy quote from PW: "founding the San Francisco Locally Owned Merchants Association, participating on the boards of the Northern California Independent Booksellers Association and the Clement Street Merchants Association, and advising Litquake and the San Francisco Library's One City One Book program"—and sometimes they give you tacos at midnight when Murakami releases a book called 1Q84.
To find out more about what it's like behind-the-scenes at Green Apple and to shine some hype on Bookstore Day, I asked Green Apple co-owner Pete Mulvihill a few questions, and he was gracious enough to dish some great answers.
Read the interview below the jump!
HTMLGIANT: Green Apple Books is a Bay Area institution, and you and your fellow co-owners are participants in an interesting narrative of transition from a single owner to an employee-owned "team" model. Can you tell us what it's like running a bookstore as part of a group, and how it differs from trying to keep the whole ship afloat by yourself?
Pete Mulvihill: We're not a co-op or anything; I think "employee-owned" is misleading.  Me and two Kevins bought the store over ten years from the original owner, mostly through sweat equity, as we made bookseller salaries.  The group dynamic has worked well for us. I know a lot of business owners who can't get away or unplug, but we three have prioritized time off over money—we're a little overhired to make sure we get time with our families, time away from the store, etc.  Further, our skills complement each other.  Where I'm analytical, Kevin H has great instincts on used books and speaks passionately about whatever he's read recently that he loves.  Where I'm a bean-counter, Kevin Ryan's instincts about promotions and community and generosity keep us balanced.  So we have a great balance of skills, experience, and passion that really keep Green Apple running well.
HTMLGIANT: Do you really do 85% sales from only books? How do you avoid the trap of becoming a calendar/novelty journal vendor surrounded by pretty  bookshelves?
Pete Mulvihill: Yeah, 85% of our sales are from books (new, used, and remainders).  And we do sell other things, most of which we care about: blank journals, cards, magazines, quirky gifts, more and more LPs, etc.  We try to stick to either things that go naturally with books (above, or Litographs) or the quirky and unexpected.  Our heart and soul are books, and we're glad our customers buy enough of them that we don't have to buy stuffed animals or candles.  And if things were different, we'd adapt—I see nothing wrong, per se, with selling candles if one must to keep a bookstore alive.  So I guess it just reflects well on our customers more than on us.
HTMLGIANT: Who have been some of your favorite customers over the years? Weirdos, people buying their own book and trying to pretend they didn't write it,  amazed kids, oversharers—tell us about the crowd.
Pete Mulvihill:  Plenty of those, from Ricardo, who buys new age books and will bend your ear for hours if you let him, to "Can Boy," the guy who came in daily asking for both a bigger trash bag and any cans we had that he could recycle.  There's one loaded customer we especially appreciate; when we got a first edition of The Waste Land in, for example, he bought it sight unseen for $11,000 (which helped our numbers for the month considerably).
We have had plenty of the rich and famous in over the years, but the people we really love are the regulars.
Closest to our heart is Mary (that's "good Mary," as we also had a consistently annoying, if harmless, customer lovingly called "bad" Mary).  Good Mary lived across the street from the store since it opened in 1967, and she was widowed and had no kids, so Green Apple's staff was her family.  One Green Appler took her every year to get her Christmas Tree; even into her 90s. She closed down Green Apple's annual holiday party; she had pictures of my kids on her fridge; and she bought hundreds of cookbooks from us over the years. She passed this year, and Green Apple's world is a less rich place for it.
HTMLGIANT: I'm sad for Good Mary, but happy to hear of such a cool relationship that can transcend that customer/vendor weirdo marketplace dynamic and become something richer and puffier. Along those lines, what do you think it means in 2014 to spend time in a bookstore? The anxiety of being a commercial space that exists in the physical world is a big fingernail-biter. Do you think of the people who visit your store as "guests?" Or is that Starbucks capitalism bullshit?
Pete Mulvihill: I think the idea of a bookstore as a "third place" sums it up nicely.  You know, there's work and there's home, and there are third places: bars, gyms, libraries, cafes, and bookstores.  Our space is commercial, of course, but I don't think it feels purely transactional. It's not a grocery store.  We recognize that those who want or need help can ask, and everybody else just wants to get lost, or find a book through serendipity, or meet that cute guy in the poetry alcove. That said, we always want people to buy something. We are not a library after all.
HTMLGIANT: How about the books themselves—how do you keep track of them? What sells the best? What is something you could tell us that might surprise us about the process of slinging and tracking inventory at a successful bookstore?
Pete Mulvihill: New books are on Booklog, a bookstore-centric inventory management and POS system.  Used books are not, which is a liability, really, but it's worked well enough for 47 years.  So that surprise might be that we don't catalog the used.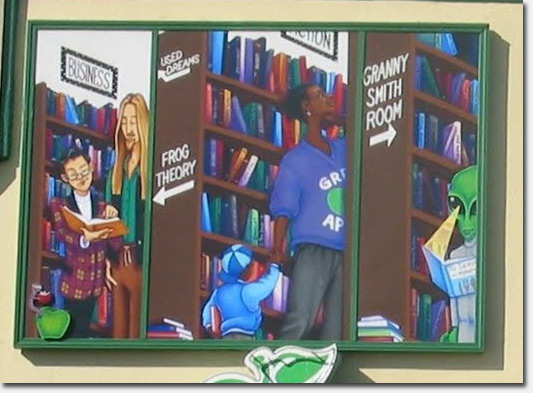 The accuracy of our used books buyers is pretty amazing. They see books from 50-75 folks per day, between 5 and 500 books per person, and they make few errors. Great instincts and knowledge.
As for what sells, our top grossing section is fiction, followed by kids books and cooking, probably. What amazes me is that with roughly 3500 transactions each week, our top-selling new book often sells about 10 copies, which means that 3490 people bought something besides the bestseller. I think this variety is part of what makes brick and mortar bookstores exciting, and it reflects the diversity of our customers' interests.
HTMLGIANT: That's so cool to think that a bestseller can be 10 copies a week, and you can still sell 3500 books a week, with 3490 being unique. Can you think of any memorable sequences/combos? Like did a person ever buy Kafka, a book about bobsledding, and every poetry book with a yellow cover, all in one haul?
Pete Mulvihill: I don't have a good specific example, but it happens all the time: someone has an erotic novel, a Curious George book, maybe the Unimaginable Mathematics of Borges' Library of Babel (we've sold scores of that one), and some Mad Libs in the same pile.  Why?  Books make great gifts, and human beings are complicated.
HTMLGIANT: Green Apple participates heavily in local organizations, working with merchants' associations, public libraries, and literary festivals like Litquake. You're big community players, but "community" is such a tricky word, expansive to the point of becoming vacuous, sometimes feeling more like a genie password than a real concept. Can you talk a little about the nuts and bolts and everyday life of being so heavily involved in the San Francisco reading community, and give us some practical ideas about what community really means?
Pete Mulvihill: Community means a lot of things for us, from donations of gift cards for school fundraisers to our interaction with other stores on the NCIBA (we've learned so much from our peers!).  It's just being involved, in various ways, with the groups and organizations that make up our city, our subcultures.  Serving as treasurer of the South End Rowing Club does not, on its surface, relate to Green Apple, but the connections made there lead to something else, like an event with bad-ass rower Roz Savage or extreme swimmer Lynne Cox. And involvement with the Bike Coalition has lead to good things. Same with the public library's One City One Book program.  Community is really networking, but in an authentic way. Not networking for selfish reasons, but living deeply or connecting with others in our town.
HTMLGIANT: Speaking of community, you guys are one of the big schemers behind California Bookstore Day. Can you tell us a little bit about that event and why it exists and how people outside of California might look to it for inspiration for their own days and bookstores?
Pete Mulvihill: CBD is a pet project that I feel passionately about, mostly because the primary goal is driving real people into real bookstores to buy real books.  (None of us are here to break even).  Beyond that, the one-of-a-kind books and art pieces re-establish the notion of value in a book (instead of cheapening it, like some promotional events do). I agitated for a national Bookstore Day at BEA last year and, when that didn't work, my colleagues at NCIBA agreed to try it in CA.  So much has been done and discovered, mostly by Samantha Schoech, the producer of the event hired by NCIBA.  She has had to raise money for her own salary via IndieGoGo, develop a logo, curate the 13 books and art pieces, communicate with 93 very diverse indie stores, coordinate publicity and marketing, source wood for a graffiti stencil; and on and on.
CBD exists thanks to so many people it's mind-boggling to me: authors who donated their art, publishers willing to support this experiment, graphic designers and packagers who assembled some of our items, booksellers who had to order vague things five months ago on a non-returnable basis with minimal information, the NCIBA board and its ED, Hut Landon (who is working overtime to make this thing work smoothly).  That all these people said YES when the easier answer is no shows community, shows trust, shows a passion for peddling books and ideas.  [stepping off my soapbox]
HTMLGIANT: It's a sturdy soapbox, don't worry. And here is an architectural transition: congrats on recently opening your second location! The conventional wisdom is that even one bookstore is a doomed flotilla. Why two? How two? Do you see them as distinct entities or complementary parts of a larger idea?
Pete Mulvihill: Location, location, timing.  We've flirted with a second store for years but talked ourselves out of it.  With eBook growth levelled off, our own personal lives in manageable order (i.e. kids are older), the economy recovering, and the most dreamy location possible at a fair price with an epic video store above, the time is right. The stores will share an overall vision, of course: a wide but carefully curated selection, and interesting space to browse and discover, a smart and friendly staff to help, etc.  But this new one is ⅓ the size of the original, and the building doesn't have as much character, so it'll be different for sure. It's exciting to start from scratch, address our weaknesses, accentuate our strengths, and then be ready to respond quickly to what works and what doesn't. We really want to go in humbly and adapt to the neighborhood.
HTMLGIANT: Finally, what is the really real secret future of books and bookstores?
Pete Mulvihill: Well-run bookstores are profitable, and bookish people have fun.
Tags: bookstores, good mary, green apple books, pete mulvihill, third spaces
2 Comments
May 1st, 2014 / 2:11 pm Bill Hsu—

I love Green Apple. It's one of my reasons for living in San Francisco. (Though I'm in Berlin at the moment, bummed about missing CBD.)

They carry a decent selection of small press books. I've found Calamari Press books there, for instance.

May 11th, 2014 / 5:59 am tootelage—

Consign small-press/ind and have that get-to-know-you feeling in between transactions