Christopher Higgs
2013 NATIONAL BOOK AWARD LONGLIST (REVISED EDITION)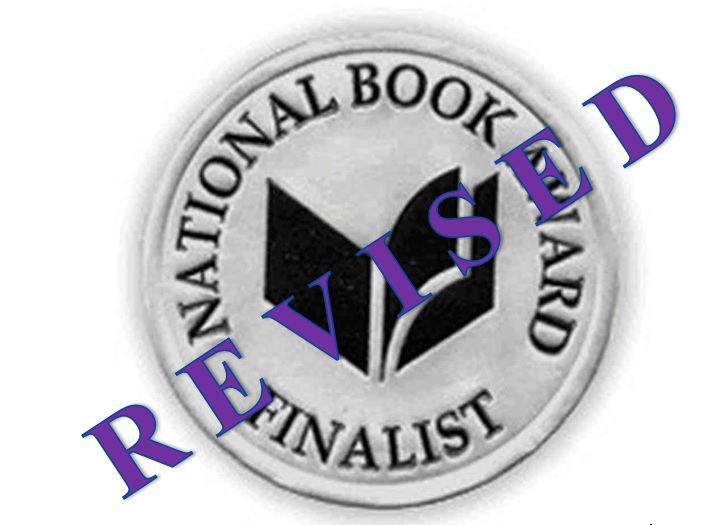 You heard the 2013 National Book Award longlists came out last week, I presume.
Perhaps you noticed the dearth of small press titles, and the ubiquity of familiar names and themes?
For what it's worth, I begrudge none of the recipients their nomination. In all sincerity, I'm sure they're fine books. But honestly I wouldn't know. I've read zero of them. Not a single book in any of the categories. And excluding the YA category, since I know little to nothing about that genre, I'm really only interested in reading six of the thirty selected. For the most part, the official selections just don't represent the type of material I would choose to spend my limited time reading.
That said, I see no reason to denigrate the official list. I do, however, see plenty of reasons to offer a different list of praiseworthy books that deserve more attention. So, I offer this revision in the spirit of the mission statement of the N.B.A.: "to celebrate the best of American literature, to expand its audience, and to enhance the cultural value of great writing in America." Hopefully this might encourage others to expand the scope even farther by creating their own revised longlists.
To compose my revised longlist of National Book Award nominations I first need to deterritorialize the genre categories, because many of the works I think deserve this recognition resist easy categorization as "fiction," "poetry," or "nonfiction."
Next, I will constrain myself to those books written by non-HTMLGIANT contributors, because it would probably seem too nepotistic to include them.
As well, I'll constrain myself to books that privilege text over image, which means I'll exclude a bunch of rad comics that could easily make my list. And I'll exclude "scholarly" texts, despite there being a fuckload of good ones this year.
And finally, I'll select thirteen books, because the official judges selected ten in each of the three categories and I'd rather there only be one category and I'd rather it be odd rather than even in number.
Now then, in alphabetical order of author's last names, my selections for the 2013 National Books Award Longlist: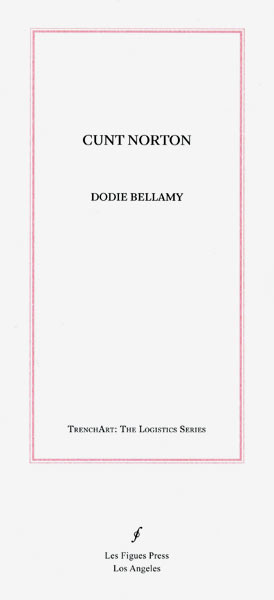 CUNT NORTON
Dodie Bellamy
— get it from Les Figues Press
— get it from Amazon
Performing the necessary act of cunting up The Norton Anthology of Poetry (1975 edition), this book fulfills the impulse to revise the canon by shattering the masculine voices who dominate it.
My tits only say, there we have been—but I cannot stop typing these words, cannot stop dragging to place it in time. The inner freedom you know when I let you touch my suffering, my inner tongue crying out for you to fuck her. By a grace of sense a white light stills my hard clit and my nipples poke without elimination, we're both new my dear. So, how far is your cock from completion of its partial ecstasy, pile of flesh laundry, and when you fuck my mouth the past and the future is woven in your dribbling cock. So you put your cock inside mankind, from heaven and damnation I'm a violin while the notes last.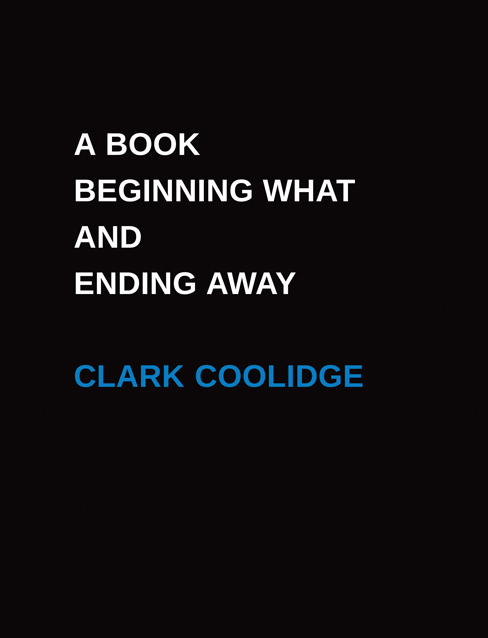 A BOOK BEGINNING WHAT AND ENDING AWAY
Clark Coolidge
— get it from Fence
— get it from Amazon
For me, this is the most important book of the year. Language gets a full spa treatment here. When you come out the other side of this monster, you cannot claim to be the same.
One large word like substance. The saying on sound for as not like chorus. The no less one and all other shoes than on end. As long is there to a slabby both. Point in for one to be in want of space. And it is done of coalpile. For it to be one or thus then again. For it to be still as if more than one. Less than any stronger lets stop. One bridge is ground now. Could part to the still that face.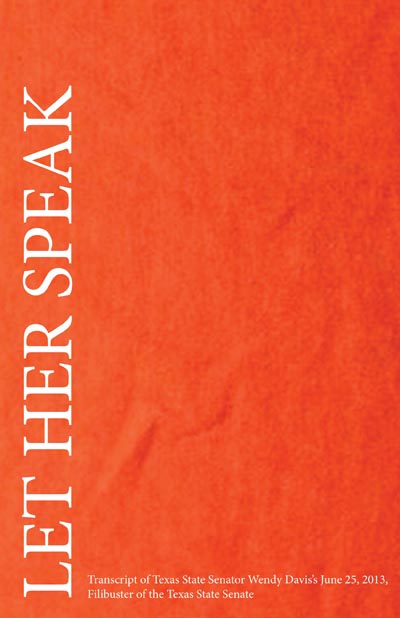 Let Her Speak:
Transcript of Texas Sate Senator Wendy Davis's June 25, 2013,
Filibuster of the Texas State Senate
— get it from Counterpath
— get it from Amazon
An important work of conceptual/performance art and an important work of radical political action against the war on women.
As we've been debating this issue, we have been reminded that there was a time in our country when only the wealthy could afford to access abortion services because they had the ability to travel to places that it was legal, and that women who didn't have that access to care were relegated either to carrying a pregnancy to term or, and very sadly, to some unsafe methods that they turned to, to try to address that need. And we know that women lost their lives over that. We also know, in written testimony from the group, The National Obstetrics and Gynecologic Group, that their fear is the same thing is going to happen.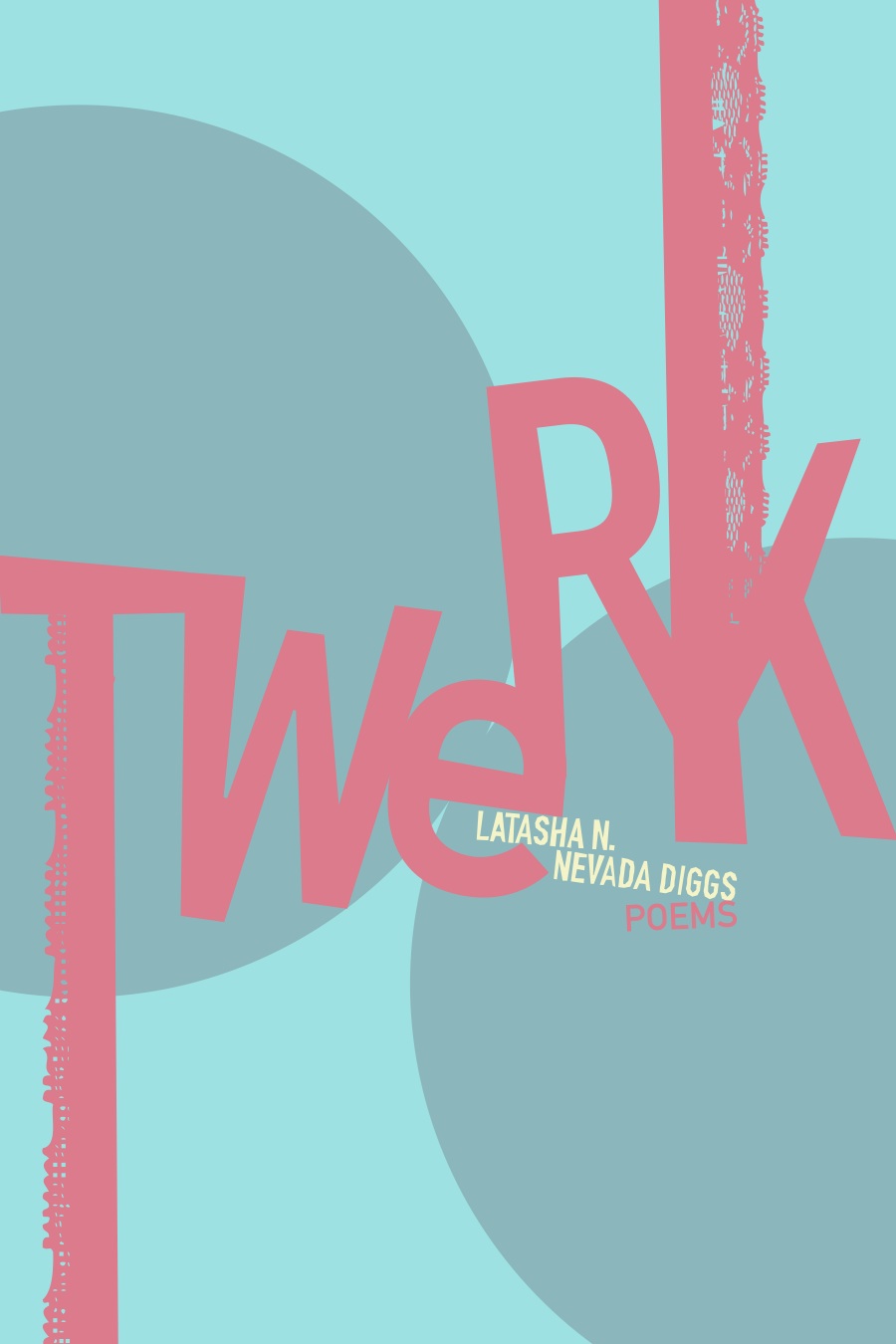 TwERK
LaTasha N. Nevada Diggs
— get it from Belladonna*
— get it from Amazon
A mix of American and imaginary culture under the microscope of language. Such sheer ferocity here. This book pulses in a way unlike most others.
deem invoked by twerk. love offering? booty without

arcane clues? rump could be scrolls the pirates desire

buried in the crease of flesh; or even thoroughbred mouthed

by knees that meet upon instruction and beat. Who

discovers the loot? cheap stilettos draw blood. are

we penors of lace fronts? our muskets black thighs?
THE ANTIDOTE
Jackqueline Frost
— get it from Compline
— get it from Amazon
Proof that language can be radical and magical.
How then to dérivé. To point to the beginning because of forgetting and returning. Beginning because we wish to adopt movement outside of narrative. To see crisis not as a great hill that comes into relief against the depth of a valley, but as the voltaic atmosphere and eccentricity of fog.
SEVEN AMERICAN DEATHS AND DISASTERS
Kenneth Goldsmith
— get it from PowerHouse Books
— gte it from Amazon
This book is the key to a lock we might still be searching to uncover.
Well, much talk today about Farrah Fawcett certainly, but now there is news that Michael Jackson has been rushed to a hospital, um, I think it's in Los Angeles, I'm not sure. The CBS newsroom just came on saying that there is a special report coming up for Michael Jackson's physical condition, which apparently is, uh, dire at this moment.

It's so interesting. Before we came on the air today—I hope this is not the case—but Jimmy and I were talking about how things happen in threes. We just lost Ed McMahon, today we lose Farrah Fawcett, now we're hearing Jeff McKinney walking in telling us…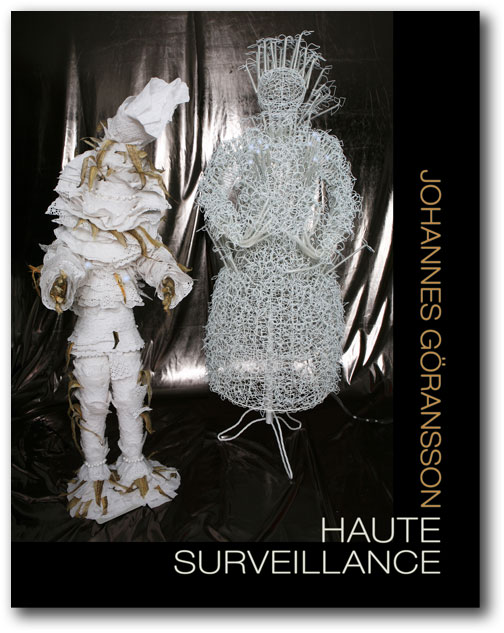 HAUTE SURVEILLANCE
Johannes Göransson
— get it from Tarpaulin Sky
— get if from Amazon
Thanks in part to Snowden, isn't 2013 the year of surveillance? For my money, no one pushes the sublime into the monstrous as effectively as Göransson; this book in particular strikes me as a perfectly timed revelation of horror.
This novel is written for breathing virgins. To help them understand the wonder that is their skin to help them perform admirably. To teach them about heroic and half-shot out buildings. To hurt them so correctly they will never doubt that they have been hurt in the kill. This is a novel about the black-and-white virginity of early cinema, the body tricked into doubles and contortions. Hello I am you.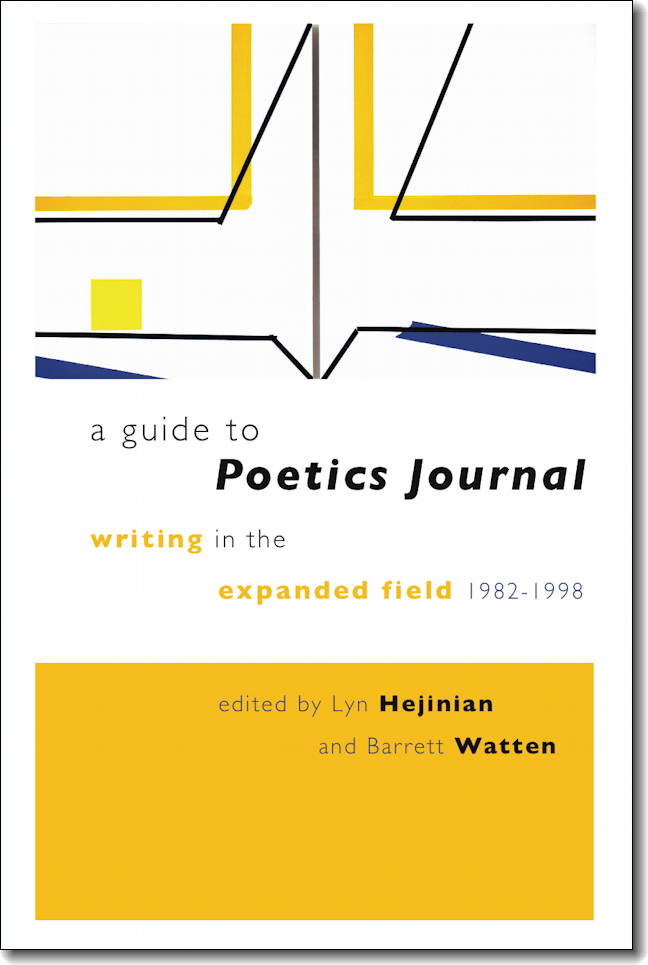 A Guide to Poetics Journal: Writing in the Expanded Field, 1982-1998
Lyn Hejinian (Editor)
Barrett Watten (Editor)
— get it from Wesleyan University Press
— get it from Amazon
An instruction manual for experiencing the shape of poetry. Utterly indispensable for anyone interested in manipulating and composing words.
Part II: Numbers 5–7

Kathy Acker
Ugly

Bruce Andrews
Total Equals What: Poetics and Praxis

Rae Armantrout
Mainstream Marginality

Michael Davidson
"Hey, Man, My Wave!": The Authority of Private Language

Johanna Drucker
Hypergraphy: A Note on Maurice Lemaître

Carla Harryman
Toy Boats

George Hartley
Jameson's Perelman: Reification and the Material Signifier

Bob Perelman
Good & Bad/Good & Evil: Pound, Celine, and Fascism

Poets Theater: Two Versions of Collateral
Kit Robinson: Raising Collateral
Nick Robinson: Subtext in Collateral

Leslie Scalapino
Pattern—and the 'Simulacral'

Peter Seaton
An Example from the Literature

Warren Sonbert
Narrative Concerns
— get it from Blue Square
— get it from Amazon
A riveting convergence of human and machine. Larson has long been an inspiration to me, having shown pathways for language unforeseen by anyone other than himself. This book could easily be considered our generation's The Making of Americans.
In something of red lived an irritant. Safe from the blue from the irr. And this truck went in it. Safe. Something of red in it back to the blue to the red. This truck and something extra. Listen. The nearby something extras in front of the truck. The man in front of the truck trampled from front to back safe from the blue. And all this while the man scooped shovels of dirt and trampled from front to back front to back. The other and the clay sighed for something of red. The irritant lay in something of red and laughed.
— get it from Amazon
My only Big Six pick. Seems impossible to imagine this book excluded from a list recognizing the best of contemporary literature. For those who don't "get" what Tao Lin is doing, or feel frustrated by what he's doing, consider rereading Gertrude Stein's "Composition as Explanation." In it you will learn about the importance of time's relationship to cultural understanding. As she says, "If every one were not so indolent they would realize that beauty is beauty even when it is irritating and stimulating not only when it is accepted and classic." Trust me when I say that in one hundred years students will study this book as one of the quintessential texts of early 21st-century American literature.
Paul cried the first day of preschool for around ten minutes after his mother, who was secretly watching and also crying, seemed to have left. It was their first time apart. Paul's mother watched as the principal cajoled Paul into interacting with his classmates, among whom he was well liked and popular, if a bit shy and "disengaged, sometimes," said one of the high school students who worked at the preschool, which was called the Discovery Center. Each day, after that, Paul cried less and transitioned more abruptly from crying to interacting with classmates, and by the middle of the second week he didn't cry anymore.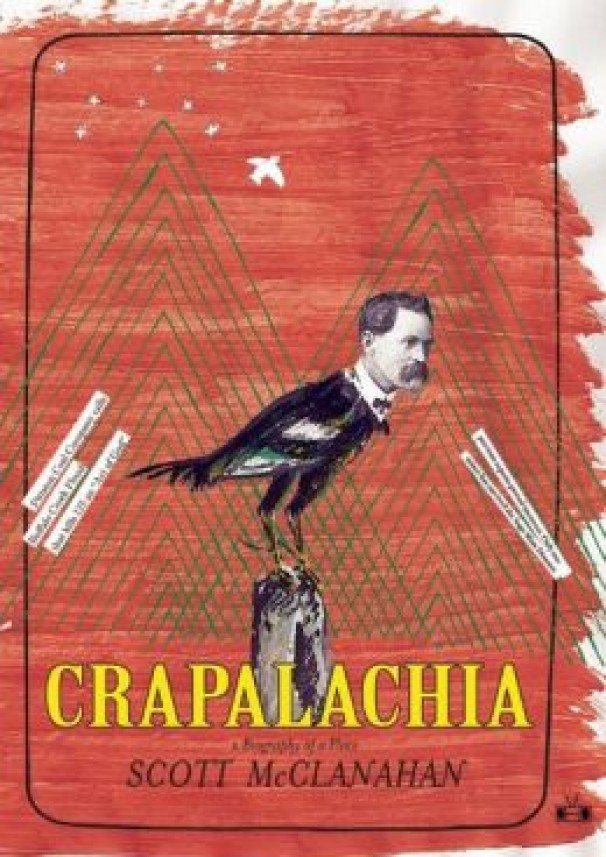 CRAPALACHIA: A BIOGRAPHY OF PLACE
Scott McClanahan
— get it from Two Dollar Radio
— get it from Amazon
Makes a powerful case for the necessity of telling American history through character driven narratives.
The first thing he asked me after we finished catching up was if I heard what happened to Bill. I told him I had but I didn't really know any details. And so he told me. He told me Bill and Joe were into some bad stuff. He told me about how they broke into this house to steal some shit. Bill did the breaking in and Joe did the lookout from the road. They were looking for pills. So Bill was going through the house looking for the bathroom. And then the old lady woke up and she heard him. Lee said her husband was sick and blind and on his deathbed. They broke into their house because they knew he was dying and had painkillers. And so she came out crying: "My husband's sick. My husband's sick. Please don't take his medicine. Please don't take anything." Then Lee said Bill stole some cheap jewelry, some pills, and some chewing gum.

I said: "What?"

Lee said: "Oh yeah, Lil Bill had four packages of chewing gum that he admitted to stealing when they caught him. He wouldn't admit to the pills or the jewelry though." I just shook my head and listened to the rest of it. I listened to how Bill freaked out and picked up a block of wood sitting next to the stove and then he hit the old woman with it.

And then he hit her again.

And then he hit her again.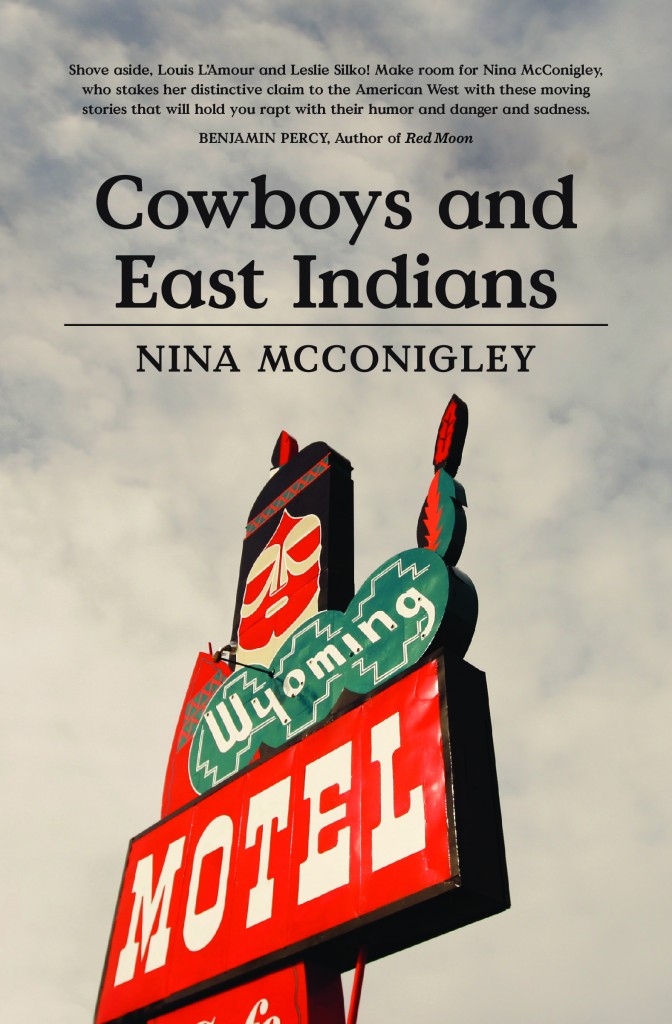 COWBOYS AND EAST INDIANS 
Nina McConigley
— get it from Five Chapters Books
Considering there are more antelope than people in Wyoming (the place were Nina and I are both from), it's especially exciting to find in her work such a vital and unique perspective on the American experience.
I had been following the house for almost two miles and, while trying to pass it almost ten minutes back, saw its cross-sectioned insides laid open like a dollhouse. I half expected to see a family posed stiffly at a dining table, their legs straight out beneath the tabletop. But instead, a piece of cloudy plastic sheeting whipped out from the living room like a flag, waving me back behind the house at its crawling speed as it inched into the outskirts of Laramie.

It was then that I looked out the window and saw them in front of me. Their black heads like notes marching up the scale of the shoulder. They walked two by two and one of them wore a long scarf that flapped like the plastic sheeting. I scanned ahead. The oversize load sign on the back of the flatbed hung unevenly and the flash of the pilot car blinked into the dusk. I was going nowhere. I passed the quartet of girls and looked into my mirrors.

Yes. They were Indian. I pulled my minivan onto the shoulder. The house continued up Grand Avenue to where the road turned into interstate, headed perhaps for a foundation in Cheyenne.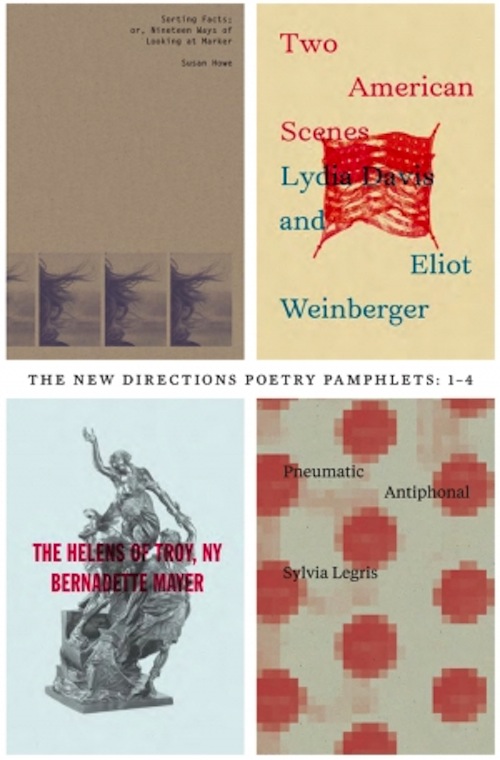 New Directions Poetry Pamphlets 1-4
Two American Scenes: Our Village & A Journey on the Colorado River by Lydia Davis and Eliot Weinberger
Sorting Facts, or Nineteen Ways of Looking at Chris Marker by Susan Howe
The Helens of Troy, New York by Bernadette Mayer
Pneumatic Antiphonal by Sylvia Legris
— get them from New Directions
— get them from Amazon
This is sort of a cheat, but I don't care. If aliens come to earth and find this list, I want them to consider these four pamphlets examples of the range our nation has to offer.
A boy and his parents have come to the main jetty at Orly, the Paris airport, on a Sunday before World War III, to watch the planes taking off. A little family stands together, facing away from the camera … Image track and soundtrack don't quite connect … Did the boy at the guardrail inside the film frame become the marked man? His story will survive the madness to come because of his obsession with an image he is bound to remember. Who or what binds him? Something he was on that primal Sunday he looked the other way. — Susan Howe
19 Comments