Nathaniel Otting
Happy New York (Part I)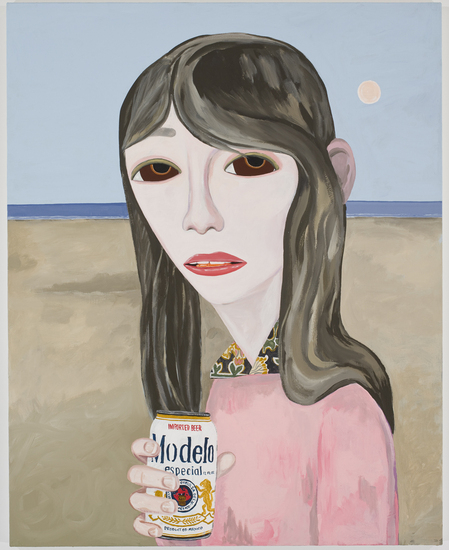 I don't think the Rust Buckle Books (more on these in Part II) bee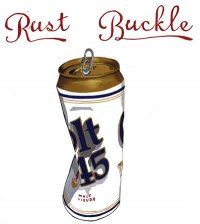 r can logo (below) is by Brian Calvin, but seeing it reminded me–via Flood Editions, where Calvin's heads (Half-Mast, 2001, and Killer, 2006) can be found on Graham Foust's Necessary Stranger (2007) and A Mouth in California–that "Head", his show at Anton Kern, closes on January 16.
I'm sure New Yorkers themselves go elsewhere (where?), but "Goings On About Town" is still my first stop to find out what I get for living where else. Although there's always an abundance in ART (the above BRIAN CALVIN, WALLACE BERMAN – Jan. 9; "FROTTAGE" – Jan. 17) and MOVIES (Tati–tonight, Trafic–at the MOMA: see also, under ART, OROZCO) that I wish I wasn't missing, rarely does READINGS AND TALKS make me want to move.
Ever abbreviated (possibly defensible in print, but why all the white space online, where this week there were three total readings–no talks–compared to eight pages of movies?), the section is never more so than in its annual capsule announcement of the reading of the year:
A hundred and forty poets and performers, including Penny Arcade, Yoshiko Chuma, Steve Earle, John Giorno, Taylor Mead, Judith Malina, Jonas Mekas, Eileen Myles, and Genesis Breyer P-Orridge, gather for the thirty-sixth annual marathon reading at the Poetry Project.
What about the other 130 plus poets (from Ana Bozicevic to Magdalena Zurawski) and performers (Philip Glass) and performers (Ostashevsky)? Is there another reading anywhere that, thanks to the Project's own Arlo Quint (and Emily XYZ) covers every letter? But I guess I shouldn't quarrel with an alphabet that begins with Penny Arcade and ends with Genesis Breyer P-Orridge. Indeed I would have gone to hear the listed Ms alone: where else could you find Mead (who turned 85 on New Year's Eve), Malina (b. 1926 in Germany, godmother of the American avante garde), the Lithuanian born Mekas (godfather of same, turned 87 on Christmas Eve), and Myles (the only Presidential candidate who's written a speech about Robert Walser?), not to mention Machlin, Marinovich, (Chris) Martin, and Mesmer, among Many More (see list-in-progress, with links, after the leap), in one audience, let alone on one stage?
CAConrad, the poet of the year if ever there were one (when's the last time anyone had books as good as Advanced Elvis Course and The Book of Frank come out in the same year?), has an anecdote about the most memorable line from the 2005 reading in the comments section of this to-be-revisited list. Can anyone give us some highlights from yesterday's event? Will anything else in 2010 approach this gathering in sheer skylight?
Here's a (more) complete list copied from the Poetry Project website. I'll be adding links and names as the Coletti (see Part II) confetti clears:
Ammiel Alcalay, Bruce Andrews & Sally Silvers, Penny Arcade, Ari Banias, Jim Behrle, Charles Bernstein, Anselm Berrigan, Edmund Berrigan, Ana Bozicevic, Donna Brook, Michael Brownstein, Franklin Bruno, Tyler Burba, Peter Bushyeager, Reuben Butchart, Callers, Steve Cannon, Yoshiko Chuma, Church Of Betty, Michael Cirelli, Todd Colby, John Coletti, CAConrad, Cori Copp, Geoffrey Cruickshank-Hagenbuckle, Mónica de la Torre, Mina Pam Dick, Steve Dalachinsky, LaTasha N. Nevada Diggs, Maggie Dubris, Douglas Dunn, Marcella Durand, Steve Earle, Will Edmiston, Joe Elliot, Christine Elmo, Laura Elrick, Maggie Estep, Avram Fefer, Jess Fiorini, Corrine Fitzpatrick, Foamola, Tonya Foster, David Freeman, Ed Friedman, Greg Fuchs, Joanna Fuhrman, Cliff Fyman, Kelly Ginger, Pepi Ginsberg, John Giorno, Philip Glass, John Godfrey, Toby Goodshank, Nada Gordon & Gary Sullivan, Stephanie Gray, Tim Griffin, Miguel Gutierrez, John S. Hall, Diana Hamilton, Janet Hamill, Robert Hershon, Tony Hoffman, Eddie Hopely, Lisa Jarnot, Paolo Javier, Patricia Spears Jones, Pierre Joris, Adeena Karasick, Erica Kaufman, Lenny Kaye, John Kelly, Aaron Kiely, David Kirschenbaum, Bill Kushner & Merle Lister, Susan Landers, Joan Larkin, Dorothea Lasky, Denizé Lauture, Joel Lewis, Brendan Lorber, Michael Lydon, Kim Lyons, Dan Machlin & Serena Jost, Judith Malina, Filip Marinovich, Chris Martin, Gillian McCain, Legs McNeil, Tracey McTague, Taylor Mead, Jonas Mekas, Sharon Mesmer, David Mills, Rebecca Moore, Tracie Morris, Will Morris, Eileen Myles, Roy Nathanson, Elinor Nauen, Murat Nemat-Nejat, Jim Neu, Geoffrey Olsen, Dael Orlandersmith, Richard O'Russa, Eugene Ostashevsky, Yuko Otomo, Gary Parrish, Simon Pettet, Nicole Peyrafitte & Miles Joris-Peyrafitte, Genesis Breyer P-Orridge, Kristin Prevallet, Brett Price, Arlo Quint, Elizabeth Reddin, Evelyn Reilly, Citizen Reno, Renato Rosaldo, Bob Rosenthal, Douglas Rothschild, Tom Savage, Michael Scharf, David Shapiro, Frank Sherlock, Elliott Sharp, Nathaniel Siegel, Patti Smith, Christopher Stackhouse, Stacy Szymaszek, Anne Tardos, Steven Taylor, Susie Timmons, Edwin Torres, Rodrigo Toscano's Collapsible Poetics Theater, Tony Towle, David Vogen, Nicole Wallace, Lewis Warsh, Phyllis Wat, Karen Weiser, Simone White, Dustin Williamson, Emily XYZ, Don Yorty, Rachel Zolf, Peter Zummo Group (with Ernie Brooks and Bill Ruyle), Magdalena Zurawski & more t.b.a
Tags: art, Brian Calvin, CAConrad, graham foust, poetry, Poetry Project
16 Comments