October 25th, 2010 / 3:00 pm
Mean
Roxane Gay
It's All Fun and Games Until an Editor Pokes an Eye Out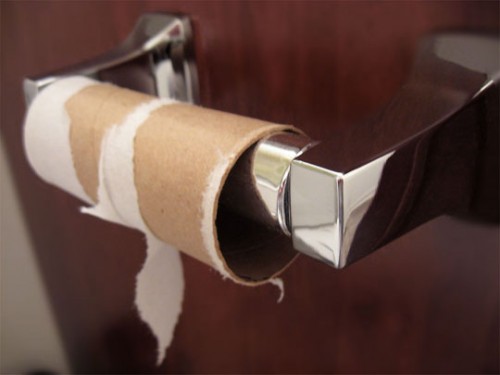 It is mean week, so I will do my small part.
I've written, at length, about how much I enjoy editing and reading submissions and working with writers. I enjoy blogging, scrounging for money, thinking up new ideas, and fixing what's broken. I don't even mind correspondence with angry writers because there's an amusement factor there that is priceless and if I'm going to share my opinion on a submission I damn well better be open to hearing how a writer feels about that opinion.
I do not, however, love everything about being an editor and I thought it would be fun (therapeutic) to expose the seamy underbelly of editing. That was unnecessarily dramatic. There isn't so much an underbelly and if there were, it would probably be pale and hairy rather than seamy though it could be said that for something to be seamy it is also pale and hairy. There are some tasks that make me want to throw a tantrum but they need to be done so I just suck it up and do it. All editors do. The "I" here does not imply any specialness or uniqueness on my part. Most of these odious tasks involve the logistical maintenance of the magazine, duties I split with my co-editor. The suffering is definitely shared and while suffering is a bit of an exaggeration given what we're talking about here, some aspects of editing are infinitely less pleasant than others.
Every month, about three days before the 15th (I reckon that would be the 12th), we begin to assemble the online issue which means finding all the work that's going to be included and setting up posts in WordPress. We used to manually code every single page in Dreamweaver before moving to a CMS and that was its own fresh hell, believe you me. Our web designer created a beautiful system for managing our content but nothing can simplify the copying/pasting/formatting for each issue. Then galleys have to be sent out and I go into a meditative trance as I wait for the author corrections to come in.
As a writer, I understand wanting your work to be presented as professionally as possible. As an editor, I genuinely want the writers we publish to be happy and it is generally not a problem to make changes.  Things get missed and formatting can go awry at times and we're just glad to give writers the opportunity to address these issues before their work goes live.
That said, I am so very human and making corrections to galleys pushes me to the edge of losing it. There's something about the process that gets under my skin in the worst way. My reaction is completely irrational and immature. Don't let this deter you from sending corrections. This is my own bizarre issue, plus we have an assistant editor now who will soon be taking over these duties.
This frustration intensifies when writers use the galley process as an opportunity to revise their work and do so by saying things like, "In the 83rd paragraph, please shift everything from first to third person." Really, writer? Really? It also makes me sad when writers update their bio two or three times. No one cares about your most recent publication in Aunt PittyPat's Lemon Tree Review, or I don't care, or something. Because I hate these corrections so much, I rarely ask editors to modify my work when I see proofs. I try to do unto others. I am sorry for every instance where I request revisions retroactively and well into the future.
When production ramps up for the print issue, I am not fond of dealing with those galleys either. The part I hate the most is splitting the master PDF, using Adobe Acrobat, into 60 or so individual files and then sending those files to the writers. That gets unbelievably time consuming. Fortunately, our copyeditor now handles the PDF splitting. It's a little thing but sometimes, little things become big pains in the ass.
I also hate having to communicate with printers because I have this pesky quirk where I like to be kept informed about production schedules, projected costs, delivery dates and the like and printers have this pesky quirk where they just don't give a damn about what we, as the paying client, want. I cannot speak of distribution because we are still suffering (there's that word again) the deeply traumatic effects of a mail "situation" last year where a couple hundred copies of the magazine were shipped first class by individuals who were angry about having to ship, well, a couple hundred copies of anything even though they had been given fair warning.
You would think a writer whose work was accepted would, perhaps, read the e-mail we send but such is rarely the case. To be fair, that e-mail is a bit long and it contains instructions. As I tell my students when I am teaching technical communication, people hate to follow instructions so when you're writing instructions you are, essentially, wasting your time. You are writing those instructions to make yourself happy, to enjoy the sound of your own voice. Approach all instruction writing with a sense of futility and you won't be disappointed. I try to embrace futility when I send an acceptance. In fact, I try to embrace futility in any way I can. It's for the best.
Speaking of futility, there are the people who submit on a schedule. That is, writers who, as per our request to only submit once a week, submit once every seven days, undeterred by rejection. Now, it is not the frequency of submission that bothers me. Bring it on. Of real concern is the submitting without any thought as to whether or not that submission might be right for PANK. Just because you wrote it means you should submit it and yet that small amount of critical reflection is all too often, completely absent. It disturbs me that a writer has enough unpublished work that they can submit for, say, 38 consecutive weeks. Really. The strangest thing about these habitual submitters is that they will submit the same kind of writing every single time, completely ignoring the feedback we've offered trying to explain why a given submission isn't right for us. It's as if they're hoping that sheer will, resolve, and determination will accomplish what their writing cannot.
I am not a fan of cover letters that are addressed Dear Editors or Dear M. Bartley Seigel and Roxanne Gay because my name is spelled with only one N. This is petty of me, yes. We're all tired of my ranting about this, I know, but it is my name. I don't have a middle name and everyone makes fun of my last name so I am even more attached than is reasonable to my first name.
A part of my soul blackens when a writer declares, in their cover letter, that they only want their work considered for the print issues. Our standard response: please withdraw your work. When a writer submits a story, knowing full well we respond within two weeks and often less, then withdraws their work in less than 48 hours, a bug crawls right up my ass and lodges itself firmly in those sensitive membranes. You couldn't wait? Really?
For the editors out there, what editorial tasks take you to the edge?
Tags: Adobe Acrobat, editing, frequent flyers
27 Comments