November 7th, 2012 / 12:00 pm
Presses
John Pluecker
An Interview with Tim Roberts, Co-Founder of Counterpath in Denver
I've been thinking a lot over the last year about how to nurture innovative writing communities and build structures to support those communities in places where they don't exist, or where the existing structures are rickety or shoddy. About ways to create horizontal networks of writers interested in dialogue and exchange about art and writing outside of a university context. Maybe it's because I've spent too many hours at readings with authors aiming for the NYC big leagues and elbowing each other for position. Too many evenings listening to the same "good story" or "good poem" lectures. Disappointed and often frustrated by the lack of innovative lit/art endeavors outside of a handful of big cities (and smaller centers), I've been looking for models for building innovative / small press / interdisciplinary writing communities in all the places we live.
As I set out to look for different examples, one kept coming up: Tim Roberts and Julie Carr's work to build Counterpath in Denver, Colorado. Counterpath combines so many things: a press, a bookstore, a gallery, a performance space; their focus on the work of writers and artists who are driven to make "linguistic and visual interventions in contemporary global culture" seems spot-on. I am particularly drawn to Counterpath because their definition of what is "new" seems broad and because they are explicitly interested in work from groups often under-recognized in the experimental literary universe: people of color, women, queers. And their list of readings and events made me oh-so-excited: CA Conrad, Rodrigo Toscano, giovanni singleton, Lisa Robertson, Eleni Sikelianos. They've collaborated on events with Ugly Duckling Presse and Coffee House Press. I wondered how they did it all, how it all started and wanted to see if there was something I could learn from their experiences. Of course, being in the experimental hotbed of the Denver/Boulder area makes their job a bit easier, but I still wondered how they'd done it. There's a great interview by Noah Eli Gordon with Julie Carr on the Volta that addresses some of these questions, but I still had more questions when I finished reading it.
So I sent Tim Roberts at Counterpath an email to see if he could give more details about the kind of work they're doing. This interview is the result. Enjoy.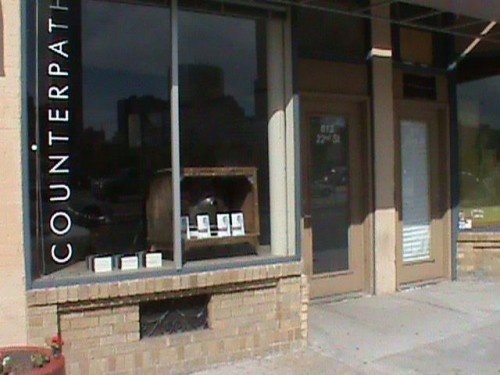 JP: How did you and Julie Carr begin Counterpath? Why and when? Was it originally a press or a space or a bookstore? Which came first? How did the other pieces develop over time?
TR: We were living in Oakland, CA, when we started the press, in January of 2006. Julie was finishing a Ph.D. in English at UC Berkeley and I was working in book production at Stanford University Press. Both of us were doing a lot of writing, and then at that point I thought I could deal with most of what was necessary in terms of making the books, including design. The press project itself kind of just came to us and seemed like a natural progression of what we were already doing. We thought it might be useful in two distinct ways, in that it was a project grounded in a broad concept of writing itself, picking up from writers like Blanchot—not necessarily connected to a book, or ink on paper—and that responded to a sense of I guess political hopelessness when the US actually re-elected George W. Bush in 2004.
We set out to publish about 6 books a year (still do). But soon after we started looking for and accepting manuscripts Julie got a job at the University of Colorado in Boulder and we moved to Denver in June of 2006, before we'd published anything (our first books came out in February of 2007). This I think was an interesting moment since it removed us from the community in which the press took root—I can remember, for instance, going to a reading in San Francisco where we talked to Andrew Joron about publishing some of his prose, which became one of our first books—and set us down somewhere else entirely, still with old connections, but then with a different relationship to them, along with a need to acclimate to a new community, in Denver. What happened was that while Denver did not have nearly as many writers or venues for readings and such, the economy was vastly different, so that our availble funds for doing such a project got quite a bit healthier and it was actually easier to maintain the press, from that perspective.
So we were on our way, and we kept going, publishing close to 30 books all the way to November of 2010. At this point a couple things were coming up, just from the experience we were gaining. We began to see what kind of book sales we could likely expect, what kind of responses projects we worked on were getting. It was obvious that it was readings that seemed to be where the work typically came into its own, where writers and audiences seemed to find a more direct route to each other. It became clearer that building events was completely key.
Another thing that was going on was that for my own work, still in book production, except now consulting and working from home, I needed to hire someone and to set up an outside office. The work itself is paperless/wireless and pretty much just needs a laptop so that in fact the outside office only needed, not uncommon for an office space, a couple computers, chairs, and tables, and an internet connection to make it viable.
You can maybe see where this is leading. The two things merged and in looking for a space we tried to create a realization of what we were thinking about for the press, a venue for events. Decisions began to fall into place: we didn't want to limit what kind of events we had there, what kind of work we wanted to support or feature, whether a reading, talk, a dance performance, a film screening, an installation or gallery show, and so on. But we also didn't lose sight of the fact that we were building something around the press, this activity of writing, which has its most significant manifestations through books. So we wanted the space to be somewhere books could be found, engaged, purchased, and this led us to look seriously at a storefront. At this point I like to think we're working with an expanded notion of the press, publishing books but consistently thinking about a range of alternatives, how our overall project can be realized outside of book publishing protocols, seeing how one–publishing books–impacts the other–organizing events.
JP: How important is Denver to Counterpath and vice versa? What has been the reception and the interaction with the Denver community over the years? What is Counterpath's place in the writing community there?
TR: I think I've just spoken to how landing in this particular place initially impacted the press. I think for the first number of years, from 2006 to 2010, we didn't make much of an "impact" in Denver or the Denver/Boulder area outside of a pretty small community of writers who saw what we were publishing. Having the space and building the programming there has shifted this dynamic entirely however, which is teaching us lessons about community engagement, engagement with experimental work, that I think staying with book publishing never would have done. Perhaps most basically we can now promote work without having to publish it. It now makes sense to have a reading by someone published by another press, carrying their book just like any other bookstore. The space also gives us the ability to look at all of the ideas we were looking at in publishing books and actually engage alternate ways these ideas might be realized. We've found that much of the work we'd like to publish in book form—such as Tan Lin's Heath Course Pak or Michelle Disler's [BOND, JAMES]—looks at ways we process information, and now we have this ability to use the space to elaborate, for instance with an installation like Sarah Schnadt's Travel Patterns, which translated these basic concepts into a stunning physical environment.
But "Denver"…. it's a big (small) city and we'd rather not make any undue assumptions or judgments. As with any place, there are many communities at work. For instance, there's a brand of conervativism/liberalism here in Colorado, in Denver, or in Boulder, that's different than what's in California, or the Berekely area, where we drew up our blueprints so to speak. I mean, if we started to promote snow skiing we might see a lot of interest. We also tend to like work that's challenging for most people, particularly for us as publishers. Not that it's beyond anyone at all, but that it's not coming at you trying to be pleasing or to facilitate experiences we might already be used to. It's not immersive, or is so only critically, and it's probably true that community is predicated on such things. It's innovative maybe in that sense, in that it's deeply critical of connection. I feel like a big part of what we're up to, and maybe what presses like ours are doing, is exactly giving a kind of "stress test" to ideas of community. It's disaggregated, diffuse, finding a way to run "counter." Probably everything we find interest in has an element of this, in part or whole, with varying tactics, hitting different notes, frequencies, rhetorics, etc.
JP: I've been really impressed by the line-up of experimental and innovative writers and publishers. How do you handle booking and manage to have such an exciting line-up of events? As part of that question, I know a lot of experimental/innovative reading series do not have a lot of funds to bring in writers. Can you talk about your funding model? What role does compensation play in bringing great authors to Counterpath? 
TR: We don't have a bank of funds and we need to put together resources on a case-by-case basis. Of course we invite local folks to read in the space, and then someone from out of town may be on tour, doing something nearby. They may want to pay their own way purely out of support and interest (our opening event was at the good graces of Craig Dworkin traveling in from Salt Lake City). We've often had great events as a complement to who is brought in / paid for readings at the University of Colorado in Boulder (where Julie works) or the University of Denver (another example of an extraordinary university-based writing community).
JP: How does the bookshop function in the space? Are you only open during events or do you have set hours? Do you make money off of the book sales, i.e. is that an important piece of the funding model for Counterpath as a whole?
TR: The bookstore, open 9-5 on weekdays and during events, is about 10% of the space and we're not at all planning on going past that (so technically "bookstore" has be a very qualified term). We have been following a model of carrying all of a small press's titles, on consignment. This has cost very little to put in place, and I think one of the most interesting things has been that we (as a small press…) have been able to put checks in the mail back to all these other small presses and been able to promote their work, being a kind of resource for titles not found in any other bookstore in the immediate area (outside of this new bookshop in Boulder, Innisfree, which focuses on poetry).
In terms of funding model, it's really only the other work I mentioned that brings income. Counterpath activity is pro bono, effectively a donation. The press itself has tended to just cover its expenses of printing, advertising, shipping. One big factor in making the space happen is rent, which is quite low since we're in an out of the way and relatively run down location (one we're in love with).
JP: Do you think Counterpath would have worked in an area that didn't already have so much infrastructure for innovative work? I'm thinking of Naropa and the PhD at the University of Denver in particular. Would you have thoughts or recommendations for launching a similar endeavor in an area without that same infrastructure?
TR: I'm afraid it can end up being chicken/egg. The realities of Denver are what enabled this project from the outset, who we already knew was here, what resources we had a sense of, from rent prices to the freqeuncy of writers coming through. We actually came here as an extension of that already existing activity, Julie coming to teach at CU Boulder.
I think there will always be a certain degree of infrastructure already in place, otherwise you wouldn't go or be somewhere. So you want to see what you have in front of you. I think too that part of creating community is creating it yourself, engaged in some kind of reinvention. For instance, you might look at the map and see what cities are nearby, what other infrastructures you might tap into, see what it takes to drive from those places to where you are, see how much a flight is, etc. I'd say you're going to work digitally, with strategies of virtual presense, and your physical place might have the advantage pf price per square foot.
JP: Can you talk about how interdisciplinary collaborations work at Counterpath? Specifically with the visual arts and performance. It seems like so often these fields and individuals involved within them get the methodologies and practice of risky or innovative writing better than many more conservative writers. Like they are better allies or present a more functional model for artistic work. How has that work across different artistic practices strengthened Counterpath?
TR: What's happening is that we now have a way to engage visual or performative work, whereas before, being in some ways confined to written work, we were in a different place. I think what is happening now is that as publishers we've been able to open this door to other artistis, visual or performing artists, or digital artists, who happen to have book projects that we find interesting. We're also seeing more and more folks whom we thought of as having this or that book also having strong ideas for non-book projects. I think we find ourselves in the midst of having opened up new traditions and possibilities for what to draw on and what can happen within our own project. I'm not sure one is going to a do a better job than the other but it's clear that we're now holding them up side by side.
JP: Thanks for the interview!
***
Tim Roberts is the publisher, with Julie Carr, of Counterpath (counterpathpress.org). A writer and editor living in Denver, he is the author Drizzle Pocket (BlazeVox, 2011).
John Pluecker is a writer, interpreter and translator. His work has appeared in journals and magazines in the U.S. and Mexico, including Mandorla, Aufgabe, Third Text, and Animal Shelter. He has published a number of books in translation from the Spanish, including essays by a leading Mexican feminist, short stories from Ciudad Juárez and a police detective novel. There are two chapbooks of his work, Routes into Texas (DIY, 2010) and Undone (Dusie Kollektiv, 2011). A third chapbook, Killing Current, will be published by Mouthfeel Press in 2012.
Tags: counterpath, John Pluecker, Tim Roberts
4 Comments