January 9th, 2009 / 3:13 am
Presses
Ryan Call
new from Willows Wept Press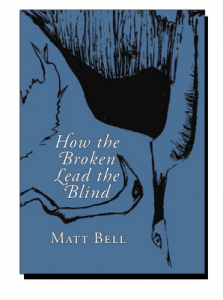 Willows Wept Press has revealed the cover of the first book in what promises to be a solid catalog. Matt Bell's How The Broken Lead The Blind anchors the press and is due to be printed this month. To fully appreciate the artwork by Christy Call, you can see a wraparound cover here.
You can preorder it at the website for $10. Get on it quickly, as there are only 100 copies to be printed.
And look out for the next Willows Wept book, Scott Garson's Vercingetorix.
Tags: Christy Call, Matt Bell, Scott Garson
22 Comments