December 11th, 2008 / 4:29 pm
Presses
Blake Butler
The Tree of No by Sandy Florian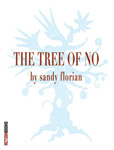 from Action Books:
The Tree of No, Sandy Florian's second book, is now up for sale actionbooks.org. We are not officially releasing it until February, but to celebrate the end of the Year of the Squealing Pig and the start of the Year of Lemurs (All Over Our Bodies) we are starting to sell the books early on our website only.

Here's an excerpt:

I become pregnant with a hole. Scoop it out and the void comes down on its head. Then give it thanks and sing into the pit. For he is mindful of me. For he is manful on me. I make a beast of him like I make a beast of the bird, like I make a beast of fish, like I make a beast of the sea scrolling under my feet.
This looks amazing. I have already ordered. Action Books is very on point.
While you're at it, may I recommend Lara Glenum's THE HOUNDS OF NO, Aase Berg's REMAINLAND, and Tao Lin's book if you don't have it: all three of these I own and love. I also just ordered: MOMMY MUST BE A MOUNTAIN OF FEATHERS. How can you not want a book with that title?
Tags: action books, sandy florian