August 24th, 2009 / 12:43 pm
Presses
Adam Robinson
TripleQuick Fiction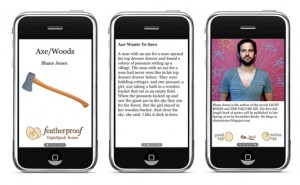 Featherproof is creating an iPhone app for flash called "TripleQuick Fiction." Each story will be 333 words long or fewer, and from looking at the part of the image underneath Shane Jones's barrelchest, I gather that readers can vote on each piece's quality by choosing either "Good Egg" or "Rotten Egg." To me that's the coolest thing about the idea. Let's let the techie dudes have a say in what works for li'l lit.
You heard it at the Examiner first, with this keen and clunky description of short fiction: "Because the stories are so short they may seem simple and disposable but writing good flash fiction is challenging because you only have so few words–333 in this case–to create, or at least suggest, a world, to take the reader there and let her experience it." Now with mobile technology, you can let TripleQuick take you to one world while the bus takes you to work.
I'm really excited about this, even though I don't have an iPhone. I have a G1. What are the chances some ebookish developer gets motivated enough to set this up for Android? What about people with just regular cell phones, the kind with the hinge? Are they gonna get illiterate?
What's next? What the hell is going to happen next?
41 Comments