December 18th, 2013 / 11:27 am
Random
Christopher Higgs
2013 Holiday Shopping Guide: Poetry Recommendations
Last week I did a Fiction Shopping Guide and a Nonfiction Shopping Guide. Now I've got this list of poetry titles published this year, for all you last minute shoppers.
When compiling the nonfiction list I limited myself to twenty titles, even though I could've easily made it thirty or fifty with the amount of good material published this year. For the fiction list I bumped the number to thirty, but could've easily exceeded it. For the poetry I decided on thirty-five. I'll present them in no particular order. (N.B. I've omitted works published by fellow giants, which was hard considering the awesomeness of Klassnik's The Moon's Jaw
 or Lorig's NODS. to name but two.)
These obviously represent my own interests and therefore omit plenty of titles I'm sure were great. Also, in the interest of transparency, my click-throughs use my Amazon Affiliate number, which means that I receive pennies when you click on the titles and end up purchasing something, pennies I save up and use to buy baby supplies.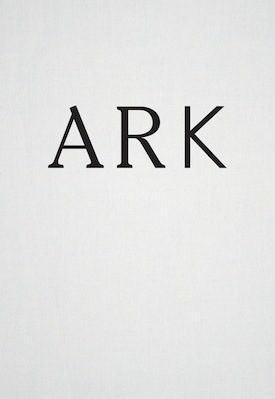 ARK

by Ronald Johnson
A new edition of Ronald Johnson's masterpiece, edited by Peter O'Leary.

"ARK is a metaphysical poem that could only have been written in our time, of which it displays a new vision. It is a late harvest of seeds sown by Blake, L. Frank Baum, the Bible, and Zukofsky, all in a new architecture, a wholly new voice, and even a new chemistry of words and images. It is for those who can see visions, and for those who know how to look well and be taught that they can see them."—Guy Davenport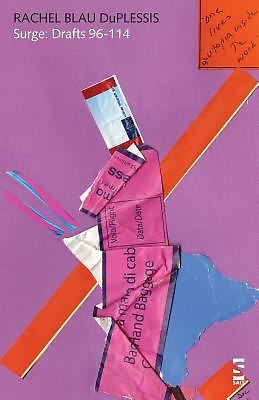 Surge: Drafts 96-114

by Rachel Blau DuPlessis
A surge into twenty-first century poetry and poetics, a book of passionate poetic energies and odic verve, Surge is the provocative, open-ended ending to DuPlessis's twenty-six year long poem project, Drafts. This work exemplifies a tertium quid, transcending poetic schools and critical binaries with its fusions of intellection and emotion, with its reassessments of Dante, Eliot, Duchamp, with its witty genre experimentation, with its strands of eco-poetics, feminist analysis, conceptual torques, and unstinting poetic commitment. The book contains a contemporary mirror of The Waste Land, a striking political-emotional reflection on divided cities, an investigation of gender in a work of poet's theater, a ballad on science and reality, an index, a canzone and—over all—a scintillating texture of meditation in which the analytic lyric is intensified by the refractions of gloss.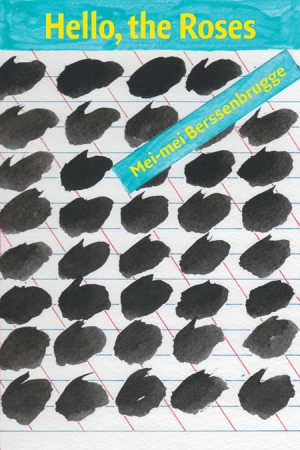 Hello, the Roses

by Mei-Mei Berssenbrugge
A poet of "epic perception" and "subtle music," Mei-mei Berssenbrugge opens form into long, shimmering lines of profound emotional intensity and multivalent voices, splintered with space, silence, and desert light. Her new collection of poems, Hello, the Roses, is composed of three parts. The opening poems delve into an array of unities, of myth and landscape, fashion and culture, experience and forgetting, boys and ravens. The central poems explore an invisible world where plants, animals, and the self communicate and coexist. The final part contemplates the individual's relationship to night, weather, and cosmological time as Berssenbrugge limns a karmic temporal continuum, a mandala of perception. Throughout are the roses, transforming slowly, almost imperceptibly,deepening awareness, creating fields: a rosette of civilization — a wild rose, a Delphic rose, imagined roses, white cabbage roses, an Apache rose, a Bourbon rose, our sacred mortality "saturated with being" in pink petals and gray-green leaves. Hello, the Roses is poetry enraptured with the phenomenal fullness of the world.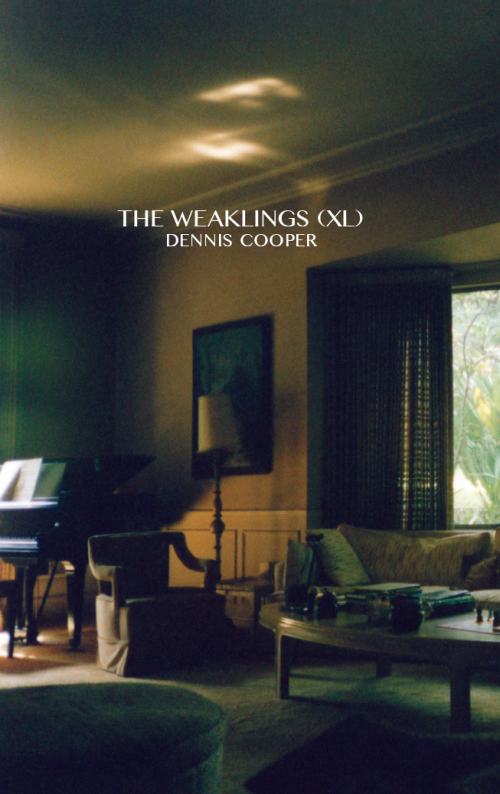 The Weaklings (XL)
by Dennis Cooper
This is a pre-order. Books are being printed and will ship at the end of December.

The Weaklings (XL) is Dennis Cooper's first full-length collection of poetry in almost two decades. Although best known nowadays as the author of nine celebrated and controversial novels, including the five novel sequence The George Miles Cycle (1998-2000), The Sluts (2004), and, most recently, The Marbled Swarm (2011), Cooper came to prominence as a poet in the early 1980s. His first collection, Idols (1979), is considered a classic of gay literature, and his second, Tenderness of the Wolves (1981), was nominated for The Los Angeles Times Book Prize. His most recent collection was The Dream Police: Selected Poems 1969-1993(1994). Cooper's poems have been widely anthologized, including in Post-Modern American Poetry: A Norton Anthology, and were featured in the PBS series The United States of Poetry. The Weaklings (XL),which expands upon a limited edition 2008 book of the same name, gathers the best of Cooper's poetry from the last 19 years.
The Self Unstable

by Elisa Gabbert
Elisa Gabbert's The Self Unstable (coming November 10) combines elements of memoir, philosophy, and aphorism to explore and trouble our ideas of the self, memory, happiness, aesthetics, love, and sex. With a sense of humor and an ability to find glimmers of the absurd in the profound, she uses the lyric essay like a koan to provoke the reader's reflection—unsettling the role of truth and interrogating the "I" in both literary and daily life: "The future isn't anywhere, so we can never get there. We can only disappear."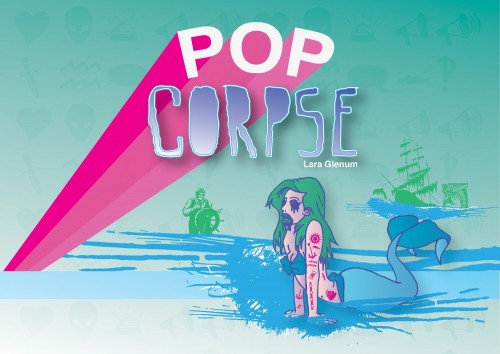 Pop Corpse!

by Lara Glenum
A radiant brew of emoticon opera, fairytale fan-fiction, and chat-room flame war, POP CORPSE! follows a heroine mermaid on her devoutly disarming search for "realness." Along the way, Glenum dismantles pieties of both the left and the right, proposing new models of configuring text, voice, body and species-hood for those who swim in the increasingly fetid waters of the 21st century.
Plural

by Christopher Stackhouse
PLURAL is an experiential immersion in the daily life of an artist, arts critic and poet who weaves and juxtaposes aesthetic ideas, personal circumstances, philosophical questions, and societal situations while aggressively experimenting with poetic form and content. Stackhouse's interest in turning basic descriptions of everyday objects and mental images into caustic, claustrophobic, lyrical address is present in much of this collection. The prose poem "Short," a compressed narrative that recalls a perfunctory day of activity that includes an egg and toast breakfast, pornography, beer, and walking a dog, reveals highly self-aware attention to the dramatic closeness of thought, physical action, language and visuality. PLURAL also comprises poems made from direct transcriptions of notes taken at lectures given by philosophers Alain Badiou and Arthur Danto, as well as text appropriations and references to musicians J. S. Bach, Bill Dixon, and John Cage. PLURAL offers radically individual attempts at human communication and communion.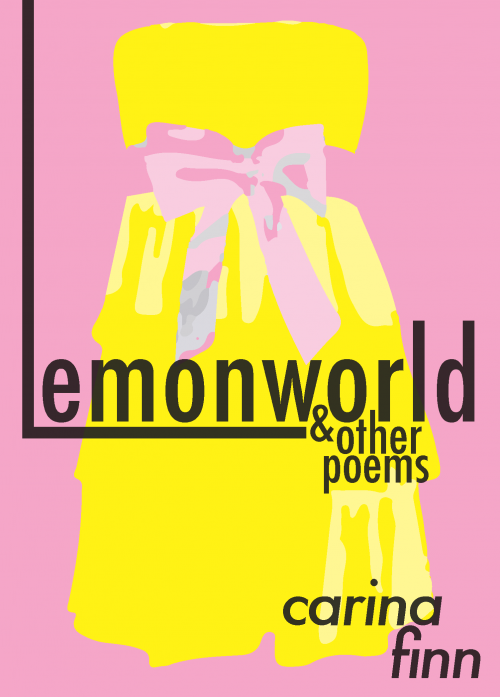 Lemonworld & Other Poems

by Carina Finn
Carina Finn's debut collection LEMONWORLD & OTHER POEMS explores the contemporary zeitgeist through the lyricism of fashion, pop, and the youthful vernacular, engaging readers by asserting a sense of self that is at once aware of its place in the cultural collective and of its undeniable otherness. The poems in LEMONWORLD are sound bites on crack, designed to be aurally devastating and always well dressed.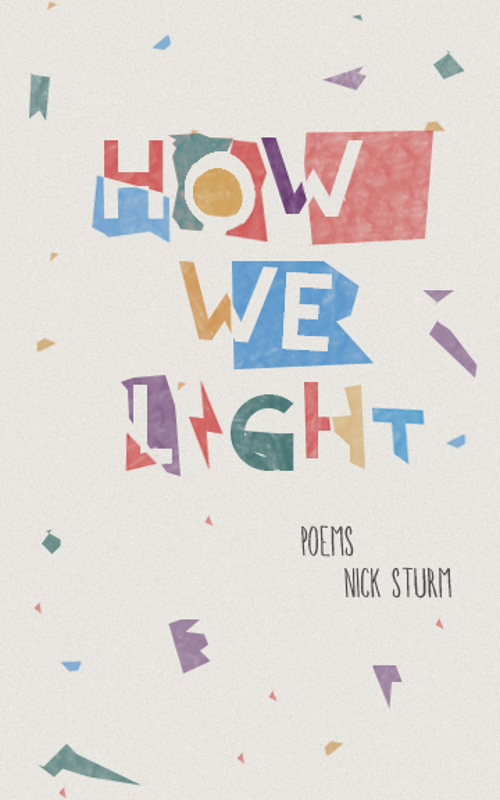 How We Light

by Nick Sturm
"Nick Sturm proclaims in the first poem of his collection, "I'm going to keep laughing until something gores me," and proceeds to startle every page with his scaldingly funny, delightfully reckless linguistic breakdancing.  How We Light is also a deeply moving book, a litany of heartbreaking assertions of what it means to be alive and mortal and surrounded and lonely and joyous and melancholy, at the same time, all the time. Sturm's "basic guides" to autobiography, history, growing up, friendship, emergency, success, decision making, science, and truth will teach you more about how to be human than any self-help book. The instructions are that there are no instructions: "The pamphlet contains no information/regarding how little a bed can be or what/you are doing with those teacups." Full of emotion and tenderness (and a kind of controlled anarchy), this is a book that will make the blood rush back into your brain." – Michael Dumanis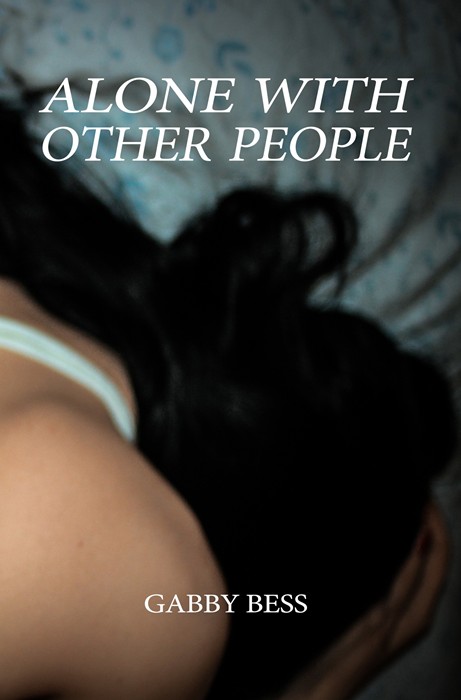 Alone with Other People

by Gabby Bess
"The poems and prose pieces in this smart and complex collection illuminate the shape of a new, 21st century webcam feminism—one that questions its own ambitions, knows the shape of pornstar mouths, and doubts the sanctity of individuality when pitted against the existential. Gabby writes with radical uncertainty about illusions of control, the limits of identity, and what it means to still want to kiss another human amidst the screenshots. This is a book that invents its own female gaze and then, like a bad bitch, breaks the lens." —Melissa Broder, author of Meat Heart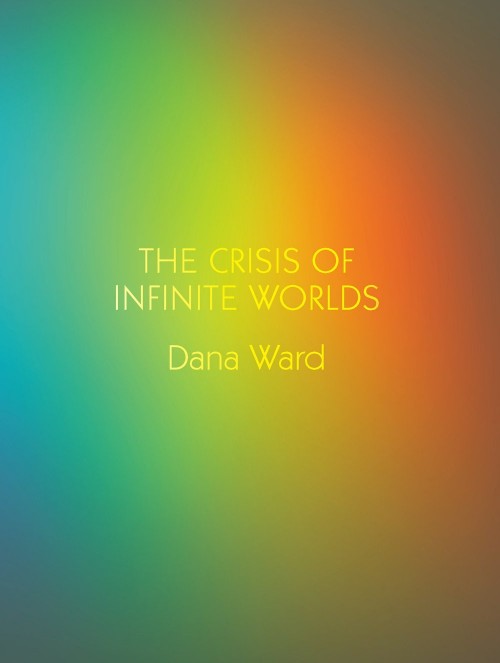 The Crisis of Infinite Worlds

by Dana Ward
"In his second full collection of 'I do I do' poems, Dana Ward renews his vows to his avocations, a panoply of this and that, becoming and unbecoming, worlds. Autodidact and knight-errant, Ward often betrays the procedural forms he tries to impose on his labyrinthine ruminations in order to remain faithfully engaged to the traditional task of the post-Romantic poet, an 'ecstatic commingling' of okay-you know and 'starry anaphor.' Though Ward's high-resolution convictions almost blind him to the shadows cast by his doubts, sturdy, exuberant pieces like 'A Trip Back in Time' and 'The Tiniest New York City of Itself' illuminate, even as they shield, the dazzling sleights-of-hand of this wizard of words and Word(!)."
—TYRONE WILLIAMS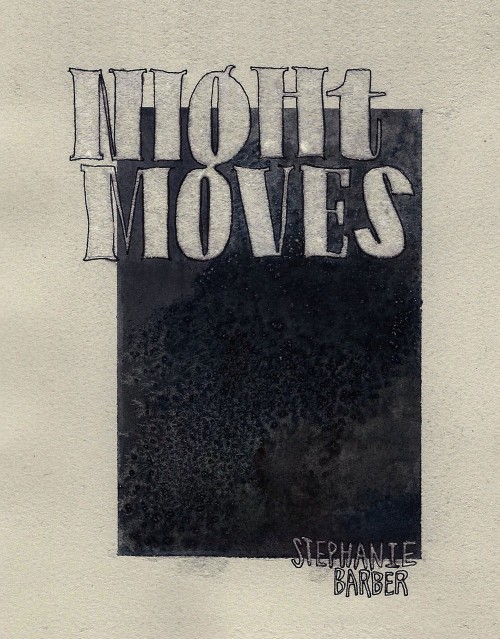 Night Moves

by Stephanie Barber
NIGHT MOVES is a collection of thoughts and conversations about Bob Seger's classic song of the same name, all culled from YouTube. Poignant, disturbing and incisive, the collection deepens and takes on a cultural significance beyond the initial artistic impetus. A collaboration is created—twisting through the nostalgia for youth and the collective ownership of pop music, the book becomes a moving document of how strangers communicate about art, and what the song and the sentiment of the song means to different people.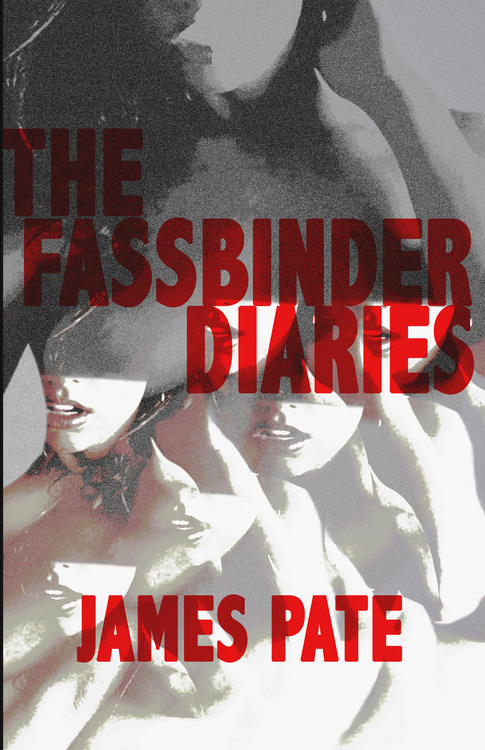 The Fassbinder Diaries

by James Pate
"The Fassbinder Diaries is a wavering grayscale of film spool: "The footage is grainy, as if the world being shown has gone through a storm of broken glass shards." This Gothic collection of short stories and poems and hybrid prose / poems is thoroughly blended with filmic murder. You're not just reading these stories, you're watching them: "We are watching them in the dark. I mean we're in the dark ourselves." Pate's prose tumbles onto itself with sentences often repeated or with small variations that nearly cause disorientation. But it's so purposeful that the reader is made into a desperate voyeur–attention is held, move on." – Ben Spivey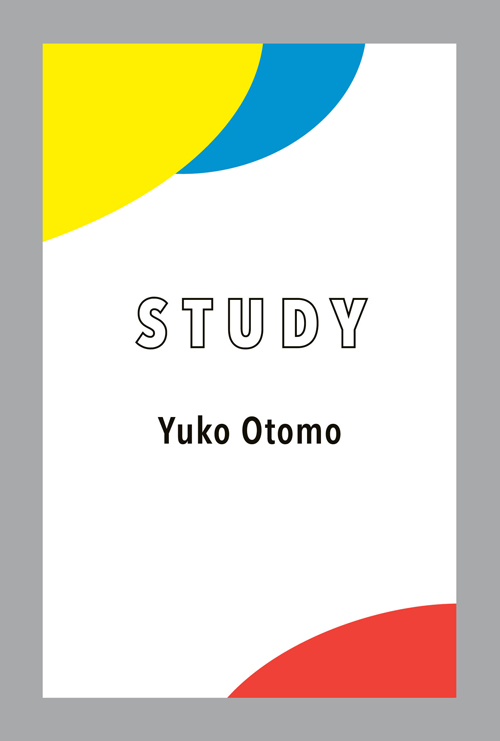 Study

by Yuko Otomo
STUDY is a collection of "poems on art" written from the 1980s to the present. They are born out of Otomo's "double" identity as both visual artist and poet/writer. Subjects include Giotto, Michelangelo, Picasso, Kandinsky, Max Beckmann, Louise Bourgeois, Joseph Beuys, Cy Twombly, Robert Frank, Ray Johnson, Bruce Nauman, James Castle, and Horace Pippin, along with lesser-known artist friends of Otomo including Hughes, Silv, O'Hara, and more. STUDY consists of 2 parts; Part I: Poem Cycles, and Part II: Rolled Up & Unframed/ Miscellaneous Poems on Art.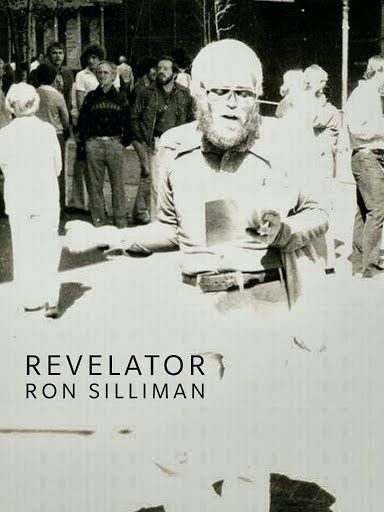 Revelator

by Ron Silliman
Revelator is the opening poem in a major sequence entitled Universe. It's the jumping off point for a work that, were Ron Silliman to live long enough, would take him three centuries to complete. We are hopeful. Universe is a poem of globalization and post-global poetics (an important reason for publishing this key section outside of the USA). At its core, it addresses the problem that there are only two global systems: the biosphere and capital, while every response to these global systems is invariably local. The first appearance of Revelator in a journal won Poetry's Levinson prize, previously given to poets such as Robert Creeley, Theodore Roethke, Geoffrey Hill, John Ashbery, Robert Duncan, Basil Bunting, William Carlos Williams, Dylan Thomas, Hart Crane, Robert Frost, and Wallace Stevens.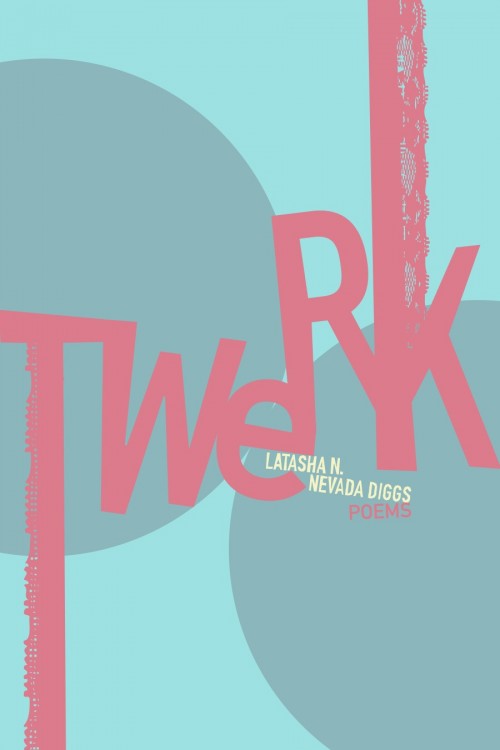 TwERK

by LaTasha N. Nevada Diggs
TwERK unveils an identity shaped by popular media and history, code switching and cultural inclusivity. The poems, songs, and myths in this long-awaited first book are as rooted in lyric as in innovation, in Black music as in macaronic satire. TWERK evokes paradox, humor, and vulnerability, and it offers myriad avenues fueled by language, idiom, and vernacular. This book asks only that we imagine America as it has always existed, an Americana beyond the English language.
I will never be beautiful enough to make us beautiful together

by Mira Gonzalez
"The poems in this collection are alive with humor and heartbreak, fear and narcotic discomfort. Deep weirdness. Psychosexual monologues. They are intimate and contemporary. Impeccably crafted. Deceptive in their simplicity. They read like they were written five minutes ago and then whispered into somebody's ear. These are field reports from the edges of Los Angeles, delivered in language that is unusually open, immediate, and clear. Mira Gonzalez must have really good eyesight, I think." – Brad Listi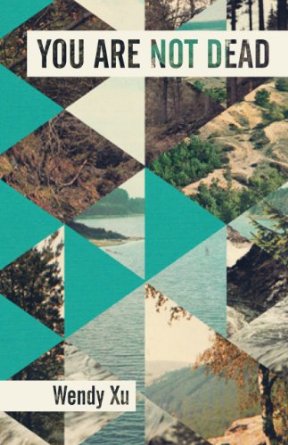 You Are Not Dead

by Wendy Xu
"In YOU ARE NOT DEAD Wendy Xu breaks all the old rules that have never done us any favors anyway. She writes beautifully, noticing who we are, and letting us see ourselves with a little more humanity, a little more humor, a little more humility. I'm happy to have read this book."—James Tate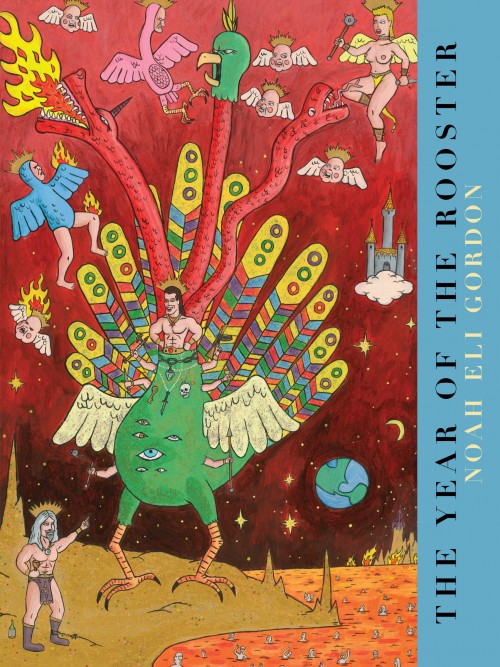 The Year of the Rooster

by Noah Eli Gordon
THE YEAR OF THE ROOSTER offers in its title work a kinetic, convulsive, epic poem that explores and explodes through slippery, circumspect pronouns expectations of gender, the authority of artifice, the act of looking, and the action of thought. Is the rooster a trope? Is he a trooper? Maybe he's a she and she's the expectation of masculine bravado he's trying to unmask. Part action painting, part abstract estrangement, part enactment of the artist's uncertainty about all things art, the weird world of this poem is forever in flux, off-kilter, unanswerable. Planting bullets in the flowerbed of the sonnet, "Diminishing Returns" and "Returning Diminishments," two extended, meditative yet humorous suites, bookend the title poem.
The Antidote

by Jackqueline Frost
"THE ANTIDOTE generates the unrest of strong political poetry. The book pricks the battle, but never tells it. Images are sensorial in the maneuver of color and form, while mottos become more violent each page, growing together with the reading towards experience and conspiratorial action. Then discourse runs over image: tension in the verse as paragraph, in the word as unstable material, in the social (dis)order. The reciprocity of touch and the choral composition; the loss of patience towards rage."—Enrique Winter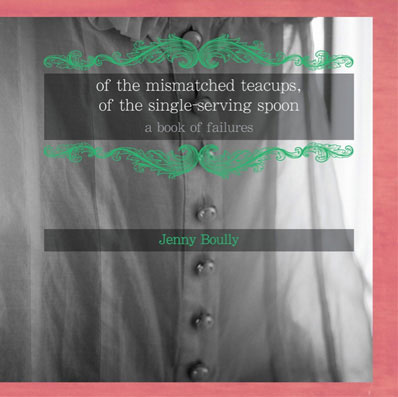 of the mismatched teacups, of the single-serving spoon: a book of failures

by Jenny Boully
"I've never come across a book with the conceit of Boully's latest, which explicitly presents 'poetic failures,'—'embarrassments, short-comings, and all'—written over the course of many years, mostly in thrall to the existential condition she aptly terms 'pining.' Her conclusion, which comes after waves of diverse poetic experiments have crashed and receded, is that 'nothing written will bring love.' It is a wise and unusual finding in a book filled with delicacy and resilience."—Maggie Nelson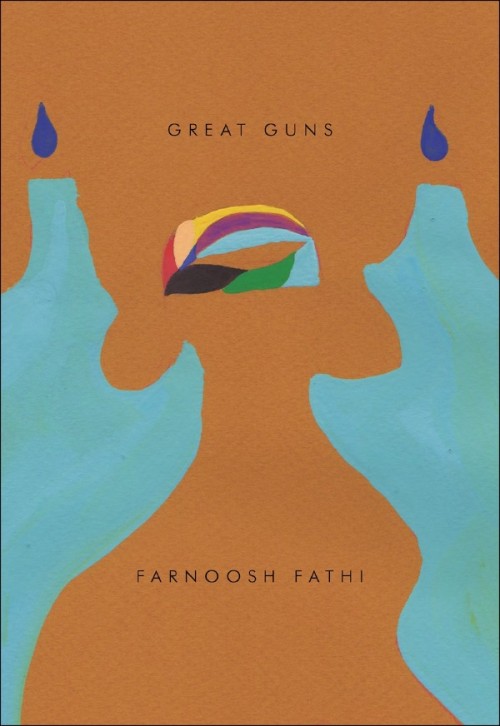 Great Guns

by Farnoosh Fathi
"When it comes to outrageously imaginative images connected to unorthodox events and intricate emotions, Fathi is a sharpshooter. A horse's neck becomes a cannon that shoots forth pearls in a prose poem from collaborative series Tumbles. Characters speak, listen, or ignore the obvious: the drama of a three-legged table, a squished banana, a tiger getting married, the interrogator of the cicada. These images do not make much sense, and I did not need these poems to make sense all the time. Yet, throughout it there is sense; the 'great guns' of the poet's questions still hold us in their sights. The poet knows what she means, and we feel it." – Mary Di Lucia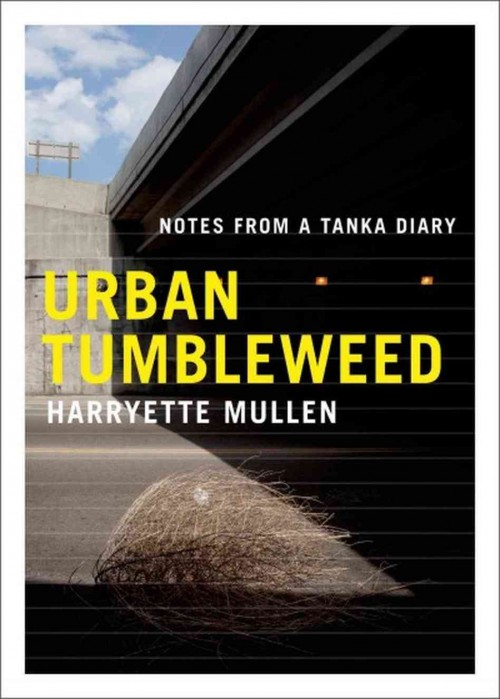 Urban Tumbleweed: Notes from a Tanka Diary

by Harryette Mullen
Urban Tumbleweed is the poet Harryette Mullen's exploration of spaces where the city and the natural world collide. Written out of a daily practice of walking, Mullen's stanzas adapt the traditional Japanese tanka, a poetic form suited for recording fleeting impressions, describing environmental transitions, and contemplating the human being's place in the natural world. But, as she writes in her preface, "What is natural about being human? What to make of a city dweller taking a 'nature walk' in a public park while listening to a podcast with ear-bud headphones?"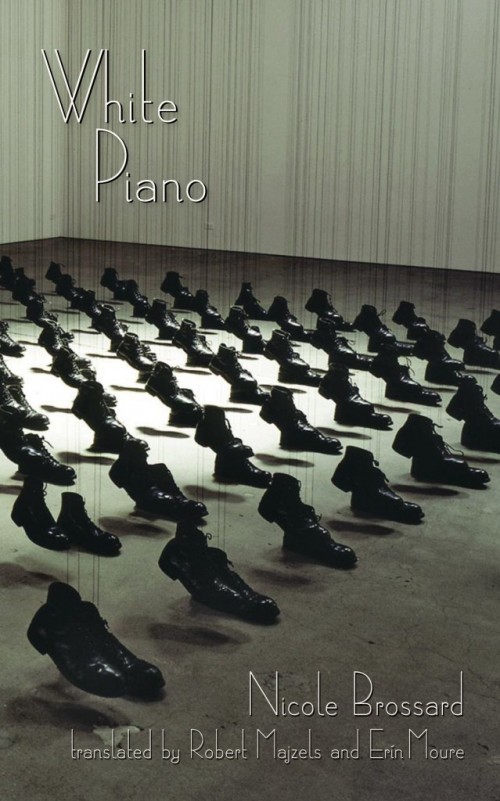 White Piano

by Nicole Brossard
Between the verbs quivering and streaming, White Piano unfolds its variations like musical scores. Pronouns and persons, poetry and prose: White Piano, superbly translated from the French, narrates a constellation of questions and offers a "language that cultivates its own craters of fire and savoir-vie."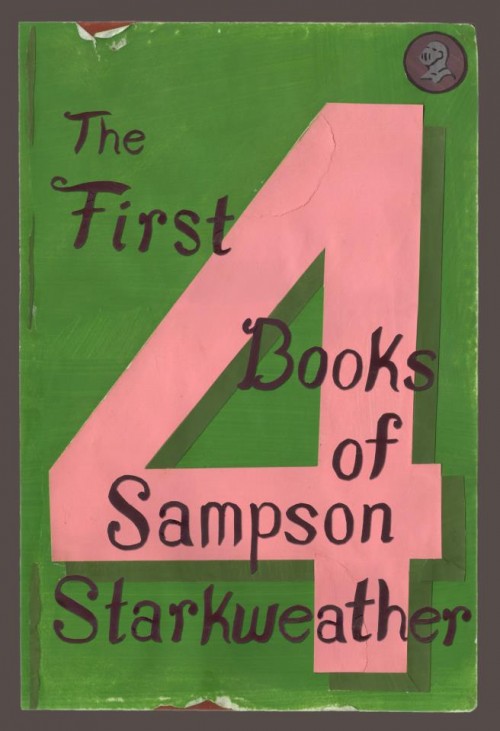 The First 4 Books of Sampson Starkweather

by Sampson Starkweather
Distinct but kindred, these books are like four ecologically diverse quadrants of one realm, in a Disneyworld of poetry's possibilities. The poems themselves are invested in the purity of experiences and the varieties of contemporary language—news reports, video games, WWF wrestling, Mike Tyson. These poems are, as White puts it, "a phantasmagoria worthy of Arthur Rimbaud but a 'Rimbaud chugging Robotussin®.'"
Rise in the Fall

by Ana Božičević
Ana Božičević is both a poet's poet and the people's poet. RISE IN THE FALL, her second full-length collection, is a revolutionary book and an ars poetica for the polis in which she excludes nothing. Navigating literary history, gender, sexuality, economics, family and friends, she is at ease employing both the universal political statement and the lyric "I." A Croatian émigré, Božičević approaches the English language with a playful objectivity, bouncing back and forth from the conversational to the grand: "This is the whitest shit / I've ever written" she notes in her half-myth "About Nietzsche." Her critique of our time and place is at once empathetic and crude, tender and grotesque. Lucky for us, "beauty [wins] in all its casual terror and pain."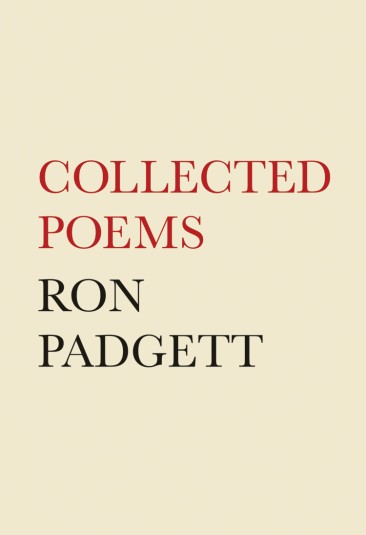 Collected Poems

by Ron Padgett
Gathering the work of more than fifty years, Ron Padgett's COLLECTED POEMS is the record of one of the most dynamic careers in twentieth-century American poetry. Padgett's poems reverberate with his reading and friendships, from Andrew Marvell to Woody Guthrie and Kenneth Koch. Wry, insightful, and direct, they offer readers the rewards of his endless curiosity and generous spirit.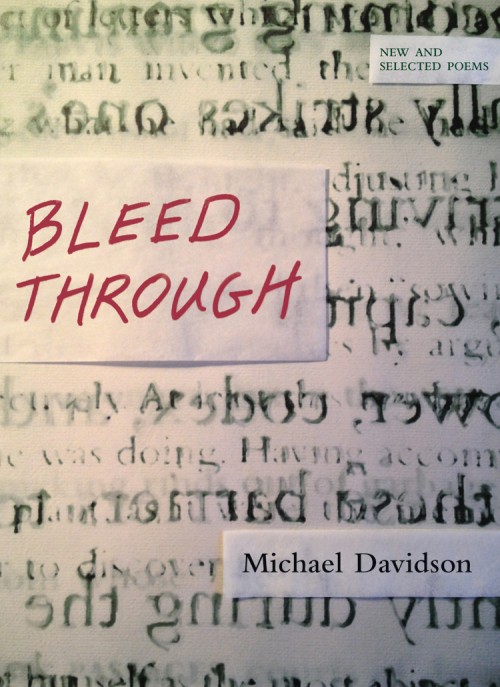 Bleed Through: New and Selected Poems

by Michael Davidson
Michael Davidson's first collection in twelve years represents the best of his forty-year career. Using the page as a plane for working out aesthetic problems, and engaging the reader's intellect and love of beauty, Davidson poems are a kind of battleground, where larger philosophical questions are grappled with through the sieve of language and form.
Our Lady of the Flowers, Echoic
by Chris Tysh
In OUR LADY OF THE FLOWERS, ECHOIC, Chris Tysh newly translates Notre-Dame-des-Fleurs, compressing Jean Genet's disturbing 1943 novel into cuttingly charged verse. In the blue hours of the Parisian underworld, pimps, drag queens, and butchers in bloody aprons are joined by Divine, Mignon Dainty-Feet, and the young assassin Our Lady, three saintly figures in a forbidden realm of the senses. Tysh cuts OUR LADY OF THE FLOWERS, ECHOIC into a ghostly song that traces the path from prose to lyric where Divine switches gender and names "as if passing under a scarlet awning." Suturing sexual otherness to an aching of gendered expectations, Tysh's cadences embrace postmodernism's emblematic penchant for all manner of appropriation, and recycling finds a radical iteration in the fashion of fairies, queens, and stool pigeons.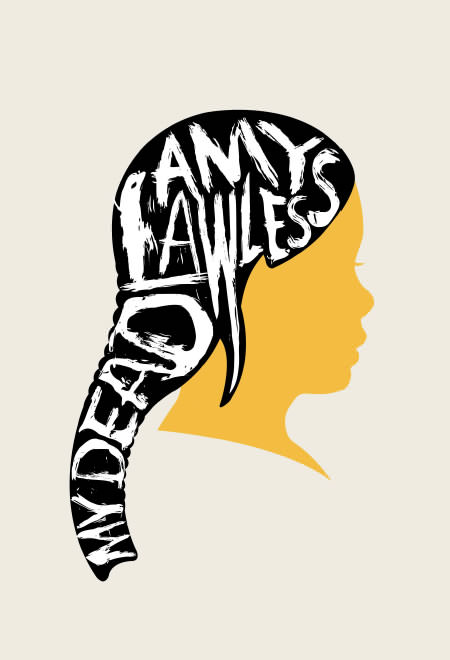 My Dead

by Amy Lawless
When two cannibals start dating, they're just like us. First awkward date includes coffee or alcohol. Maybe some furious necking in a cab or in the hallway near the restroom. When she got home, she looked in the mirror and she looked the same as yesterday.

—from "Cannibal Wedding"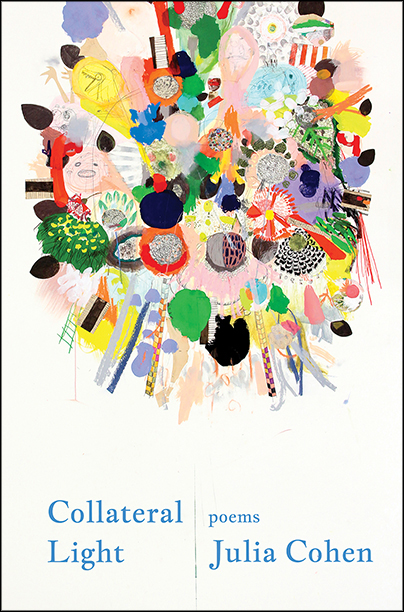 Collateral Light

by Julia Cohen
"Julia Cohen's speaker, chalky / from / banged up / stars, addresses the sticky stuff of existence from all sides, from that [t]ender veil of the buffering field. This book is full of arrows. Some pierce, some direct, some snap in half and form an X to mark the animal inside that animal / alive & yelping through the skin. Or we're shot through by being persons. Cohen won't heal, but will direct us in our grief, our weird grief shot through with pleasure. I can't just sit here with feelings. If you lose your grip on this book, if you slice your hand as the vanes pass through, hold tight as only the busted-beautiful can."—Danielle Pafunda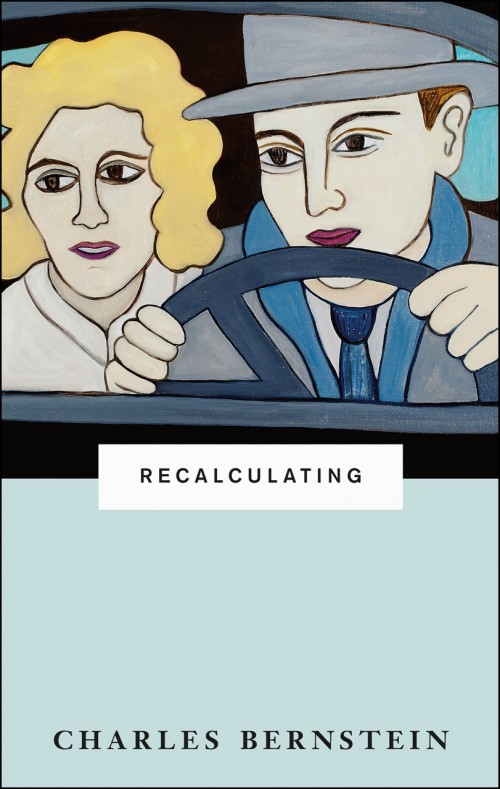 Recalculating

by Charles Bernstein
Long anticipated, Recalculating is Charles Bernstein's first full-length collection of new poems in seven years. As a result of this lengthy time under construction, the scope, scale, and stylistic variation of the poems far surpasses Bernstein's previous work. Together, the poems of Recalculatingtake readers on a journey through the history and poetics of the decades since the end of the Cold War as seen through the lens of social and personal turbulence and tragedy.
Seven American Deaths and Disasters

by Kenneth Goldsmith
What are the words we use to describe something that we never thought we'd have to describe? In Seven American Deaths and Disasters, Kenneth Goldsmith transcribes historic radio and television reports of national tragedies as they unfurl, revealing an extraordinarily rich linguistic panorama of passionate description. Taking its title from the series of Andy Warhol paintings by the same name, Goldsmith recasts the mundane as the iconic, creating a series of prose poems that encapsulate seven pivotal moments in recent American history: the John F. Kennedy, Robert F. Kennedy, and John Lennon assassinations, the space shuttle Challenger disaster, the Columbine shootings, 9/11, and the death of Michael Jackson. While we've become accustomed to watching endless reruns of these tragic spectacles—often to the point of cliché—once rendered in text, they become unfamiliar, and revealing new dimensions emerge. Impartial reportage is revealed to be laced with subjectivity, bias, mystery, second-guessing, and, in many cases, white-knuckled fear. Part nostalgia, part myth, these words render pivotal moments in American history through the communal lens of media.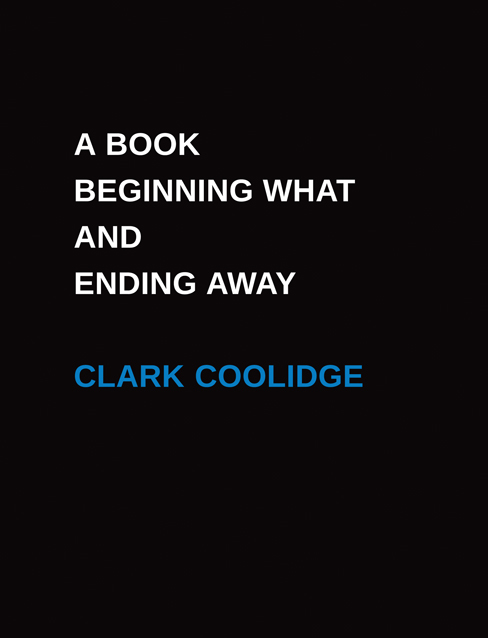 A Book Beginning What and Ending Away

by Clark Coolidge
At over five hundred pages of sustained, exhilarating prose, this work reconciles the relentless iconoclasm of the language poets with Clark Coolidge's own deeply rooted theories of abstraction and musicality, yet remains astonishingly readable more than thirty years after Coolidge abandoned the project—planned to be more than one thousand pages—in 1980. An act of radical endurance, a resurrected classic.
Cunt Norton

by Dodie Bellamy
In Cunt Norton, the sequel to her unforgettable Cunt Ups, Dodie Bellamy "cunts" The Norton Anthology of Poetry (1975 edition), setting her text-ravenous cut-ups loose to devour the canonical voices of English literature. The texts that emerge from this sexual-linguistic encounter are monstrous, beautiful, unashamed: 33 erotic love poems ("the greatest fuck poem in the English language," according to Ariana Reines) that lust after the very aesthetic they resist. "These patriarchal voices that threatened to erase me—of course I love them as well," Bellamy writes. Even as Cunt Norton dismembers the history of English poetry, "cunting" Chaucer and Shakespeare, Emerson and Lowell, it simultaneously allows new members to arise and fill in the gaps, transforming the secret into the explicit, the classically beautiful into the wonderfully grotesque. Bellamy's cunted texts breathe life into literary "masters" with joy, honesty, hilarity, and insatiable passion.
7 Comments