November 13th, 2009 / 7:16 pm
Random
Ryan Call
A 'life-changing' book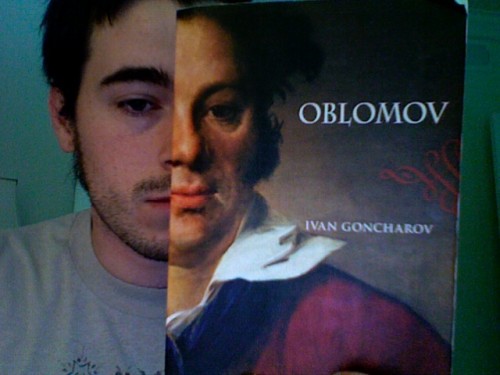 Two weeks ago, after my class and I read Lydia Millet's My Happy Life, we talked about how the book affected us. I asked them to describe how they felt immediately after they finished reading the book. I tried to explain to them that after I finished reading My Happy Life, I just sat in my house at my desk and stared at the wall and felt emotions, but as I felt the emotions, I had a hard time realizing which emotions I was feeling, as if the realization that I was feeling emotions was incompatible with the actual feeling of emotions. Does that make sense? Then I stopped talking and looked at my class and giggled.
Anyhow, some of the students also added their experiences to my own, and though I can't remember all that was exactly said, I remember that what was often described was this sense that the book left the student both feeling happy and sad (this seemed to be an exciting part of the conversation because it required us to keep in mind sadness and happiness simultaneously), that the book had made the student think about the 'details' and 'little things' of his or her life (remember the narrator's collection of tiny objects?), that no matter how shitty you think your life is…and so on.
Then a student called the book 'life-changing,' and I asked her what that meant, had the book actually changed anything in her life? Well no, she said, nothing had actually changed, she still did the usual things, but she felt that how she thought about things had changed. So then, certainly, the change in your thinking has led to some change of action, I said. Again, not exactly, she said, but the student insisted that, still, her life had changed in some way, that the book had changed her life. She just couldn't explain how.
I wasn't convinced, so I told my class the story of my reading Oblomov by Ivan Goncharov this past summer, a book that should have changed my life, but didn't (so I thought a couple weeks ago). I told them that I had begun reading the book the day I left for Russia and had finished reading the book on the flight home, somewhere over the Atlantic Ocean. I told them that I recalled thinking as I finished the book that I really wished I had some direction in my life, that I wished I 'knew' things, wished I had principles and didn't always feel confused by people and words and so on, and I told them that I sat in my airplane seat and wrote down on a sheet of paper, which I have since lost, a little list of things I meant to do, once I got home, to improve myself as a person. The list said things like be a better husband, commit to writing for real, be serious at teaching, and so on. I told them that it was a very sincere and melodramatic moment in my life, one caused by a 'life-changing' book, that has since passed into the history of me, a mere blip in the randomness of my life. I told my class that all of this happened in June, but that I had not actually changed the way I lived each day. I felt like the same person as I did earlier; therefore, I couldn't help but doubt someone who claimed to have had their life changed by a book. I told my class that I thought this phrase, 'a life-changing book,' was a consequence of some cultural fascination with immediate gratification. I know, blahblahblah, roll your eyes (though I do think there is something to that discussion and to my disliking of the phrase 'life-changing,' I realize now that I wasn't being fair, that I was purposefully misunderstanding change and how it could come about, that I was being stubborn — sometimes I do this in class and have to catch myself).
Or rather my students catch me.
And one did this time. She suggested that change does not have to be immediate. She said the change could occur slowly, that it was probably still occurring, that my sharing this with them right now was evidence that the book was still working on me, however subtly. I didn't think much of her comment at that time, but it has since caused me to revisit this book; I hope to post about it soon. Her comment reminded me that I ought to try to make sense of it and of, in a bigger sense, the phrase 'life-changing' and how I am affected by reading literature.
Tags: lydia millet, my happy life
34 Comments