January 16th, 2011 / 11:51 pm
Random
Catherine Lacey
All you can ever do with people is back out of them.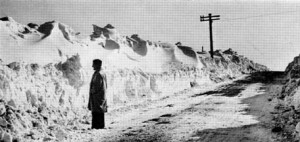 Rejoice! It's January but I left the house! You know what got me to do this? Only the best reading you could find in New York City: Gary Lutz opening for Robert Lopez. Hot damn. It's true.
Winter does this to people, especially in any grey city; I mean it makes them suspicious of outside. I know I am. I ran into Sasha Fletcher and we confirmed it; both of us are suffering through the season. It's almost as bad as Christmas.
But if ever there was a reading during which it was easy to hold good posture, it was this one. When was the last time it was not only easy, but enjoyable to sit up so straight? I am not even sitting up straight right now, though I try. Gary Lutz read from a work-in-progress called Divorcer, which was full of the kinds of things I enjoy: Confused people failing to get away from each other; the phrase "duffel bag"; the following sentence: "All you can ever do with people is back out of them." We had a great time listening to Gary.
Robert Lopez read all of my favorite stories from his new collection, Asunder. I thought that was true until I got home and looked at my copy again and realized I can not pick favorites in that book. The narrators of Lopez's are hypnotically unwell. Getting in their little worlds made me feel like maybe January isn't so terrible after all: For one thing, we're all laughing, and for another, I am not as unwell as some.
The audience (one that was packed in close and featured glasses) listened well and laughed frequently. Way to go, you all. Good work paying attention. See you in the springtime or at the next thing that warrants stomping through ice.
3 Comments
January 17th, 2011 / 12:03 am Placeholder: Preludes-posttext | HTMLGIANT—

[…] in the City where Lutz ("The Sentence Is A Lonely Place") will be reading (update: read about it), as I read it again, with Lisa Robertson at SpaceSpace in the Poetry Time between; damn […]

January 17th, 2011 / 2:09 pm Cfc—
January 17th, 2011 / 10:53 pm goner—

"All you can ever do with people is back out of them."

For some reason I feel like Lutz has written that exact same sentence a thousand different times. I'm not sure if that's good or bad.