Alexis Orgera
Bookmaking: Handcrafting Isn't Dead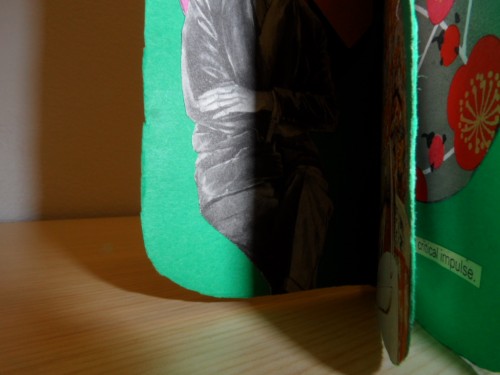 I walked into the Writing Center after teaching a course on copyediting last week and found a tableful of mums-the-word students working away diligently on handmade zines. The table was piled with paper and tape, drawing implements, glue. On a nearby table, DIY snacks: celery, peanut butter, hummus, raisins. Two of our Student Writing Assistants organized said zine workshop, provided guidance and ideas and supplies, and BAM! instant zine community.
I like that handmade isn't dead, or even dying. People want to do things with their hands. We want to feel our own handiwork. We want to give little books as gifts (my gift, from a student I'll call Pearl Satchel, shown here). We want, in short, for life (everyday living) to find that happy medium between computer screen and farm plot. We can't sit at screens all day and expect to be fully human. Our bodies rebel against us. We lose our connection to plants and animals. We forget what it's like to be a kid running around the neighborhood.
Here are some pictures of P.S.'s zine and a link to a sort of relevant 2009 NYTimes article: The Case for Working with Your Hands. I'm going out to walk the dogs.
Tags: handmade books, zines
12 Comments