March 10th, 2010 / 8:14 pm
Uncategorized
Adam Robinson
Bookstore Interview: Pilot Books, Seattle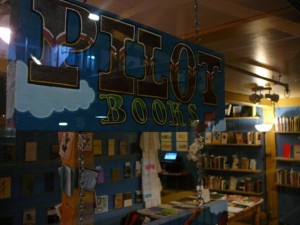 I have done a couple interviews with booksellers that I'll be putting up over the next weeks. I guess I get interested in stores that contact me to buy books. That indicates how hardworking they must be, and how smart, and how invested they are in the indie lit scene. I think it's great.
This first installment is with Summer Robinson, who founded Pilot Books in Seattle. She's a writer, a professional copywriter full time, and so aware of the indie lit scene that she says it's easy to keep on top of what's happening. And she doesn't just stay current; as a dedicated bookseller she's filling one the most important roles for publishing. I think it's great and inspiring.
Go check out the Pilot Books website. There are lots of videos from the readings hosted at the store, and an online bookshop that presents books simply, but in an exciting way.
Email interview after the break.

Will you tell me a little bit about Pilot Books, like why you started it, and how, and when?
Pilot Books is like a side project for me. It's a real store made of bricks and carpet and stuff and also online. But I started it simply because I thought these books need to be available in my city (Seattle) and as far as I knew, they weren't. Not all together with a big sign that said "independent publishing and small press." What I mean is I don't know of any bookstore, independent or not, that stocks exclusively independent literature. I guess I'm getting ahead of myself and answering question #2.
The short story is, Pilot Books started last March as a single bookshelf in a friend's antique/junk shop (The Anne Bonney, Spencer Moody). After a few months, taking care of the collection was the most fun thing in my life, so I looked for my own space and found one for cheap. I had some savings so I didn't take out a loan.
From your website, it seems like you focus primarily on "indie lit" (I'm not sure if that's a meaningful term. Is it?) — how did you come up with this focus?
My friends and I used to take trips to Powells in Portland to visit their small press section (run by Future Tense Publishing guy Kevin Sampsell). I thought, "Why don't we have something like that here in Seattle?" And so I did it. I do think indie lit is meaningful, if abbreviated, because if there weren't a deliberate space made for indie lit and especially small press, it wouldn't get much play. And a lot of people are looking for this kind of literature that takes risks.
Do you make money more through Internet sales or in person? Do you get to make recommendations and stuff to customers when they shop there? Is this fun?
It is fun. It is not much money. I make more in person right now than online and I make recommendaions to anyone who asks. I have two employees, Ruthie Haskell and Sharon Alexander, and they also make recommendations. Sometimes we agree and sometimes not. What's really fun is when we recommend an author, and then the customer buys their book and likes it, and then somehow the two connect and the author gets to hear how much their work matters.
Can you give an example?
The first time it happened was with Tinderbox Lawn by Carol Guess. She's a poet who lives up north in Bellingham. I heard from her that a customer of mine – who I remembered clearly as being super nice and excited about the shop – emailed her after purchasing the book at Pilot… Just last Thursday, a poet-friend Nico Vassilakis came by to drop off his latest project, an erasure of West of Dodge (Louis l'Amour). On Friday, a customer-friend of mine, Clayton, bought it and then got to meet Nico on Saturday right before his reading at the shop (part of Small Press Bookfest this month). Clayton couldn't stay for the reading, but he sent a friend back to check it out. She arrived too late, but Nico went and read a poem just for her and they got to talk about it… Stuff like that. It's pretty sweet.
I like how the sale page on your website is set up, so that I can just scroll through pictures of the books. It's like actual browsing. It makes me get excited about all the cool books out there, and it makes me want to buy them. Was this an act of necessity, or did it occur to you that setting it up this way would have this effect?
That's good to hear! (The part about making you want to buy.) The blog style shop page was a total act of necessity. Cheap and easy and it let me start the shop page without having a huge catalog. I can just add as I go.
What are some big sellers?
"Big" is a big word in small press. My store is less than 500 square feet. Everything moves slowly. But some of our best selling authors would be James Tate and Fanny Howe, Zachary Schomburg (Scary, No Scary and The Man Suit), Aase Berg (With Deer) and Alta Ifland (Voice of Ice) (two international authors whose work I carry in bilingual editions, which is awesome), Heather Folsom (Philosophie Thinly Clothed), David Ohle (Motorman), Jesse Ball (Vera & Linus), Lilli Carré (great graphic novels, including Nine Ways to Disappear), Stacey Levine (The Girl with Brown Fur), Theo Elsworth (Capacity, a graphic novel), Elizabeth Marie Young (Aim Straight at the Fountain and Press Vaporize), and Tomaz Salamun (Poker).
Do you sell, like, a lot of Twilight?
I was in a movie theater with a friend once and this trailer came on and I was like, "I have no idea what's going on here. They act like I should know already," and my friend was like, "That's Twilight… The sequel." I'm kind of bragging. But yeah, no.
With so many indie publishers coming out with so much stuff, how do you keep current with what's out there? Like, how do you know what to stock?
It's easy. I don't claim to be exhaustive. There's too much going on. I just try to keep new things coming in all the time. Based on financials, sometimes I can do that better than other times. But basically, when I hear about something new, I get in contact with the publisher and find out the best ordering method. And I'm hearing about new things every day, so yeah, it's easy. Easy to feel current and relevant.
Are you always thinking about the store and the business?
Yes. I have this other job that involves being a copywriter, but really, I love my jobs. Both of them. And together, they're pretty much my whole life.
It looks like you host vibrant readings with great people. How's that going?
From day one, the readings took on a life of their own. People from around the country (and Canada) started emailing me to set up events. I was stoked. This month we're hosting Small Press Bookfest – readings, workshops, and such every day of the month. It's intense. Again, we're working in a really small space so it has its challenges. But the community is very supportive and it feels like a group effort. I find publishers want to work with Pilot Books because they know we care (too) deeply about small press, independent literature, the authors, the community, everything.
What's next?
Keeping the doors open for another day of business.
Tags: booksellers, pilot books
37 Comments