August 1st, 2009 / 2:19 am
Uncategorized
Ken Baumann
Dudeness, like Zen, is One and Nothing.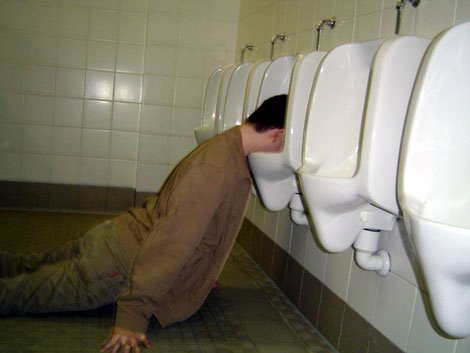 Here's an essay from Intelligent Life magazine entitled 'When Novelists Sober Up.'  I think about the influence and appeal of drugs on artists all the time, as regular drug use seems a constant and easy 'sleep button/off switch,' a sort of key to a less mentally-marooned living, albeit one that could, obviously, be destructive and potentially fatal…  Reading Infinite Jest has me thinking about this more so than I normally would.   Anyway, interesting article.
Two more vital links after the jump:
Then, over at HTMLGiant sister site The Rumpus (can I call it that?  should I call it that?), J.M. Tyree has written an awesome essay more or less about the societal definition and role of Man, especially with regards to the oeuvre of the Coen Brothers, and especially w/r/t The Big Lebowski, which is easily my favorite funny movie.   The definition of Man, as we move farther away from a physical labor based workforce, is changing, and the parallels of that change being drawn by cinematic convention fascinates the hell out of me.  So, go read that essay or I will cut off your johnson.
And, then, Maira Kalman has created this great visual narrative about the history of American invention that covers all sorts of cool subjects, e.g. Benjamin Franklin, Tesla, Melville, Edison, the United States Patent Office, etc.
Oh, and hinted at by the picture, the common thread tying these things together is booze.
Have a great weekend.
Tags: artists, booze, man, the big lebowski
10 Comments