July 1st, 2010 / 11:15 am
Uncategorized
Lily Hoang
Ideal literary mediums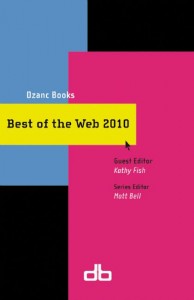 Most contributors, it would seem via FB—because that's how I get a lot of my non-news news—of the Best of the Web 2010 anthology have gotten their contributor copies. I have not yet, so I can't make any testaments to how great or not great it is. I'm pretty sure, given that Kathy Fish and Matt Bell are the editors, that it's a stunning collection of writing originally published on the web.
This past week, Time Out Chicago reviewed BoTW 2010. Though quite brief, Jonathan Messinger gave it a positive review, noting how difficult anthologies are and the unimaginable task of combing through the seemingly self-exponentiating number of things published on the web. He ended with this:
Of course, we all know the Internet is home to just about anything our brains can Google. But what Best of the Web does—aside from doing the work of finding great writing so we don't have to—is make a case for it as an ideal literary medium.
And this is where I question things. I have a story in BoTW. I publish on the web. I like publishing on the web, I really do. But I also like paper. Yummm, wasteful unsustainable paper: I can't get enough of it. I love to print out manuscripts. I love to mark up manuscripts. I even love how heavy it is in my bag, how much space it takes up, and on and on. I love books published on paper, bound in paper, I probably don't need to go on. Needless to say, I'm not as "with the times" as Nick.
But am I completely missing the move literature is taking? Am I, in my insistence on paper, my fetishization of paper—and please know that I do fetishize the printed book, it's a personal flaw I'm willing to accept—willfully making myself blind to the web as an "ideal literary medium"?
And not to pick on this reviewer but how many other literary mediums are there? There's the web/eReaders and paper.
But back to the web as "an ideal literary medium": I don't have an eReader, though I've been considering the possibility. Anything I read from the web, I read on my laptop. I have a nice enough laptop. But I can't read anything longer than a few pages at a time on it. Or rather: I refuse to read anything longer than a few pages on it. It hurts my eyes. Or it's straining. Or maybe it's just in my head. Whereas I can waste hours at a time playing stupid games, checking FB and blogs and the NYTimes, on my computer—and logically speaking, I can understand how that too must strain my eyes—I don't read much else on it. If something is more than a few pages long, I'll print it out. I can barely make myself read long blog posts or streams of comments. It's in my head, yes, I know that.
(And gee, this almost goes without saying, but this is a collection of the web's "best" that is then printed on paper. Nor is this the first anthology of this sort, nor will it be the last.  In no way do I mean this as a criticism of BoTW or any other anthology of this sort. Just a necessary nod, that's all.)
I have to admit getting older. I'm becoming more and more obsolete by the day. My nephew, who is six, already has an eReader. My god-daughter, who is seven, has her own laptop. The way things are moving, I don't think the web is "an ideal literary medium," I'm fearful that it's trending towards becoming THE ideal literary medium, and there's nothing I can do about it but watch, mournful, knowing that one day, I'll tell my great-great grandchild that back in the day, I published books, with pages and ink, and she'll know what I mean because libraries will still exist, but she'll probably also think I'm a crazy old loon. I'll be backwards. Kind of like how we think a lot of old people are backwards—maybe backwards is a bit extreme—because they can't navigate a computer, something we grew up with and has become some extension of our socialization, in many cases, our computers become part of our personality because of our dependence on the relationships built through virtual networks, like this one right here.
Think generations from now: paper will be phased out, ePlatforms will become cheaper and more convenient. I'd hate to admit it, but yeah, I'm behind. And I'm probably going to remain behind, willfully, "in the last century," as Nick berated. Whereas I don't think ePlatforms or the web will be the death books, I am worried of that almost inevitable movement from indefinite to a definite article in regards to the web as "ideal literary platform."
64 Comments