August 9th, 2012 / 11:09 am
Random
Adam Robinson
Interview: Reader who recently finished Echo Burning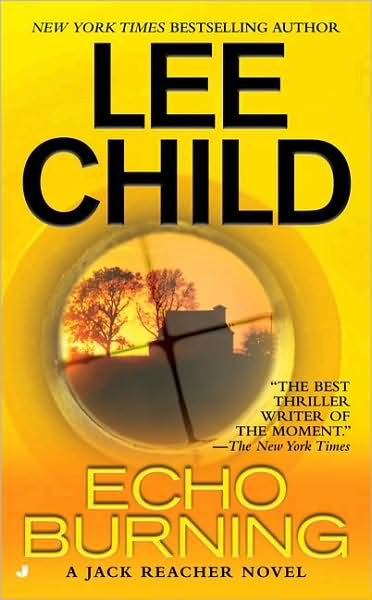 1. So how long did it take you to read the book?
I started it on Monday afternoon and read it for a couple hours a day, until 7:30am today.
2. Did you ever read the book in public places or leave the book out purposefully when visitors were over?
I'm on a camping trip with my family (two parents, two brothers, two sisters-in-law, two nieces, two nephews, two dogs), and I kept leaving it on the picnic table but no one touched it. It's my dad's book.
3. How did you deal with the uh not reading a better book?
The parts with the guns were my favorite.
4. Have you read other Lee Child? How did this book compare?
I thought I'd read all of them but my dad keeps surprising me with more. This one wasn't as good. The odds don't seem to be as stacked against Reacher. Plus it's more of a detective story than the others. The women aren't described as "slim" quite so often, and Reacher doesn't have sex with any of them. The main lady he partners with is a lesbian.
5. Did you read the book while on drugs or alcohol?
Nope, just fresh Adirondack air.
6. What other "large books" have you undertaken?
I just finished the third book in The Game of Thrones.
7. What kind of training did you do to read Echo Burning?
I watch a lot of dumb movies.
8. What type of pacing did you use? Did you read the same amount daily or read it in spurts or what?
I read whenever we weren't kayaking, swimming, playing capture the flag, or eating. And when it was light out.
9. Did you ever think about quitting?
No, because if I stopped, I'd have to play with the kids or set the table.
10. Do you think everyone should read Echo Burning?
No, they should read Infinite Jest.
11. Did you feel a need to talk about "reading Echo Burning" to others while reading the book?
I liked talking to my dad about it. I told my mom it was pretty good, a real page turner. She said maybe she'd read it. She's sick of studying all the time, she said.
12. Where is the book now?
I gave it back to my dad. It's in the RV.
13. Well, you did it. What did you think of the experience?
I am glad it's over.
14. What are you going to read after this endeavor?
Ann Patchett.
6 Comments