February 16th, 2010 / 1:18 pm
Uncategorized
Blake Butler
Interview with Mike Topp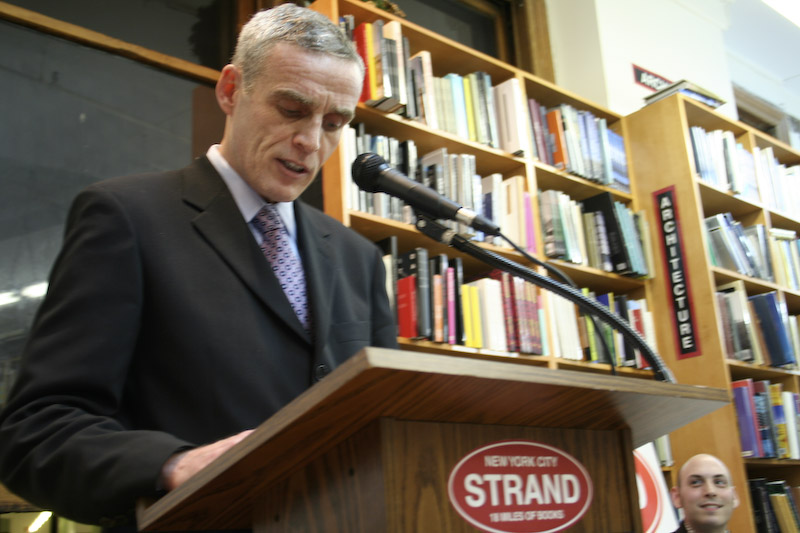 Mike Topp is somebody else. He wrote, among many other things, Shorts Are Wrong, a small compendium of jokes, scenes, pictures, stories, one liners, musings, words, as well as Happy Ending, about which Jonathan Lethem said, "I'm sorry, Mike, you know I love your work, but I'm just not whoring myself out for anyone else's jacket copy anymore." You can read Mike's work all over the place, including these here and here.
More like a Kaufman than a Kundera, but somehow a mix of both, Mike is somehow often both funny and fun, and mind-moving. He gets up in that noggin good. Last month or so I did some e-talking with Mike, throwing words back and forth about his moves, his mind, and his forthcoming book from Publishing Genius, among other things.
– – –
Q: Mike, I read an interview last year with Gary Lutz where he referred to you as, I believe it was, "A writer's writer's writer." That seemed a nice way to say it.
A. Gary's someone I admire, and I was really pleased when I heard he said that. Unfortunately, he's a stutterer and you have to factor that in. But Nat, who lives downstairs, says I'm a writer's writer, and that's almost as good. Plus I know for sure he doesn't have a speech impediment.
Q. So… how do words appear inside your head?
A. They don't–they appear in my hall closet, which makes things easier for me.
Q: If you got paid per word, like those old guys, would you write more?
A: Never!
Q: How old were you when you were born?
A. I was fifteen when I was Bjorn. I was in high school and thought it would make me stand out. It didn't last all that long, and eventually I was Mike again for years, Kitty for less than a week, and then back to Mike.
Q: Mike, I heard you are a faith healer. Who have you healed?
A: Hank Williams; William Carlos Williams; Ted Williams; Esther Williams; Tennessee Williams.
Q: I want to give my dad a book for his birthday in 3 days. I haven't seen him read a book before. He likes cigars, NASCAR, and hanging out. What should I get him?
A: Either SEX GANG by Harlan Ellison (written under the pseudonym Paul Merchant, see pics below) or LOLITA by Vladimir Nabokov.
Q: Are there any books on your desk? What book have you read the most times?
A: I'm reading the zine BIKINI GIRL right now (See redboldface.com: I'm really into collecting books). The books I have read the most are The Odyssey by Homer, My Last Sigh by Luis Bunuel, and A Nest of Ninnies by John Ashbery and James Schuyler. I'm sorry that this list was so pretentious. Also, Joe Brainard's NEW WORK.
Q: Do you like Andy Warhol?
A: I like Andy Warhol. I like Andy Warhol. I like Andy Warhol. I like Andy Warhol. I like Andy Warhol. I like Andy Warhol. I like Andy Warhol. I like Andy Warhol. I like Andy Warhol. I like Andy Warhol. I like Andy Warhol. I like Andy Warhol. I like Andy Warhol. I like Andy Warhol. I like Andy Warhol. And that is why I like Andy Warhol.
Q: Does your mother think you are funny?
A: My mother is the only person who thinks I am funny all the time.
Blake, ask me about my swimming! Last year I swam from Manhattan to Brooklyn, under the Brooklyn Bridge.
Q: Mike, tell me about your swimming!
A. As part of my mid-life crisis, I started open-water swimming about eight years ago. My friends and I participate in a bunch of races in and around New York. Last summer we swam from Manhattan to Brooklyn in the East River under the Brooklyn Bridge. We've swam around Governor's Island, and swam six miles up the Hudson, from 56th Street to the George Washington Bridge. This summer we're going upstate and swim across the Hudson. The start of a race is a real adrenaline blast, because you can have upwards of 200 people flailing around. We also do a Brighton Beach to Coney Island swim every summer, which is about a mile and really fun. Some people swim in costume, like wearing a ship captain's uniform the whole race, including shoes. Some people dress as mermaids (or mermans).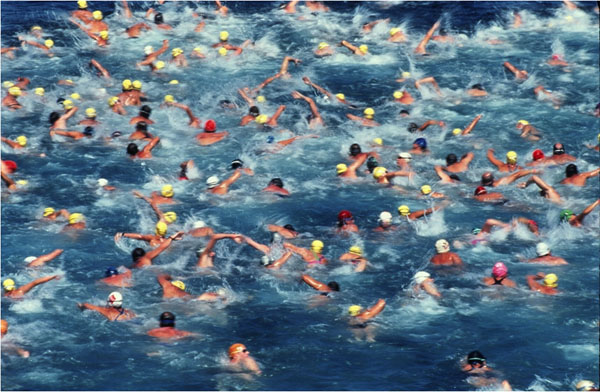 Q: Mike, tell me about The Stuyvesant Bee? What does it give you back in giving?
A: I started the Stuyvesant Bee in 2004 as a print piece. Now that it's a PDF it's much easier to distribute. There are about 500 readers. John Ashbery wrote and told me he loves the Stuyvesant Bee, particularly after I appropriated some of his work in one issue. Barney Rosset, the former publisher of Grove Press, prints each issue in the EVERGREEN REVIEW, as does Andrei Codrescu in EXQUISITE CORPSE. Cecilia Kaskada publishes every issue in her blog . So it's great to get published without "submitting" anything. David Berman gave me a a drawing for the February 2010 issue, which was exciting.
Q: Mike, tell me about your new book coming out!
A: Adam Robinson, the genius behind Publishing Genius, wrote me a while ago and said he would be interested in publishing something of mine. Tao Lin made the cover, which was really nice of him. Tao and I have never met, but we began corresponding after we were booked for a reading together at ISSUE PROJECT ROOM in Brooklyn. Tao never showed up; he'd been arrested the night of the reading for shoplifting at American Apparel. Yes, that is a true story.
Q: Tell me something that you love.
A: I love art and going to museums and galleries to see art. I even love reading about art.
Tags: mike topp, stuyvesant bee
42 Comments