October 6th, 2009 / 9:00 am
Random
Roxane Gay
The Electric (Literature) Slide: Boogie Woogie Woogie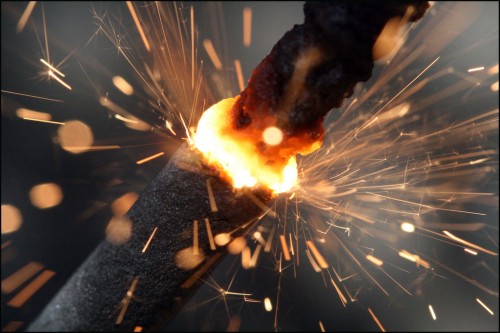 Whenever a new literary magazine debuts I am intrigued because it means there's one more group of people in the world who support words, writing and writers. I have found Electric Literature particularly interesting because they actually pay (and quite well) their writers. They have a slick, aggressive advertising campaign with ads like this and this and others suggesting that their magazine offers "reading that is bad for you." I'm not sure what that means. The writing in the first issue didn't feel dangerous.
I've been even more intrigued by the Electric Literature rhetoric, positioning the magazine as innovative and groundbreaking as if they are doing things no one else has ever done before. One of the ways in which they are new is that the magazine is available in many formats including print, iPhone, Kindle and ebook versions. They are not the first nor will they be the last magazine to take a multimodal approach but they certainly are the most vocal about it. They've also released a short story trailer and a sentence animation. I hate literature based trailers so for me, those efforts don't represent innovation. That's neither here nor there.
I bought the first issue of EL on my Kindle and enjoyed it a great deal. I'll be buying the next issue as well. They are publishing great writing but I have consistently been left with the sense that the marketing message is inconsistent with the product. There were no surprises in the first issue–all the stories were written by very well established writers, offering fairly traditional (and excellent) literary fare. I understand why the editors made that choice but again, I struggle with the notion that they are, as they state on their website, "a light on the horizon."
It is impossible and unfair to judge a magazine on the basis of one issue. Only time will tell just how electric Electric Literature will be.
Still, as I think about the magazine, I always feel like I'm missing something. They are well-funded, yes, but I do not see the light. What are your thoughts on Electric Literature? What would it take for a magazine to be truly innovative, in this day and age?
Tags: electric literature, magazine, Marketing
100 Comments