January 3rd, 2009 / 12:31 am
Uncategorized
Blake Butler
It feels good to be home @ 11 pm on Friday night posting about Gary Lutz, it feels right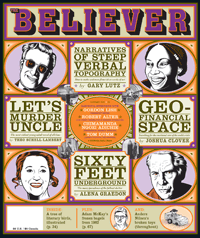 I am glad I am not out being a jerk off.
I am glad I stayed inside to read this lecture on sentences, originally delivered by Gary Lutz at Columbia, and now reprinted in the new issue of the Believer (which also has an interview with Gordon Lish, & from the preview on the site, it looks really funny and righteous). Lish is also on the cover. Believe that.
This lecture by Gary Lutz is probably the most apt deconstruction of language in sentences and how a certain breed of languaged sentences are made. I would show this lecture to people who asked why their story about the Russian expatriate looking for his father wasn't quite enough just on story alone even though everyone in the boardroom was crying.
As I read the lecture I kept highlighting pieces when I thought 'this would be a good part to quote when I blog about this lecture,' though every time I read a new graph, I kept deciding to highlight that one, because every line in the lecture is right on the $$$. But we already knew that.
Here is one thing Gary Lutz says in the lecture:
The words in the sentence must bear some physical and sonic resemblance to each other—the way people and their dogs are said to come to resemble each other, the way children take after their parents, the way pairs and groups of friends evolve their own manner of dress and gesture and speech. A pausing, enraptured reader should be able to look deeply into the sentence and discern among the words all of the traits and characteristics they share. The impression to be given is that the words in the sentence have lived with each other for quite some time, decisive time, and have deepened and grown and matured in each other's company—and that they cannot live without each other.
Sometimes you can feel the man's brain vibrating.
He also looks at specific sentences by Christine Schutt (mentioning, among others, one of my favorite stories ever, which is by her, 'The Blood Jet,' Barry Hannah, Sam Lipsyte, and others, and explains the intricacies of their construction, down to a level of teeth within teeth.
I felt a blitz of going as today and last night I had been rereading Lipstyte's 'Venus Drive,' which includes the sentences Lutz refers to. It was like someone was nibbling my ear.
I like that story by Gary Lutz with all the day names in the title. I wish Gary Lutz was one of the days of the week. I would stay in on that day too. Or I would go out.
Calamari Press is about to release a new edition of 'Stories in the Worst Way.' I told Derek it should have a picture of two men pissing into the same urinal on the back. Derek has a picture of a nice sink for the front. Perhaps a urinal cake in the sink?
The Believer has really been kicking ass lately.
I want to be 11.
Tags: gary lutz, sam lipstyte
18 Comments