July 28th, 2010 / 2:09 pm
Random
Amy McDaniel
Linguistic Darwinism: Can a brand name kill the thing it was named after?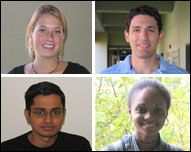 Before Facebook, there were facebooks. When I was in college, "the facebook" was one name for the (ink and paper) Pomona student handbook's most-perused section, the photo directory of incoming freshman. Other designations were the lookbook and, more crudely but most aptly, the menu. Plenty of schools had them and many also called them the facebook. Facebook corporate mythology has it that founder Mark Zuckerberg got the idea for Facebook from the facebook issued by his high school alma mater, Phillips-Exeter. In any case, this kind of directory is surely what the company was named after.
Presumably, college students don't need facebooks anymore because they have Facebook. I doubt they've been totally phased out, but I do wonder if they are still colloquially referred to as facebooks. Wouldn't that be too confusing?
There are plenty of cases when a brand name became the de-facto generic name for something, like Kleenex or Coke (at least here in Atlanta) or Oreo. But this is a different phenomenon, wherein the brand name takes a generic thing's name and applies it to a new form of that thing, thereby making the generic name and thing obsolete.
My father frequently uses the construction "all a-twitter." Twitter is, after all, a verb meaning to make successive chirping noises (hence the Twitter bird icon) or  to tremble with excitement (my dad's usage is somewhat of an amalgam). Surely, much as people don't say "gay" to mean "happy" anymore, uses of the generic verb twitter–when not in reference to micro-blogging–will diminish to nothing. But this still isn't as extreme as the Facebook example, in that people are no less happy for not being called gay, and birds cheep no less for not being described as twittering, whereas colleges really might stop printing their own facebooks now that there is one big Facebook.
I'd love to hear if anyone can think of any other examples of this phenomenon, especially older examples–or was Facebook the first to murder its forebears?
Tags: Darwinism, facebook, language
35 Comments