Jereme Dean
Mean Mondays: A play about how writers have big egos and think they are special and will never get along with each other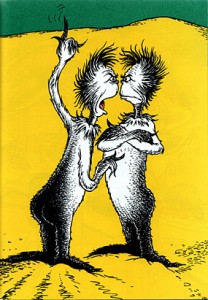 EXT. DAY – A VERDANT PASTURE
A group of three men squat naked on a hill, each quietly contemplating life while shitting.  A spring cloud approaches from the east.
MAN 1
(jumps up excitedly)
I have created something beautiful!  Look at my shit turd!  Gaze upon its fullness!  Take note of its deep color!  Oh how special my turd is!
MAN 2
(pointing at his excrement)
Yes, I have created also!  My beautiful jagged turd how I appreciate you!  You are unique and different!  A turd not of this world.
MAN 3
(acting disinterested)
I too have created.  My turd is small and compact.
MAN 1
See how the flies love my turd!  Oh god they love it so.
MAN 2
They love my turd also!
MAN 3
I would like to garner more flies for my turd.
MAN 1
(talking to MAN 2)
I do not understand the reason for your turd.  It is nonsensical.  Why does it have an ear and what is wrong with the colors?!  The flies will never like this turd.
MAN 2
(pointing at MAN 3)
My turd?  Look at his turd!  It is so small and worthless.  It will only feed a couple flies.
MAN 3
(has a neutral facial expression)
My turd is perfect.  Look at his turd.
(points at MAN 3's shit pile)
I feel turds like this are bloated.  The flies will feel alienated and worthless.
MAN 1 and MAN 2 begin to argue passionately.  They are on a verge of a fist fight.
MAN 1
(red faced)
THE FLIES WILL NEVER COME TO YOUR SHIT.  YOU ARE NOT A CREATOR.  I ALONE AM BEST.
MAN 2
(shaking his fist in MAN 2's face)
WHAT?  HOW DARE YOU DISMISS MY TURD.  YOUR TURD IS UGLY AND STUPID.
MAN 1
HAH!  NO ONE CARES FOR YOUR TURD.  IT IS MEANINGLESS.  YOUR TURD HAS NO RELEVANCE.
MAN 2
YOUR TURD IS TIRED AND BORING.
MAN 3 is sprinkling trash around his turd.
MAN 1
(looks at MAN 3 indignantly)
Hey don't you have an opinion?
MAN 3
(not looking up from his trash sprinkling)
I am embroiled with a clever marketing scheme to garner more flies.  I think I would really like it if flies ate my turd.
MAN 3 continues to market his turd.  MAN 2 AND 1 argue as the fluffy cloud floats softly above.
Tags: fist fight, writers
4 Comments