September 6th, 2011 / 8:48 am
Random
Sean Lovelace
misericords (foul ball!) 11
11. Agatha Christie on a surf board. Jack Kerouac playing football. Simone de Beauvoir (with posing cad Sartre by her side). Etc.
4. The new Diagram is sick like recycled mustache combs.
3. Anderbo.com wishes to post up to the first 36 manuscript pages of an unpublished novel on its website by December 21st, 2011 for at least the following six months. They will look at the FIRST 36 PAGES (up to 9,000 words) of your e-manuscript submitted to editors@anderbo.com and decide within 60 days of its arrival if want to see more.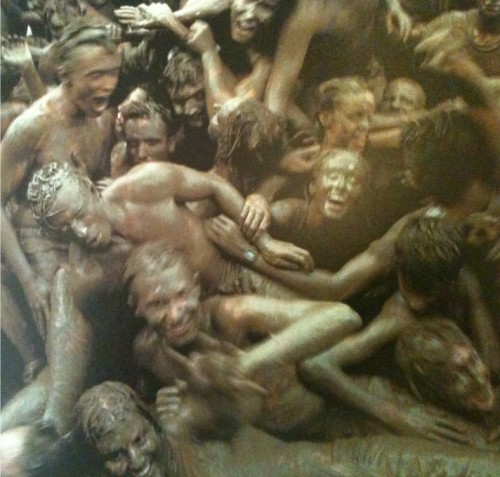 2. Glow: "I do not want to read, draw, talk or see tonight. I hope this doesn't last long," wrote Francesca Woodman, the photographer who used her own naked teenage body in her work and then killed herself at twenty-two. The day she died, according to her father, she found out she'd lost a grant, and she'd had her bike stolen.
2. The best site on Pac-Man I've seen so far.
2. Things about Erroll Morris and his eye/s.
2. An old Diane di Prima sonnet sequence.
1. Wow. Édouard Levé.
0. Here is that link to the Sadness Museum.
2 Comments
September 6th, 2011 / 6:27 pm deadgod—

re leve:

in the first picture, what is the quotation on the back of the big guy's t-shirt

–

I do not say "A is better than B" but "I prefer A to B."

muumuuvian phenomenology

–

is there such a thing as 'no power'

–

A friend can let me down but not an enemy.

reliable enmity is a kind of friendship

to the extent that one is vulnerable to the hateful actions of an enemy, to that extent an enemy is a friend

September 7th, 2011 / 12:59 am Madison Langston—

that bookslut piece was damn, and need to get drunk and not think, and need to think about everything all at the same time