August 5th, 2009 / 12:00 am
Random
Ryan Call
My Favorite Author Signature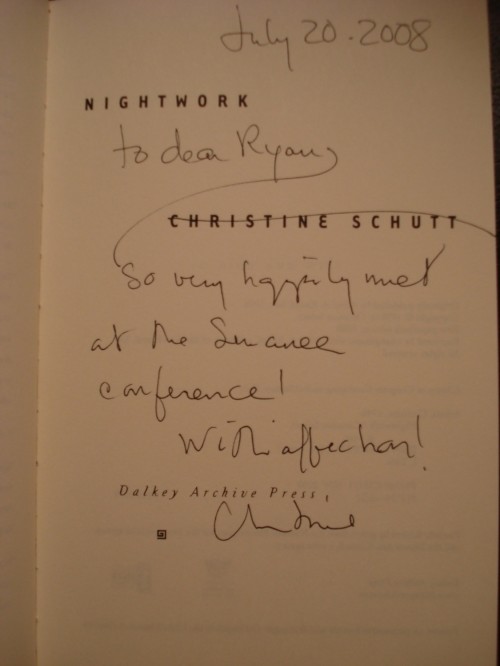 Aside from the signatures that a few of my writer-friends have written to me in their own books, my favorite author signature is the above greeting from Christine Schutt in her collection Nightwork.
I had admired Schutt's writing for a while, and then had the neat opportunity to take a workshop from her at Sewanee. Her way of talking about language (about which Justin has already posted) and how she applied her careful sensibilities to a few of my own stories really helped me become aware of my own sentences in new ways. Simply to be able to speak and work with her after having read and reread Nightwork and A Day, A Night, Another Day, Summer was incredible.
As a result, hers is the signature that means the most to me.
What about you? Feel free to email a pic if you have one, so I can add it to the post. Or share in the comments. Also, Jacket Copy has a similar post on author signatures and a gallery of photos. Send them pics too? You can also click over to this page of scanned author signatures if you'd like to get some ideas.
Here's another signature, this one sent in by Blake: Gordon Lish.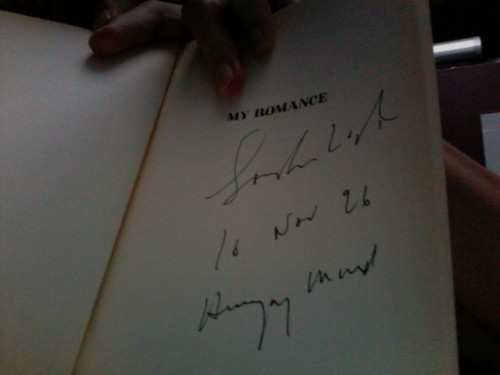 Tags: Christine Schutt
24 Comments