March 29th, 2009 / 3:49 am
Uncategorized
Ryan Call
My First Look: The Legendary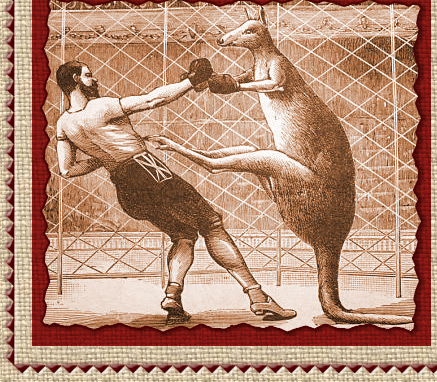 At the risk of making some enemies and blacklisting myself, I've decided I'll try to type honestly my reactions to reading new online literary journals that I've not before seen. Here is the first post in this unsteady series.
I'll admit that I'm not too familiar with the online literary journal world. I tend to read only a handful of journals. I'm myopic in that way. But I'm also open to reading new ones, either at another's suggestion or by my own discovery.
So I bring you online lit journal The Legendary, suggested to me by Brad Green. The journal's url is 'www.downdirtyword.com,' so I'm expecting some raw shit, man. They've just posted their second issue, it seems.
The index page is clean, easy to navigate, and has a picture of a kangaroo boxing a man. The kangaroo appears to be winning, which is good news for the animal kingdom.
First thing I click on is submissions; I want to know how these editors present themselves. I learn that the editors are 'always accepting submissions!' A 100% acceptance rate? I decide to purposefully misunderstand this, and it feels great to do so. It'll make up for all those Ninth Letter rejections choking my inbox. The Legendary editors go on:
We publish established writers as well as the new and nervous. We would love to be your very first publication if you rock our socks off.

Submissions should be short, sweet, to the point with a beginning, middle and end. Take us along for the ride. Make us feel it, see it, smell it, experience the jarring bumps in the road and bumps on the head, the streaming sunlight of morning and the glowing orange of evening. We want to get close enough to the characters to smell the perfume, the garlic, the gin and whiskey and beer sweating out of their pores. We want to hear their voices and see the expressions on their faces. Between all that, we demand to know not so much why they do the things they do; after all, we're grown-ups. We demand to know what they did and how they did it. 
Blah blah blah, I can't help but think; it's not the kind of submissions guidelines/statement of vision I look for, to be honest. But that's okay, right? I'm just one of many potential readers/submittors. Yes, the Barthelme reference is heartening (who doesn't like losing their socks to good lit?), though its revision ('rock' instead of 'knock') makes me wonder if the editors are familiar with the phrase's origins, just repeating a thing they've picked up secondhand, or trying to improve on something already perfect. Okay, I bet I'm wrong; they probably know the real deal, and I'm just a prick. Furthermore, I am glad the editors want to be able to smell the alcohol sweating out of my characters' pores; in college, we'd wake up still drunk early Sunday mornings and go on our 12 mile runs, stinking of vodka and beer. These are good memories of mine, really. Our coach rarely demanded to know what happened Saturday nights, though I doubt he had cause to ask and instead made us suffer with an early wakeup call. Whatever. Based on their guidelines, Jim and Katie strike me as the kind who favor stories/fiction/essays that 'show, dont' tell,' 'cut to the chase,' and 'have lots at stake.' Honestly, I'm a little skeptical at the moment, but only because I'm a grump when it comes to this sort of stuff.
First up, poetry. I click on Corey Mesler's name. His name is familiar to me; he runs a bookstore called Burke's Books in Memphis that I used to go to a lot during my college years. His five poems in this issue strike me as simple, cleanly lineated, and of low diction. My favorite is "The Dog's Song," in which Mesler writes, "I want to sing the way / our dog sings" and "I want to know her song / and why she waited / until she was old to begin it." I liked this, I think. It was soft and pleasant to me, mostly because of the unique combination of noun and verb: a dog? singing? I'm not familiar with dogs (I've not owned one), so maybe this is odd to me, but I like thinking about a singing dog. I imagine a mournful sort of tune.
Then I click on JA Tyler of the wonderful ml press. I find another text from his "&" series. It begins:
A girl turned woman walks a path, the path, a road, a route. And she defines her walk in clouds and sky, the grey or blue, the movements.
I like the verb 'defines' here, as most of this poem seems to be about this woman's having defined herself against an estranged man. Perhaps she matures because of this?
Okay, to fiction. Top of the page is "Wormed" by David Erlewine, a name I see at least a million fucking times on Duotrope's Digest. Congratulations David Erlewine! over and over. Erlewine has been busy lately, that's for sure. His story begins:
The two men greeted me in my garage. The first one, tall and thin, patted my shoulder and said "Hello, Pauly." It was such a wholesome pat that I didn't question being called Pauly. The second man, short and a bit plump, hugged me and said "It's been too long." He smelled like a cup of Earl Grey Tea with plum sauce.
Nice is the wholesome pat and the misnomer Pauly. My brain skipped at the mention of Earl Gray Tea, but only because I don't like the presence of so many capital letters in such close proximity; it's a personal problem, for which I should seek help. Sure, the scent of Earl Gray Tea is nothing compared to whiskey and coffee, but perhaps here it was enough to catch the editors' attention. I'll leave the rest of this little story for you to check out.
Then, figuring I ought to wrap up this little session, I clicked on the link to Jim's blog, and discovered this picture: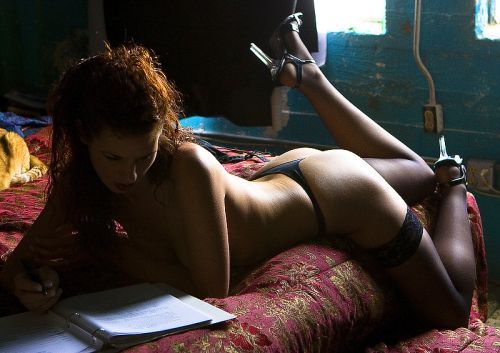 What does it mean?
I don't know.
Maybe it doesn't mean anything.
I'm okay with that, I think. 
If you know of an online journal that you think I might never have read and would like me to write about it, feel free to email us. I can't promise a response or anything, but do know I'm interested in finding new things, and if time allows me, maybe I'll devote a post to it?
Tags: The Legendary
55 Comments