December 18th, 2008 / 6:34 pm
Random
Justin Taylor
occupation of New School flagship building continues!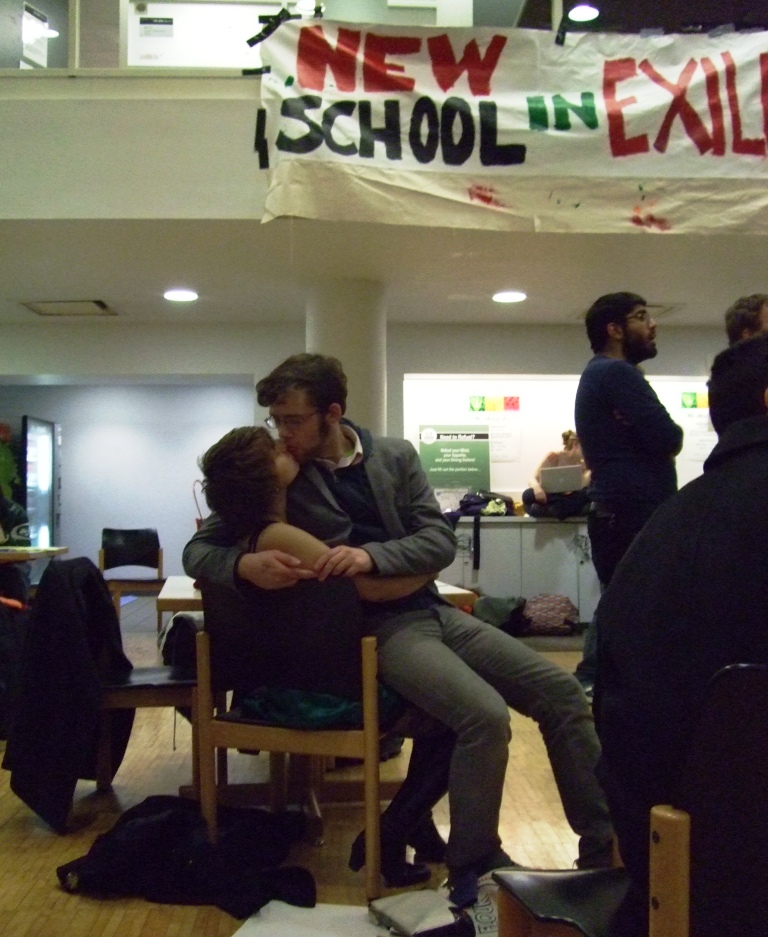 This isn't strictly literary, but I thought people would be interested to hear that the New School occupation is now into its 20-somethingth hour and as near as I can tell, going strong. After reading some snarks about the protesters on Gawker this afternoon, I decided to stop what I was doing, head into Manhattan and check things out for myself. I did my MFA at New School (see? not totally irrelevant to literature!) and so was able to get into the building. They have a list of demands, which you can read on their frequently-updated website, but the top item on the list is the removal of president Bob Kerrey, the former Democratic governor of and senator from Nebraska.
Everyone at New School–teachers and students alike–has basically known Bob Kerrey is a joke, at least as far back as my starting the MFA  program (Fall 2005). After he brought both John McCain and Newt Gingrich to speak at the school, it became clear what his real agenda was: collect a big fat fucking paycheck while using the school to set the stage for his next political campaign. Thanks but no thanks you center-right impostor. Good riddance to neo-liberal rubbish. The sooner the better.
I sat and listened to the direct democracy at work for about an hour and snapped some pictures from the center of the occupation, which you'll find after the jump.
(If you're wondering- I identified myself to the guys at the press table and they said it was OK if I posted what I had shot, without asking to see it first. There were about a dozen people shooting video and taking photos–including several of me–and nobody was masked up, so I don't think the protesters are trying to stay anonymous, but I didn't ask for any of the names of people in the pics.)
Tags: bob kerrey, new school in exile
49 Comments