November 18th, 2011 / 2:16 pm
Random
Catherine Lacey
On Place Memory, The Other Side, and Yelp as a Forum for Political Debate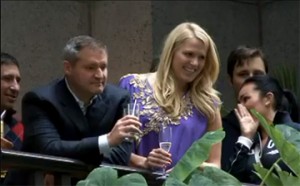 + Wednesday night I found myself standing in a ballroom on Wall Street in line for coat check beside a librarian who was wearing a button that said "Tax The Rich." Ignoring her button, you'd think we were the rich (and, in a way, just being invited to pretend to be rich for a night is a kind of wealth) but this was after-party for the National Book Awards and the opulent and gigantic room was filled with writers, publishing folk, and journalists. Many people in the room were a part of the Occupy Writers movement, had participated in the protests or had at least covered them.
+ Two months ago, on the first day of Occupy Wall Street, this video caught a smug gathering of the "1%" (whether just figuratively or actual) sipping champagne in a balcony just above the street, waving and laughing at the protestors as they marched and chanted. That balcony was attached to this place, Cipriani, a restaurant and luxury venue for galas and awards ceremonies and fundraisers.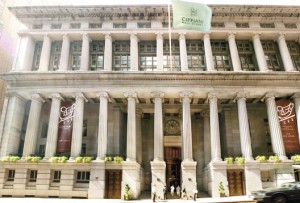 + As I walked up to the massive, castle-fortress at 55 Wall Street, I could not unlatch it from the image of the smug, clueless champagne sippers. I know that that those people did not have fangs and yellow eyes but in my memory they have fangs and yellow eyes. Now I was standing here, dressed up in a way I am not often dressed and standing among rented tuxes. I felt out of place, but all the friends I saw at the after-party felt similarly out-of-place, so our cumulative out-of-placeness, in a way, placed us.
 + Ed Champion had this to say: "I have arrived at the Cipriani Ballroom, feeling — after my considerable Occupy Wall Street coverage from weeks before — to be weirdly on the other side of what I usually cover… I just talked with the main man Harold Augenbraum and asked him if this was the craziest National Book Awards, security-wise, he's ever dealt with. Not so. "One year I actually hired security," said Augenbraum. "Someone threatened to disrupt the ceremonies. We hired security guards." Apparently, some party objected to the specific choices that year — which may have been 2005. Of course, nobody ever did disrupt the ceremonies….And there aren't security people that I'm aware of inside. Yet I can't help feeling too comfortable in here — even if I'm wearing a suit, which is not something I entirely associate with comfort."
+ Because what could be worse than being mistaken for the people that OWS has been glaring at since September? Since the actual ceremony ran late, a line of 29-year-old after-party guest queued up outside. A bunch of cops that were not affiliated with the NBA paced around, waiting for the protests that would begin the next morning, ready to arrest a few hundred people for any reason they could bullshit.
+ Inside, Ann Lauterbach made a quick mention of OWS during the ceremony, simply pointing out, since no one else had, that they were, in fact, "occupying wall street."
+ It's possible that some in the audience may have opposes the OWS movement. Others may have wished they didn't have to even be in this space, like that Librarian with the button. Maybe she wore it lest she be confused by anyone (the waitstaff, any protestors who may have wandered by, or a one-percent-er who may be bank-rolling the NBA) think she belongs to this space.
 + Space carries a lot of meaning to me. There are whole blocks of New York I can't go to without thinking of more significant times I've been there. There are neighborhoods so charged I can barely visit them without floating off into hours of nostalgia. I had never been to Cipriani and I wasn't at the first day of the protest, so I didn't have a first-hand memory here. What I had was a cumulative memory, impressions from a mass.
 + As a rule, Wall Street is not a place anyone goes to enjoy themselves. It's a place "people" do "work." There are bars for those people after they are done working and need to have a drink. I don't know anyone who works on drinks on Wall Street unless they're invited to something to drink for free, so I turned to yelp to see what people who actually spend time down there think of this space.
+ Cipriani has three and half stars, and four dollar signs. I looked at the most recent reviews, hoping to find something about the champagne sipping people, but found nothing. All the people who had left recent reviews are "Elite Yelpers."
+  Angel C's November 16 review says he came "for the Gotham City Gala honoring Enterprise this year as a member of the affordable housing industry," and he notes the "grand" space before bemoaning the fact that "halfway through Ed Norton's speech a pipe sprung a leak from the ceiling about 30 feet from him and out gushed a true water feature that did not cease for at least 2.5 hours." I am still wondering how "a member of the affordable housing industry" might feel if he was to learn the per-head cost of an event at Cipriani relative to a month of "affordable" rent. He makes no mention of it.
+  Christopher M, who "is blessed to have experiences to yelp about"simply "wasn't as impressed with this location as I was with the 42nd Street location.  This was even more off-putting when I realized that half of the floor staff present on the evening I was at Wall Street were the same staff on 42nd Street! " Yes, it is to hard to get blessed with good help.  Chrissy C, describes it as "suit-y, expensive and has an air of douche. Totally my kind of place. I think I saw my future husband about 9 times too." Obviously, she love love love love[s] the atmosphere. The classic Wall Street vibe is apparent, as are the creepy old guys looking for their next sugar baby," though admits that they only thing she eats here are the olives from her martini's.
 + Disappointed that no one had reviewed the opulent weirdness of a the place (I realize I sometimes expect too much from New York) I looked to see if there were any reviews of Zuccotti Park and there were, though as expected they were mostly just political monologues and reviews of OWS in general. "You guys aren't Gandhi, quit kidding yourself and do your crack somewhere else," one guy says.
+ Zuccotti Park has three stars and no dollar marks.
 + What is more interesting to me are the reviews that are actually more about the space itself and the reviewers relationship to the space before and after the movement One guy noted that he couldn't "wait until this turns back into a little park in the midst of a  bustling area. Don't get me wrong, I believe in the right to protest and as long as the park owners are cool with it being used," but he really misses being able to "grab a NYC hot dog and some nuts from a vendor and enjoy a quick lunch." Where else can he "take a few minutes and fuel up before you tackle your shopping trip at Century 21 or do battle on the subway" ?
 + An October 7th review caught my eye in particular because its not clear whether the guy, who obviously works in the area, has any idea what is going on. "A marked increase in the number of vagrants, drifters, and otherwise unsavory characters, all of whom seem to want to talk to you about politics, has made this park entirely unsuitable trying to enjoy a book or eat lunch with colleagues." Sarcasm, if that is what this is, often gets lost in the internet, but when he goes on to say, "It used to be such a nice plaza.  I only hope that the proprietors of the park, Brookfield Office Properties, can clean it up and get these poor folks into social custody," I can't quite tell if he's kidding.
+ …. Who's park? No, seriously, who's park?
8 Comments