September 12th, 2010 / 2:00 pm
Random
Lily Hoang
On the extent of my errors
Forever, I thought solipsism was one's belief that she is the center of the universe. This seemed to be a logical definition to me, "sol" after all means "sun." Also, someone who is solipsistic is egotistical, duh. I mean: my definition made sense. To me, at least.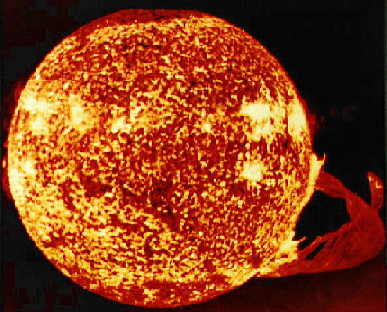 I started this post with something profound to say.
I was going to say: Logic would tell us that solipsism derives from ego, the inflation of self to the point that one believes she is the center of the universe, planets rotating around her; however, solipsism comes from a deep sense of insecurity and nothing else.
But I was wrong. Solipsism is not the belief that one is the center of this galaxy. Solipsism does not equate self with the sun, a star. No, solipsism is "the view or theory that self is the only object of real knowledge or the only thing really existent" (OED). It's etymology does not come from "sol" meaning "sun" but from "solus" meaning "alone," easy mistake, sure.
Therefore, my initial belief that solipsistic people are merely insecure posturers is entirely wrong, and it had everything to do with etymology. Had I thought "sol" part of solipsism came from "solus," I probably would've figured it out on my own. Well, maybe.
Yeah, so it turns out solipsistic people are just crazy egotistical fools. I wanted to give them the benefit of my doubt. But I was wrong. Looks like I'm the fool now. This is what happens when I have work to do that I don't want to do. I start looking up things in the dictionary and blogging about all the words I thought I knew but didn't. Happy Sunday everyone!
190 Comments