February 25th, 2010 / 5:44 pm
Uncategorized
Roxane Gay
Our Submission Need Not Be Guided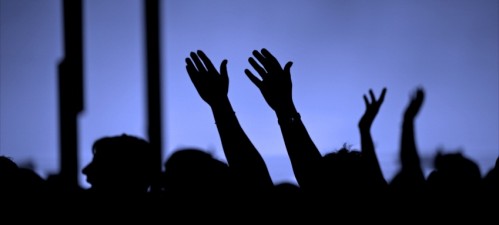 Unsaid 4 has been discussed here before and I'm going to discuss it again. The magazine is fairly new to me and after reading all the glowing reviews of the fourth issue, in particular, I was really intrigued but that intrigue was coupled with a dash of skepticism that was short-lived once I began reading. From the very first story, Unsaid had my attention. There is a breathtaking range of writing in this issue and as I read, I would fold the corners of every page that had some really interesting turn of phrase. By the time I reached the end of the massive, 504 pp. issue, more than half of the book's pages were folded (See Figure 1). I was not familiar with most of the writers in the issue so it was also great to be introduced to new (to me) writers and writing styles. A lot of the content from this issue is online at the Unsaid website and I highly recommend checking the magazine out if you haven't already.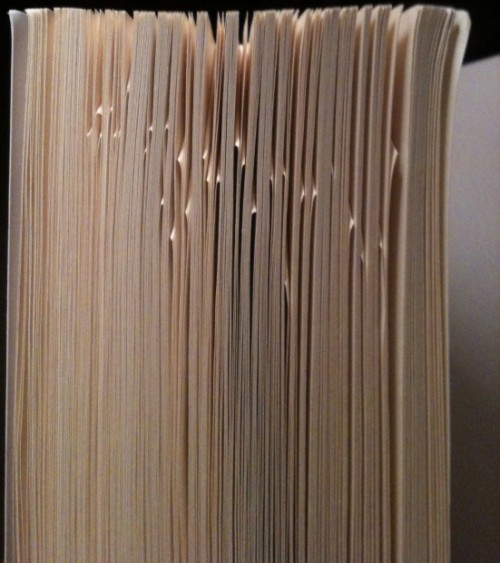 Figure 1
If you are looking for a place to start, I'd recommend the work of M.T. Fallon, Andy Devine, Alyson Jane, Emily Mahan, Rachel B. Glaser, Carolyn Altman, Michael Kimball, Danielle Blau (Growth is so lush and elegant as to boggle the mind), Joe Wenderoth, Sarah Manguso, and Bianca Galvez.
I could go on and on about the ways in which the writing in this issue really challenged my understanding and appreciation of what makes a story or a poem or how words should be connected to one another or how so much of the writing was beautiful and ugly and smart and difficult and satisfying. I won't. Instead, I want to talk about how Unsaid 4 has really forced me to reconsider one of the hallmarks of any literary magazine–submission guidelines.
I have long believed in the importance of submission guidelines and appreciating writers who adhere to those guidelines. With limited time, resources and, often, an overwhelming number of submissions, guidelines really help to simplify the editorial process and ensure a consistent standard. There are very good reasons for setting forth best practices for writing length, the number of pieces that can be submitted, the format in which writing should be submitted, and the kind of information you want to know about writers. Guidelines often bring (the semblance?) of order to the chaos of the slush pile.
When you go to the Unsaid website, there are no submission guidelines, only a brief note that says:
For information and all editorial correspondence:
info@unsaidmagazine.com
I'm so conditioned to work within the current publishing system of clearly outlined submission guidelines that this brief message threw me for a curve. No guidelines? Blasphemy!
Having finished Unsaid and taken some time to really reflect on the magazine both as a whole and in the context of each writer's work, one of the most interesting things Unsaid does is make the strongest possible argument for the abolition of submission guidelines. Here is a magazine without submission guidelines that has a clearly expressed aesthetic. I have to believe that part of the success of this issue is the result of an editor's openness to giving fair consideration to anything appearing in the Inbox. The more I've thought about this lack of guidelines, the more I think it's one hell of a smart move. Not only does a lack of submission guidelines allow writers a lot of freedom to solely focus on sending their best work, it invites the kind of writers who won't be baffled by the message, who won't see that as an obstacle, who will understand exactly what the editor is telling them. I'm a little embarrassed to admit I wanted to send them something but couldn't figure out how even though the information I need is right there, in plain view. I might be a robot. It's a risk versus reward undertaking to do away with submission guidelines but clearly, where Unsaid is concerned, the rewards have been many.
Last night, I read a submission that was 5,067 words long and my first reaction was irritation but then I paused and I thought about Unsaid so I read the story with an open mind. It wasn't right for PANK, but it didn't kill me to fairly consider a story that in some insignificant way transgressed the guidelines. I'll be honest—I was not as open to the 16,000 word submission also in the queue.
Perhaps, as others have suggested before, editors are indeed too attached to submission guidelines and not open enough to whatever comes across the transom. And if writers are largely going to ignore guidelines anyway, why work ourselves into a frenzy about the inevitable? What do we value more–great writing or people who follow directions? What does it say about editorial vision if we summarily dismiss work that exceeds mandated word lengths or page formatting requirements? For the most part, submission guidelines are nothing more than administrative strictures that, when you think about it, only really ask writers to demonstrate reading comprehension and an understanding of how to use a word-processing program to insert page numbers and/or double-space a document, etc etc etc.
I cannot say we're going to eliminate submission guidelines at PANK but I will have a serious conversation with my co-editor so we can think about how, between the two of us, a no-submission guidelines policy would work for our magazine. I can say that Unsaid has been immeasurably eye-opening for me as an editor. It is a magazine that illustrates the power of what can happen when an editor lets go—when an editor submits to their submissions.
69 Comments