October 31st, 2011 / 11:35 am
Random
Christopher Higgs
Reading Comics: Salvatore Pane Goes to ComicCon
Welcome to the fifth installment of my new series: Reading Comics. I've still got a bunch of great contributors lined up, but I'm also looking for more voices. If you'd like to contribute just email me and let me know! Without further ado….here's Salvatore Pane…
The Strangest Moment of Your Life: My Trip to New York ComicCon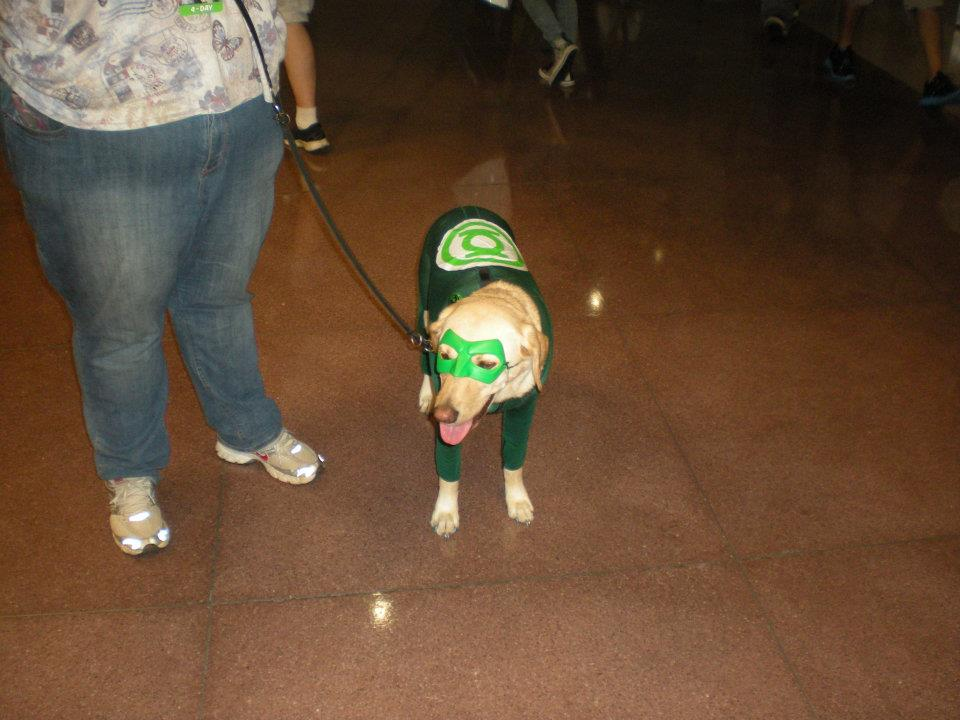 I've only been to two comic book conventions in my life. The first was in 1995 in a Holiday Inn lounge in Scranton, Pennsylvania. I was already an avid comic book reader and had a dedicated shop that handled all of my purchases. I went to the convention mainly to ogle the Star Wars collectible game cards. I played every day after school with my friends, and my chief tactic was putting IG-88 in an AT-AT and setting him loose on the sand dunes of Tantooine, a bit of universe defying logic I thought was both hilarious and charming. Two weeks ago I attended my second convention, New York ComicCon. I thought I knew what to expect. I'd seen coverage of San Diego ComicCon, NYCC's more movie obsessed older brother, the familiar news clips of people strutting around conference halls dressed like Comet the Super Horse or Ego the Living Planet, clipped footage of the men and women of tomorrow here today in tight fitting spandex every color of the rainbow. I followed the comic industry via fan sites like Newsarama and iFanboy ever since I took a graphic novel course in college and discovered that bam, pow comics weren't just for kids anymore. They were aimed at me. The nostalgic twenty-something who wanted to re-consume the tales of their youth. Trade paperback editions of Amazing Spider-Man and Daredevil sat perfectly on my shelves next to hundreds of hunted down Nintendo Entertainment System games and mostly unwatched DVD collections of Ducktales and Teenage Mutant Ninja Turtles. This rekindled interest in the preferred storytelling medium of my childhood led me to try my hand at writing comics. As I spent mornings working on prose, trying so hard to be literary, I spent nights in a world of joy and wonder, scripting rooftop scenes of madcap adventure. My best friend Mark and I co-wrote a comic, and it was accepted for publication. He was the one who suggested we go to NYCC, and as we drove across Pennsylvania and into New York City proper, I kept thinking about AWP. It had to be similar, right?
New York ComicCon is AWP hopped up on Pixie Sticks and Four Loko, its gums smeared white with cocaine. The convention is held in the Javitz Center, a glass monolith buttressed by a gigantic plasma screen playing a constant loop of the latest Batman: Arkham City trailer. Located in the barren wasteland of Hell's Kitchen, there is practically nothing of interest around the Javitz. You can't escape the convention without descending underground or waiting impotently for a cab. There was a bowling alley nearby where Mark and I drank pumpkin beers and a bizarre place known only as Yotel with glowing doors and a gigantic trembling robot arm—when Mark asked a man with a clipboard alongside the robot what this place was, he only scoffed and told us it was the hotel of the future.
The convention center is your childhood bestowed with three-dimensional life. The Javitz is divided into two halves: the bottom floor houses panels not unlike the ones at AWP. Just replace the PEN/Faulkner's Writers in the Schools panel with one showcasing the return of Rob Liefeld's Extreme line of comics from the stupid fun days of the 1990s—I attended the latter and can say that the cover of Glory punching out a Nazi tank enlarged and projected onto a huge screen was a highlight of the convention. The top floor is the convention floor, the place where the publishers trot out their writers and artists to sign variant editions of Ultimate Comics: Avengers vs. New Ultimates. A car company purchased a sizable tract of floor space and loaded it up with their newest models so that members of the gaming press could peer inside and pretend to seriously consider purchasing a new car at ComicCon. The toy companies were there and their wares were on display in backlit glass cases, a Christmas from sunnier days dragged forcibly into the present. They even constructed human-sized action figure cases so con goers could stand inside the plastic casing and pretend to be the latest figurine in the Avengers or Star Wars toy line—and yes, they had a fabulous selection of IG-88 figures. You could buy anime themed underwear, Pokemon lingerie, and a wide array of weapons, all matters of blades and knives lifted directly from the Japanese Role Playing Games that came to dominance in the final days of the 1990s. Even the Black Eyed Peas had a booth, a raised dance floor manned by hired gun models who lured lanky Nightwing fans into endearingly bad imitations of the Macarena—I think this was some type of video game.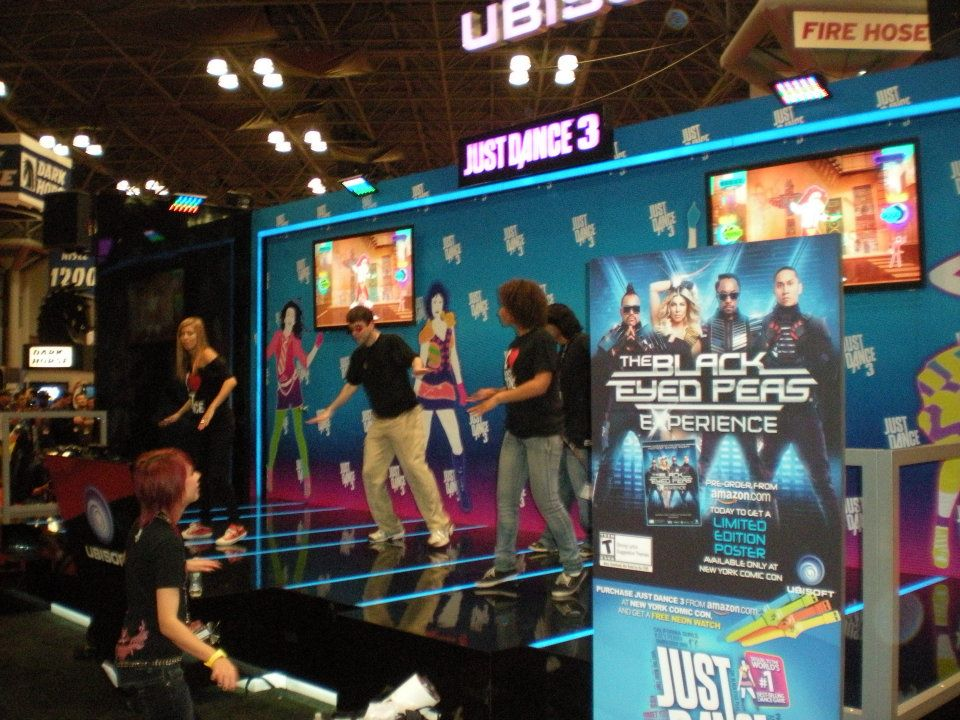 Have you ever been to a casino? You know how when you first enter you're completely stunned by the light and the noise, the repeat motion of hands pulling levers, of spinning wheels and shouts of unadulterated joy? That's New York ComicCon only there's no room to move and half the population is dressed like an extra from a Doctor Who episode set on an alien planet. And let me be perfectly clear on this: it's not my intention to be condescending. I loved every last minute of the convention despite being overwhelmed at every conceivable turn. How can you not be utterly awed when you realize that Marvel had erected a replica of the helicarrier from The Avengers and hired actors to play SHIELD agents who sit at computers pretending to accomplish complicated yet terribly essential tasks? Turn past the 18th display of Gundam figurines and there's Colson Whitehead at the Doubleday booth promoting Zone One and tweeting about trying to find Gil Kane Spider-Man issues. It felt like someone had taken every thing I ever loved and crammed it in a giant glass box on the edge of Manhattan. And am I ashamed to admit that I almost lost it when I met Tom DeFalco, former Editor-in-Chief of Marvel and writer of the run on Spider-Man that brought me into comics on a weekly basis in the first place? Of course not. I think of myself as a pretty extroverted person. I love being in front of my classes, and I have no problem chatting up strangers in bars. I wanted to tell Tom DeFalco how much his work meant to me, how his writing taught me about structure and seriality and character, but all I could manage was a series of mumbles and bizarre references to maligned Peter Parker clone Kaine and the oft-cancelled Spider-Girl series, a DeFalco penned book set in an alternate timeline where Mephisto never erased Peter and MJ's marriage, and their child was allowed to mature into a teenager whereupon she too developed the proportional powers of a spider. I babbled like an idiot and he smiled into the forgiving eye of my digital camera.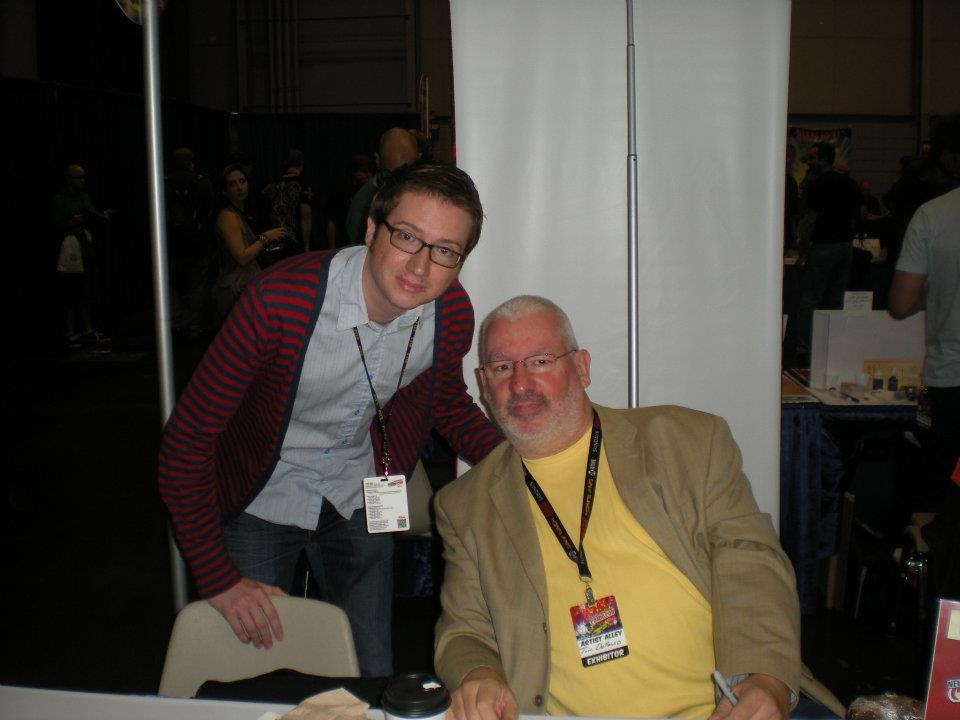 By the time Tom Morello—formerly of Rage Against the Machine—took the stage in a sweaty chamber known only as the IGN Theater, I was over stimulated, tired, and four beers close to a buzz. Morello played his warbly guitar solos before a DJ emerged and looped the theme from the original Batman TV show for con goers sitting in circles on the floor. I felt the same urge I always get at AWP, that sudden need to get away from the conference and talk about anything at all that isn't writing. Mark and I went to Times Square for what was supposed to be a party in a comic shop, but when we arrived it was mostly just people getting their comics autographed and discussing the newly relaunched DC universe. There wasn't even any wine in plastic cups! We wandered outside and into a basement bar where I got drunk off whiskey and made friends with fellow Knicks fans. We spent nearly two hours eating greasy bar food, idly watching baseball playoffs and talking in hushed tones about the tragic evening Reggie Miller dropped eight points on the Knicks in under nine seconds. We staggered back to the hotel, not the yotel, where I contemplated downloading Pokemon Snap for Nintendo 64 on the boxy television. It was my first night in New York in months.
The highlight of the convention was the second day. One of the things I love about comics that I can't get from prose is collaboration. People can offer suggestions about your prose or even help edit, but ultimately it falls on you. Comics are so different, and like Tom Bissell recently pointed out, it's as difficult to imagine Batman appearing fully formed in the brain of credited creator Bob Kane—it didn't—as it is to imagine St. Mark alone birthing Jesus on the page. Comics are inherently collaborative. Someone writes. Someone pencils. Someone inks. Someone colors. Someone letters. Five unique artistic stages. Conventions are supposed to be the best place to meet collaborators, but Mark and I didn't have much luck the first day which we spent walleyed and trembling. The creator connection panel was billed as speed dating for comic creators. We entered a slim auditorium and spent timed five minute intervals conversing with all matters of artists. We met people who self-published superhero comics and artists looking to draw YA stories with morals. There were artists who preferred drawing horror comics and those more in line with the Fantagraphics aesthetic. We hammered out ideas, collected business cards, and upon returning from the convention struck up e-mails and contracts. Being in a room filled with that many people all trying to make something, to create, it was humbling, and I wish AWP had some type of equivalent, although I have no idea what that might be in the literary world.
Ultimately, the strangest moment of the show occurred on the final night. I had long grown accustomed to the endlessly flashing lights inside the Javitz and its army of robot men and legion of Dragonball Z cameos. Mark and I had read about a party on the other side of Manhattan thrown by iFanboy, and I was eager to know if it was like the Literature Party at AWP. We scarfed down cheeseburgers—the sustenance of convention life—and descended into a bar where I immediately recognized person after person who didn't know me. There was Josh Flanagan, co-host of the iFanboy Pick of the Week podcast and video show. There was Janna O'Shea, social media coordinator for Marvel. There was Nate Cosby, college football enthusiast and writer of PIGS. I sat down at the bar and struck up a conversation with a man who turned out to be the colorist for Ultimate Spider-Man and Captain America, books I've been reading for five years. It was my Twitter feed come to life. And then, the finale. The party was DJed by Kieron Gillen, the current writer of Uncanny X-Men. Ron Richards, another iFanboy host, warmed the crowd up and played the theme song to Pete and Pete recorded by Polaris. I stood there bopping my head to that well remembered anthem from Nickeloden while I nursed an overpriced craft beer. I was surrounded by nerdy hipsters and the residents of my Twitter feed, and I couldn't help but keep thinking, "This is the strangest moment of your life. This is the strangest moment of your life."
—
Learn all about Salvatore Pane by visiting his website.
5 Comments