July 5th, 2009 / 12:45 pm
Uncategorized
Ryan Call
snd me ur txt msgs, plz?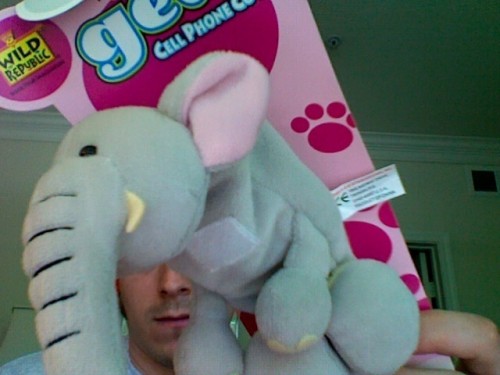 Everyone, I thought it might be fun to get your help on this. For the Dollar Store Super Summer Tour, I'm scheduled to read for 5mins in Houston this Monday with Gene Morgan and others. The dollar store item that I received is in the above picture. It is an elephant cellular phone holster that attaches to my belt or hangs around my neck. This holster gave me the idea to ask you to email me favorite text messages you have sent or received. I would like to combine these text messages into poems/stories/texts/things to read at the Dollar Store Show Tour at Domy Books on Monday night. I promise to post the things at HTMLGIANT after the event so that everyone can read them.
I think this could be fun? Please email the exact text message, with text message language intact, to htmlgiant [at] gmail [dot] com – use subject $ STORE SHOW or DOLLAR STORE SHOW or something like that. I will take whatever I can get through like 10pm CST tonight. I will try to use every line I receive. I hope this works.
Oh, new idea: or you can also post them in the comments section. That might be fun also. Then other people can play with them too, maybe? The point is this should be really messy.
Tags: Dollar Store Show, Domy Books
25 Comments