July 8th, 2009 / 10:44 am
Uncategorized
Adam Robinson
So, uh, what do you do for a living?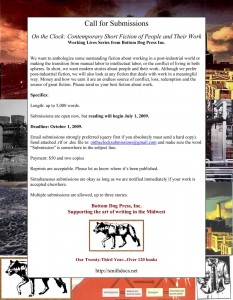 Writing about jobs is difficult to do well. I wonder if people think that since their employment is something they aren't passionate about ("just payin' the bills"), it's more acceptable to ramble on about it in an unmediated voice which they might not otherwise write in? Like, when you're writing about something that everyone automatically understands — devoting half our lives to some company we hate, say — it's easier to take artistry for granted.
I don't know what I'm saying but I feel like if I keep saying it, I'll start to make sense. Writing about writing about jobs is difficult to do well.
Anyway, if you think you got the knack, old boy Josh Maday and Jeff VandeZande are putting together an anthology of the stuff for Bottom Dog Press. "In short, [they] want modern stories about people and their work." The nice thing is that acceptance pays $50 — so work hard for the money.
And, btw, what's the greatest work story ever told? Below the fold I've listed some good ones.
21 And God created great whales, and every living creature that moveth, which the waters brought forth abundantly, after their kind, and every winged fowl after his kind: and God saw that it was good.

22 And God blessed them, saying, Be fruitful, and multiply, and fill the waters in the seas, and let fowl multiply in the earth.
or
At the period just preceding the advent of Bartleby, I had two persons as copyists in my employment, and a promising lad as an office-boy. First, Turkey; second, Nippers; third, Ginger Nut. These may seem names, the like of which are not usually found in the Directory. In truth they were nicknames, mutually conferred upon each other by my three clerks, and were deemed expressive of their respective persons or characters.
or
"You'll want all day to-morrow, I suppose?" said Scrooge.

"If quite convenient, sir."

"It's not convenient," said Scrooge, "and it's not fair. If I was to stop half-a-crown for it, you'd think yourself ill-used, I'll be bound?"

The clerk smiled faintly.

"And yet," said Scrooge, "you don't think me ill-used, when I pay a day's wages for no work."
or
Still, I can point to one or two things I have definitely learned by being hard up. I shall never again think that all tramps are drunken scoundrels, nor expect a beggar to be grateful when I give him a penny, nor be surprised if men out of work lack energy, nor subscribe to the Salvation Army, nor pawn my clothes, nor refuse a handbill, nor enjoy a meal at a smart restaurant. That is a beginning.
 or
[that part in Factotum where Chinaski cleans the blinds in the bar really fast]
50 Comments