July 13th, 2009 / 3:39 pm
Uncategorized
Catherine Lacey
The Greatest Adventure Story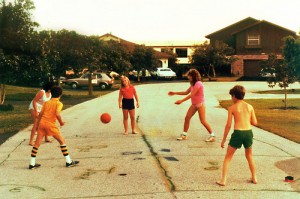 Michael Chabon has a great essay in this week's issue of The New York Review of Books about the inherent literary potential of childhood. Some of my favorite stories have children as protagonists or main characters, but I've been reluctant to wonder why that is, thinking that I probably like childhood stories because I am easily seduced by nostalgia. But no! Chabon articulates a more complex reason that childhood narratives are so appealing: "Childhood is, or has been, or ought to be, the great original adventure, a tale of privation, courage, constant vigilance, danger, and sometimes calamity."
Another idea that Chabon brings up is about how childhood is a kind of wilderness and how overprotective parenting is a form of colonization and taming of that wilderness:
The endangerment of children—that persistent theme of our lives, arts, and literature over the past twenty years—resonates so strongly because, as parents, as members of preceding generations, we look at the poisoned legacy of modern industrial society and its ills, at the world of strife and radioactivity, climatological disaster, overpopulation, and commodification, and feel guilty. … our children have become cult objects to us, too precious to be risked. …What is the impact of the closing down of the Wilderness on the development of children's imaginations?…Art is a form of exploration, of sailing off into the unknown alone, heading for those unmarked places on the map. If children are not permitted—not taught—to be adventurers and explorers as children, what will become of the world of adventure, of stories, of literature itself.
Anyway, go read the whole thing if this bastardized chopped up version looks appealing to you. The essay in full is much better, of course.
There's also something both lovable and disgusting about how many commas Chabon can cram into a sentence. On the one hand the over use of commas is endearing– like he's just so excited to tell you something he ends up stammering it all out in semi-coherent fragments. On the other hand it can sometimes be grammatically uncomfortable to read.
It other child-related literary news, the reclusive Lorrie Moore has a story in last week's The New Yorker titled "Childcare."
40 Comments