May 27th, 2013 / 8:56 pm
Random
Janice Lee
The &NOW AWARDS 2: The Best Innovative Writing is out now.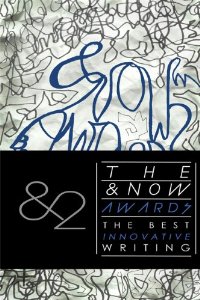 Just out: The &NOW AWARDS 2: The Best Innovative Writing…
This second volume of The &Now Awards recognizes the most provocative, hardest-hitting, deadly serious, patently absurd, cutting-edge, avant-everything-and-nothing work from the years 2009-2011. The &NOW Awards features writing as a contemporary art form: writing as it is practiced today by authors who consciously treat their work as an art, and as a practice explicitly aware of its own literary and extra-literary history—as much about its form and materials, language, as it about its subject matter. The &NOW conference, moving from the University of Notre Dame (2004), Lake Forest College (2006), Chapman University (2008), the University at Buffalo (2009), the University of California, San Diego (2011), and Paris (Sorbonne and Diderot, 2012)—sets the stage for this aesthetic, while The &Now Awards features work from the wider world of innovative publishing and serves as an ideal survey of the contemporary scene.
The anthology features:
Harold Abramowitz (.UNFO)
Shane Allison
Dimitri Anastasopoulos
Daniel Borzutzky
Rachel Gontijo Araujo
Garrett Ashley
Joe Atkins
Jesse Ball
Lutz Bassmann
Jose Perez Beduya
Matt Bell
Kate Bernheimer
Arno Bertina
Andrew Borgstrom
Amina Memory Cain
J. R. Carpenter
Julie Carr
Sam Cha
Alexandra Chasin
Don Mee Choi
Jack Collom
Josh Corey
Shome Dasgupta
Katie Degentesh
Andy Devine
LaTasha Nevada Diggs
Ben Doller
Sandra Doller
Manuela Draeger
Marcella Durand
Kate Durbin
Craig Dworkin
Brian Evenson
Elisa Gabbert
Roxane Gay
Elizabeth Gentry
Johannes Göransson
Amelia Gray
Amira Hanafi
Duriel E. Harris (Black Took Collective)
Gretchen E. Henderson
Jibade-Khalil Huffman
Laird Hunt
Kim Hyesoon
Parneshia Jones
Bhanu Kapil
Jennifer Karmin
Janice Lee
Daniel Levin Becker
Michael Leong
A. J. Patrick Liszkiewicz
John Madera
Annam Manthiram
Jennifer Martenson
Dawn Lundy Martin (Black Took Collective)
Joyelle McSweeney
Christina Milletti
Monica Mody
K. Silem Mohammad
Nick Montfort
Sawako Nakaysu
Urayoán Noel
Alissa Nutting
Lance Phillips
Evelyn Reilly
Dan Richert (.UNFO)
Kathleen Rooney
Marc Saaporta
David Shields
Eleni Sikelianos
Amber Sparks
Anna Joy Springer
Ken Taylor
Anne-Laure Tissut
Sarah Tourjee
J. A. Tyler
Azareen Van der Vliet Oloomi
Nico Vassilakis
Antione Volodine
Ronaldo V. Wilson (Black Took Collective)
Raúl Zurita
***
Get your copy now: Amazon / Northwestern University Press
More details on the anthology.
Tags: &now, anthology, Davis Schneiderman
One Comment
May 31st, 2013 / 7:51 pm columbusmatt—