March 24th, 2009 / 6:34 pm
Uncategorized
Blake Butler
Tyrant 6: !!!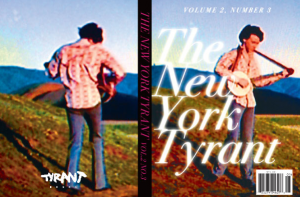 Um, what the hell: the line up for the new issue of New York Tyrant has just been released, and, well, if you still have eyes, you might get ready to lose them:
300 pages of the best one yet.

A whole new batch of art from Mr. Atticus Lish!

Kevin Sampsell interviews Diane Williams

fiction from:
Thomas Bernhard
Rachel Sherman
Justin Taylor
Christine Schutt
Cooper Renner
Daryl Scroggins
Scott Garson
Anthony Luebbert
Christopher Kennedy
Jesse Ball
Daniel Grandbois
Michael Hemmingson
Darby Larson
Karl Taro Greenfeld
Ken Sparling
Robert Lopez
S.G. Miller
Kim Chinquee
Jason Snyder
Jessica Blau
Michael Leone
I think I would listen to the Thong Song for a week straight if I had to to get a hunk of this. I don't know what made me just think of the Thong Song.
You can preorder the issue now on the Tyrant website, which is also currently running the Sampsell/Williams interview in full for your enjoyment.
Every new issue of the Tyrant is a spectacle of power and light. If not yer eyes, this one might take yer lungs out. Or your ovaries. Or you might get ovary-implanted. Either way, go get, before it sells out, as they always do.
Tags: atticus lish, new york tyrant
59 Comments