May 12th, 2009 / 12:57 pm
Random
Ryan Call
Used Bookstore Finds: 'Camels in my mouth and the cast of STOMP in my head'
A few years ago, I worked at a used bookstore in Fairfax, Virginia. I found a lot of interesting stuff tucked into various books or written on their pages as I sorted through the incoming boxes, but my favorite discovery fell out of a copy of Robert Olen Butler's A Good Scent From A Strange Mountain: the following handwritten letter, dated 2/22/99, which I've done my best to type out below the picture.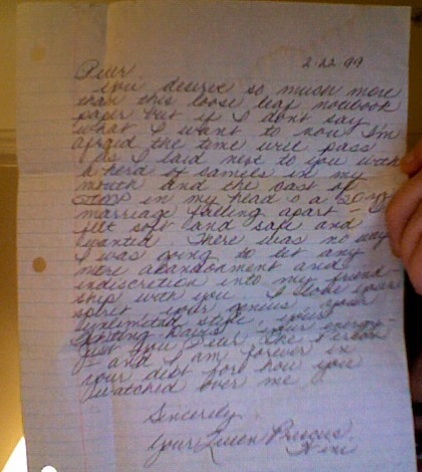 Peter,

You deserve so much more than this loose leaf notebook paper but if I don't say what I want to now I'm afraid the time will pass. As I laid next to you with a herd of camels in my mouth and the cast of STOMP in my head and a 20yr. marriage falling apart – I felt soft and safe and wanted. There was no way I was going to let any more abandonment and indiscretion into my friendship with you. I love your spirit, your genius, your unlimited style, your Whiting-Davis, your energy – just you Peter, The Person – and I am forever in your debt for how you watched over me.

Sincerely,
Your Queen Priscus,
Wini
I cannot bring myself to get rid of this letter. I'm fascinated by it. I hope these past ten years have been kind to Wini and Peter's friendship.
If you have interesting used bookstore finds, feel free to email us.
Tags: Stomp
23 Comments