May 11th, 2010 / 8:29 am
Random
Lily Hoang
Variations on Reading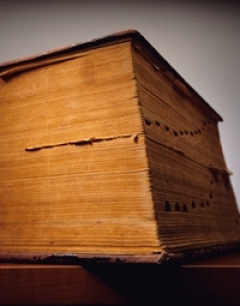 I'm reading some books, sure. We're always reading books, right? But for some reason, right now, I happen to be reading very big books and very small books. And that's been the case for the past few weeks. Books are either 800+ or -150 pages. That being the case, I wanted to talk about the different experiences in reading big v. small books.
So I'll start with big books. I'm reading Josh Cohen's Witz, which has been subject of much debate (or rather, Josh has been subject of debate, not his book, which is what we ought to be talking about because his book is really great, huge, and not just in size. I don't want to get too caught up in talking about Witz or its author though. I'll post a review of the book some time soonish, probably.), and a couple Dostoevsky (The Brother's K and A Writer's Life, both volumes). With these big books, my reading speed fluctuates wildly. I'll read very quickly, almost skimming, for a while because let's be honest, one page of 800 can't make that much of a difference, except that it does, so then I'll slow down, go back and re-read, if necessary. The thing about these thick books is that because of their size, they require a degree of seriousness in the reader, even if the book is funny, as Witz is. They require devotion.
I find in reading big books, I allow myself to get more invested in the characters, I'll sit longer, read hundreds of pages at a time, because even if I read a few hundred pages, there will be more. I did this with 2666 too, except I got so invested in the narrative I stopped reading entirely. I didn't want to finish. And I've been working at Witz for a while now. Again, I don't want to finish. There's something delectable in these big books, maybe the time you've put into it, but I never want to finish them. The only reason I finished Ulysses or The Making of Americans or Infinite Jest was because I read them for school. Otherwise, I'd probably stop thirty pages short of the end.
These big books I'm reading, they're not just big. They're difficult (not so much A Writer's Life, but the other two, sure). They're pleasurable in that way. They require the reader's attention, demand it. I turn the page, a long page, a page full of ink, knowing there will be another page, more story, more development. I read, knowing there will be more.
Then, there are little books. I've recently read or am reading Patrik Ourednik's Case Closed (140 pages), Roberto Bolano's Monsieur Pain (120ish pages), a bunch of thin Clarice Lispector's, and Shya Scanlon's In this Alone Impulse (70ish pages). These books, in comparison, are carrot sticks, a light snack. Now, I'm not saying anything about the quality of the writing or the books themselves. I just mean the way I approach these little books is radically different from the big books. Their brevity almost necessitates less investment. Particularly in Shya's book, investment is almost banned. His language, simultaneously foreign and familiar, requires my complete attention. Story and development are absent, rightfully in this case. Ourednik, Lispector, Bolano, however, are storytellers. Their little books brim with story and development, rich characters, plot!, except for me, even when I begin the book, I know it will end and all too soon. I know I can finish books like these in a couple hours, and just like that, it'll be over. There will be nothing left to savor. So I read these books quickly. I don't stop thirty pages short of the end (fuck, that'd be like a quarter of the book, if I did). I read to get to the end, and sure, along the way, I enjoy, savor even, all the qualities of the book, but it's not the same as big books. The delight is simply different.
I should also note that I'll reread little books almost as soon as I finish them. They're short. I can do that. Second time is always better. All the big books I mentioned, I've only read them once, if I've even finished them. I suppose that says something too. (I know, I know. There are plenty of people on this site who've probably read IJ a hundred times and will crucify me for saying I've read it once and have no real intention of reading it again.)
I'm not making an argument that one type of book is better than another, but the variation in length changes the reading experience. Funny how the bookness of the book alters everything.
[Side-note: I wonder how different an 800 v. 120 page book on Kindle or iPad would be because it's the physicality of the book, the knowledge of more physical pages, that changes my experience. What if those pages were just flips on a screen?]
Tags: case closed, monsieur pain, witz
38 Comments