October 8th, 2009 / 3:19 pm
Random
Ryan Call
What is a happy story?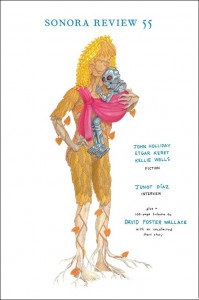 Last Tuesday afternoon, someone in my Introduction to Fiction class asked me if we would ever read a 'happy' story this semester, and I didn't know how to answer. I didn't feel comfortable saying 'no' or 'yes,' because I have a hard time understanding what is a happy story and what is a sad story. For those who don't know, all of our readings have come from The Anchor Book of New American Short Stories, and we're about to start reading My Happy Life by Lydia Millet for the novel portion of the course. I like to think that the kinds of things we're reading are somewhat varied; however, another student disagreed, and criticized the selections Ben Marcus had made. The student pointed at what Marcus says in the introduction ("What I found in my reading was an amazing range of styles, beliefs, methods, ideologies, and instincts.") and commented that despite the differences Marcus intended to show, the stories in the anthology, in the student's opinion, are all generally sad and depressing. And if we categorize stories that way, and if we assume that we share the student's definition of sad, then there isn't much variety in that, right?
But, and this is my question, are there really happy stories and sad stories? If they exist, how do you define one or the other, or is it even a matter of one or the other?
I'm not hounding the students here; rather, both of their questions, which I think are good questions, got me thinking about how I feel emotions when I read, when I write, and when I do other things in my life. Rather than say 'no' or 'yes,' I tried to explain to the group what I thought about when I thought about it: that I didn't see much difference between happiness and sadness, or that, if there was a difference, it was minor, and that I had, over the course of the past three years, realized that I was often existing in a pretty neutral state, so that when I did feel an emotion, sadness or happiness for example, I should enjoy it and try to examine it and so on, because the emotions generally were pretty temporary. I don't know if I was fair in my answer, but I tried. It's something that still confuses me, and I'm now again unsure of what I'm typing this moment and need to go to class.
But then last night I read an essay by Charles Bock in the DFW Tribute Issue put together by Sonora Review. Bock quotes an excerpt from a speech given by Wallace at a Kafka symposium.
Wallace writes:
And it is this, I think, that makes Kafka's wit inaccessible to children whom our culture has trained to see jokes as entertainment and entertainment as reassurance. It's not that students don't "get" Kafka's humor but that we've taught them to see humor as something you get — the same way we've taught them that a self is something you just have. No wonder they cannot appreciate the really central Kafka joke — that the horrific struggle to establish a human self results in a self whose humanity is inseparable form that horrific struggle. That our endless and impossible journey toward home is in fact our home.
I felt like this quotation and my having read it a day after that question came up in class were interesting enough to share here.
Tags: david foster wallace, sonora review
100 Comments