December 30th, 2011 / 12:05 pm
Random
Melissa Broder
woman reading A Season In Hell 2 days before the world ends-but-won't has 22 thoughts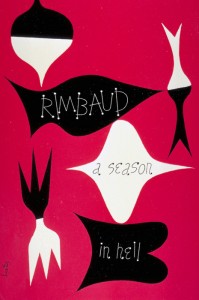 1. Rimbaud was a hot twink.
2. Rimbaud loved the shit out of god.
3. If Rimbaud read that article in Time about how Mother Teresa didn't feel the presence of god for 50 years but did her work anyway, he probably wouldn't beat himself up so much about not experiencing "celestial calm."
4. Celestial calm is spa spirituality.
5. Who wants to be numb?
6. I want to be numb.
7. Feel like a real revolution would be terrifying and that most people who say they want a revolution would be terrified.
8. I sort of don't want a revolution.
9. Je suis very américaine.
10. Feel like the hand that holds the pen is maybe not as good as the hand that holds the plow.
11. Feel like the hand that holds the MacBook is definitely not as good as the hand that holds the plow.
12. If your lover shoots you in the hand, it kind of has to be the last straw.
13. If Rimbaud and Verlaine were alive today their friends would stage an intervention.
14. Rimbaud's sister Isabelle would call their relationship "toxic" and stress the importance of boundaries.
15. Or maybe they'd just be happy to be openly gay and have a nice place in the Marais.
16. They would be dealing with marriage laws getting passed and have to question whether marriage is for them.
17. Getting married might ruin their poetry.
18. Having boundaries doesn't ruin your poetry.
19. Having boundaries gives you more time to make art.
20. Not everyone can be a genius for five years and then die.
21. HTMLGIANT is bad for boundaries.
22. You are not the lizard king.
42 Comments