January 11th, 2010 / 9:43 am
Random
Sean Lovelace
Workshop of Horrors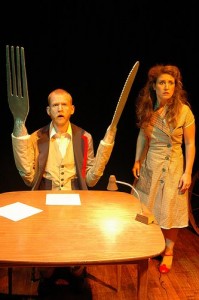 Crazy is OK. Who hasn't awoken on the kitchen floor, naked? And hanging out with/knowing/dating Crazy can be fun, or funny. Loud-Talker, Close-Talker, Person-Who-Eats-Only-Boiled Potatoes, every mélange and mishmash of personality—it's cool.
But English departments have small rooms. And they seem to stuff workshops in the tiniest, the concrete walls, flickering fluorescent hum, chalkboard with that awful stuff, chalk. Like a bonfire, Crazy is Ok with a bit of open space, but in a small, closed room, the romance of the cracking heat tends to burn.
Did I mention the semester begins today?
What is your workshop horror story? I'll flavor the pot with my top 3.
1.) Student of mine who brought a coffee mug of vodka and OJ to class every meeting (no big problem [maybe–he did get a bit sloppy/vociferous at times, and I had to tell him more than once that the phrase "words-of-ass" is never appropriate or helpful feedback] except for when the woman next to him narked).
2.) Student of mine who wrote intricate, detailed, very specific story about killing every member of the class in intricate, detailed, very specific ways. In a recent post-911 environ of paranoia, this incident ended up involving the ABI (Alabama state FBI) and two undercover cops who pretended they were college students.
3.) Fellow student (this in grad school) who leaped up and screamed into all our faces (causing crying and/or additional screaming) because the instructor insulted Richard Nixon. Was I frightened? Indeed.
You?
Tags: MFA in creative writing, writing workshops
106 Comments