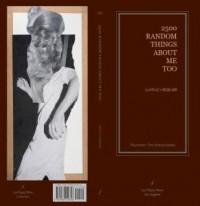 2500 Random Things About Me Too
by Matias Viegener
Les Figues Press, 2012
246 pages / $15.00 buy from Les Figues Press
Rating: 9.0
For us it is so normal to see the clouds from above, and inside.
— section xxxix, line 12
By extrapolating the popular Facebook meme, 25 Random things about me, duration generates gravity in Matias Viegener's 2500 Random Things About Me Too (Les Figues Press, 2012), blowing aloft a cloud of identity–a portrait of the artist's wandering consciousness. Viegner's sequence of anecdotal strands, aphorisms, autobiographical trills, and questions both large and small are keenly paced; fragments hang alone indefinitely while others pick back up a few lines down or pages away, forming themes that resonate in opp- and apposition throughout the work. This deceptively loose push-and-pull provides much of the work's excitement as associations spark, link with others and hover or hang solitary and pleasantly naked.
Here's an example from the text, titular and relatively contained:
(from section xx)
18  The Depression was really hard on a lot of people. Except, when you think about it, not a lot of people were actually killed by it.
19 Random: could be anything, but usually isn't.
20 Things: we're biased in favor of tangibility. Things need to look like things for us to recognize them. Even partial things, parts, we want them to point at whole things.
21 About: the question of the subject. What pertains to me? What is close by, in some proximity?
22 Me: ugh.
23 Too: everyone is doing these random lists. All we can learn from them is how suggestible we are.
24 25: one quarter of 100, the tenth square number. Part of the whole. Two bits.
25 I once had sex standing up in a sex club in Amsterdam with my boyfriend and a guy we met there.
While Chris Kraus describes the book as "bracketed by three deaths,[1]" Viegener's meta-textual lines orient the book, bracketing Kraus's brackets, thereby helping the reader identify the rules of the text, with the themes he's juggling, the forms he is blending (memoir, diary, poetry, conceptual or administrative approaches), with his own struggles as a writer and thinker who is both suspicious of and in love with narrative, as if the core of the work would risk being missed amongst the misdirection of the shaped, quasi-randomness.
What is most radical about this piece is the form itself (and the Self it forms). Viegener manages to utilize parataxis to propel his endearing voice through these scattered suites with enough relevant information to let readers recognize or provide their own continuities and frictions. And on the radical Self it forms: our author seems to be a genuinely content, sensitive, sensual, funny, well-adjusted and successful man and, unfortunately, sometimes this is hardly the stuff of compelling literature. But it is compelling. Refreshingly, Viegener doesn't stoop in attempts to build shaky dramatic narratives and conflicts that aren't really there, he has a laugh at the story's expense, lets death haunt his beloved dog with dignity and self-reflexive humor, likewise lets it unjustly and subtly haunt his family in war-torn Europe, and even randomly tells the same Kathy Acker story twice (but who can blame him for the repetition, it's that memorable: see sections lxxiv-17 and lxxxvi-15), making me think that I might have a sense of who Matias Viegener really is, and likewise making me realize that I don't truly know someone that well until I've told them, "I've heard that one before."
Tags: 2500 Random Things About Me Too, Les Figues Press, Matias Viegener