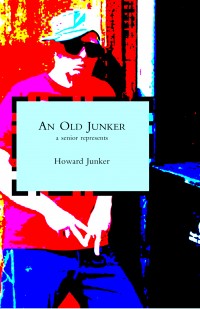 An Old Junker: a senior represents
by Howard Junker
IF SF Publishing, 2011
Rating: 8.7
Imagine that Holden Caulfield survived his adolescence to become a mid-century man of letters, knew some of the good writers, wrote for some of the good magazines, then headed West to found and edit an adventurous arts journal. Imagine that he rereads the best of the 20th century canon for pleasure and chooses to publish new generations of poets, storytellers, photographers and graphic artists solely on the recognizance of his own eclectic taste. Okay, maybe he's inordinately proud of the prep school and undergrad classmates who made big waves in the culture that used to be, but he's also willing to stick pins in the pretenders and tell stories on himself.
Five years ago, with paper-based publishing staggering, Howard Junker started a blog and gave himself an assignment—to write regularly, to do the best he could in the moment. At 70, newly retired from Zyzzyva, he set himself another task—to make the best book he could out of those artifacts. An Old Junker is the result.
What is it?
Almost the "nonfiction novel" the cover copy invokes. The "confessional" memoir of a discreet and private man. A reader's guide—he points you to Daniel Deronda, revisits Kerouac and Sylvia Plath and shares his own thoughts about a bunch of famous writers good and less so. A collection of impious, generous and original short takes on subjects as diverse as hot chocolate, the editorial relationship of Ray Carver and Gordon Lish, white bucks, Dave Eggers' messiah complex, the difficulties of raising money, not speaking to David Rockefeller at a NY art show, and the writers he was proud to discover in his twenty five years at Zyzzyva.
A blog is a public diary. Consciously or not, Junker seems to have made some rules. He's free with opinions but doesn't violate the privacy of others.  He's willing to sting but not wound. He favors the odd, telling detail over the grand pronouncement. When he writes about Big Issues, he comes at them sideways. A boy's wonder meets mature bemusement. Like frost on an Indian summer morning, the elegiac shimmers and disappears.
New and Collected Blog Posts is not a genre yet. The reader simply has to take these little pieces straight on. This reader of a certain age enjoyed the company of a highly cultured raconteur. Respected how much he cares. Laughed out loud and not infrequently saluted a surprising insight or well made sentence.
When I say this is the perfect bathroom book for the literati, I mean it as high praise. Dip in and out and be edified. Taken in longer drafts, An Old Junker is a little bit unsettling, both for the lack of a climax and the reminder to die.
Tags: An Old Junker, howard junker, IF SF Publishing