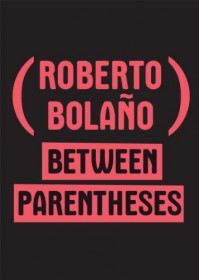 Between Parentheses
by Roberto Bolaño
New Directions, 2011
352 pages / $24.95 Buy from Powell's
Rating: 9.0
"Reading, said Gil de Biedma, is more natural than writing. I would add (redundancy aside) that it's also much healthier, no matter what ophthalmologists say. In fact, literature is a long struggle from redundancy to redundancy, until the final redundancy."
– Roberto Bolaño
Between Parentheses
In this posthumous collection of his talks and newspaper columns Roberto Bolaño repeats his advice over and over again that writers, if they want to be any good, should read more. Read, read, he urges, as Bolaño read; the index is made up entirely of authors that he references in his writings, and they number in the hundreds. I didn't bother to count them all. I hadn't heard of most of them. Bolaño praises many little-known authors, criticizes many popular ones, and reminds us to read and re-read Borges.
He also insists that writing is dangerous, that writers need courage.
By writing voraciously about reading and writing, novels and short stories and poems, politics and geographies and nightmares, Bolaño puts the whip to the young, or not so young, reader, but especially to the young writer, to continue on. He tells us, Don't feel bad because you're sitting around reading great books, your pen lying idle, your heart and mind traversing through somebody else's work instead of sweating through your own, that's what I do, that's what everybody should do. Besides, it's not so terrifying to read, it's actually enjoyable, while to write is terrifying.
This little piece on Bolaño is both a tribute and a way to avoid writing a poem tonight. This is easy compared with that.
Finally, I will follow Bolaño, who recommends that you read and re-read so many books, by recommending that you read his books. I normally don't re-read books, perhaps I'm just not old enough yet, but already 2666 is calling to be read again. It is an incredible book, in scope, style, and substance. I also recommend The Savage Detectives, which made me feel drunk the entire way through.
Tags: Between Parentheses, New Directions, Roberto Bolaño