Forced Entries: The Downtown Diaries 1971-1973

by Jim Carroll

Penguin Books, 1987

196 pages / $15.00 buy from

Amazon

Rating: 8.0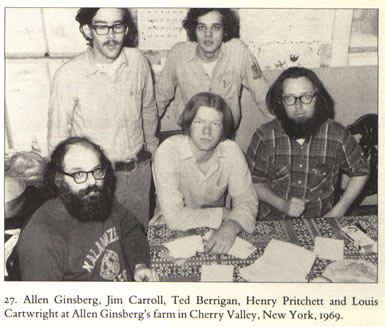 Although The Basketball Diaries was blanched by LEO, High School English, and pop revisionism, Forced Entries, Jim Carroll's 1987 follow up still has a lot of charm.
Subtitled The Downtown Diaries 1971-1973, this book tackles the emergence of the lost and romanticized Downtown scene. As a poet, Carroll was active in readings at St. Mark's Cathedral and a Warhol Factory regular. It's a short book, under two hundred pages, and it's framing as diary entries allows Carroll a soft touch as he relates observations and anecdotes.
Name dropping trends heavy. We immediately meet Andy Warhol, Ted Berrigan, Allen Ginsberg, the Velvets, Ultra Violet, Bill Berkson, and Anne Waldmen, and from then on it doesn't let up: Donovan, William Powell, Phil Ochs, Timothy Leary, Jerry Rubin, Paul Morrissey, W.H. Auden, Balanchine, Bob and Sara Dylan, Voznesensky, and a whole lot more.
But less a sort of "I rode with Billy the Kid-ding," such "characters" lend Carroll's anecdotes credibility. He doesn't waste time with exposition, because we all know what Ginsberg and Warhol look and talk like, instead he's able to instantly jump into Peter Orlovsky obsessively cleaning a loft kitchen on speed, or the Richard Wright-esque ticket scam Carroll runs while working as an usher in Andy Warhol's pornographic theater: Boys to Adore Galore.
Carroll died young, and he does describe a certain amount of destructive behavior. But the heavy drug use comes off as mostly anecdotal, or as a sort of means of advancing quirky plots. The drugs inspire erratic encounters with "Fat Bats," or a foray into performance art: his piece "Tiny Tortures" has Carroll exterminating a cockroach with RAID. He documents something of his flagging health: extended stays in hospitals, unnamed where "Moses saw a burning bush once," Carroll's "junky" arm has a scene of projectile vomiting in an art house theater, and his tooth decay rivals that other tremendous catholic memoirist Merton in severity. But even through the poor health, the humor persists, and a total lack of moralizing makes Forced Entries a charming snapshot of a much-romanticized era.
Tags: Forced Entries: The Downtown Diaries 1971-1973, Jim Carroll, Penguin Books