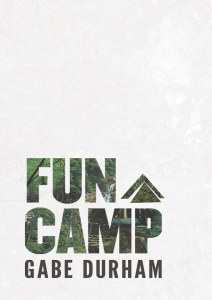 Fun Camp
by Gabe Durham
Publishing Genius, 2013
166 pages / $14.95  Buy from Publishing Genius
Summer camp as microcosm for society. Fun Camp by Gabe Durham acts as a strange microscope for the cabin of our lives. I used to go to summer camp and write journal entries every night detailing my experiences. Nostalgia overwhelmed me as I read through the letters, entries, stories, and logs that comprise Fun Camp. The bitterness and joy of the Bildungsroman is rendered as multiple epistolary works, the contrasts between the counselors and the students divvied up by metaphysical musings on camp life. The miracle is how much gets packed into that short period of time; falling in and out of love, friendships born and betrayed, philosophical schisms formed and patched:
"One week? So many sticky memories in such a disposal duration seems impossible. In seventy-five years, you'll be grizzled on some hospital bed, leaning too hard on memories to divert you from a slow death, struggling to recall your husband's name, hard-pressed to find a memory…"
The way the narrative flows is as much a character as the campers. The polylogic nature of the epistolary means the perspectives jump from counselor to students and back. Sometimes, satirical, other times, genuinely empathetic, the musings range from distantly sociological to sentimentally jarring. In some ways, it's a novelized Chautauqua at a campfire set ablaze, albeit without the burnt marshmallows. Mosquitoes of doubt sting and the angst of hormones amplified to the nth degree adds to the quaint allure of story telling, parables meant to shed light on the madness of existence in a camp full of parent-less teens:
"Just as we once had slavery legalized, bees used to be carnivorous wasps. One theory has the wasps eating insects with pollen on them, acquiring a taste, then cutting out the middleman… Best to keep the bees at a distance like the sun and the ocean and trees and the sweatshops and my family and all the other things I'm told I need but don't need close."
From the "Sudden Imposition of Chores" to gossip about some of the attendees to water pistol fights to musings on the immoral morality of the evenings skits, it's the collective nature of the narrative that evokes the sense of fun. In a sense, camp is the modernized rite of passage with its own set of obscure rules and invocations that would seem alien to outsiders. Liminality might seem less stringent than ancient days, and yet the pressure can often be just as daunting. Durham weaves dissonant threads together, reciting a chant of the whimsies, the trials, the intrigues, and the mini-epiphanies that characterize the ceremonies each of the kids undergo. Even the adults, who should know better, are oblivious, suggesting the disconnect between age and wisdom is wider than the students would like to comfortably fathom. The subdivisions are further split out into the days of the week like a Rolodex of memories on call. What binds them together? A communal swap of background sets:
"Human restlessness is such that I could slide open the door to the church Econoline, shout, "Who wants to drive around with busted AC looking for a no-ethanol gas station?" or "Who wants to go get free examinations from the unlicensed proctologist?"… and still I'd fill the van and leave a hoard of angry dust-kickers in my wake. Why? Because everybody knows the best camp activities are those rich with mnemonic potential, and memories remain longest when attached to changes of scenery. As in, 'One time we piled into a van and…'"
Fun Camp got me thinking about the summer camps of my life. It had me thinking about age, about girls I wish I'd gotten to know, teachers whose names I'd forgotten, nasty buffets, ridiculous plays, confessional tears followed by hardened silence, and days that were innocently savage. Gabe Durham has performed a magic trick called Resurrection. Only it's an inverted reflection that leaves an aftertaste of nostalgia and melancholy, the inevitable passage of days indicating camp will be over before we know it:
"Yeah, Sunday pulls the rug out from everyone. When we wake, there's always some group from far-off already gone, goodbyes unsaid. We treat Sunday like a full day in our heads all week, but then it comes and it's just a morning- a morning spent packing."
***
Peter Tieryas Liu is the author of Watering Heaven (Signal 8 Press, 2012), Bald New World (Perfect Edge Books), and The Wingless (Signal 8 Press, 2014). He has work published in places like the Evergreen Review, Gargoyle, Indiana Review, New Letters, Rain Taxi, and ZYZZYVA. Follow him at tieryas.wordpress.com where he misses summer camp.
Tags: fun camp, gabe durham, Peter Tieryas Liu